Pant shirt is a common outfit of a man, we all men use to wear it and if it is so common wearing it normally will gonna make you sapless.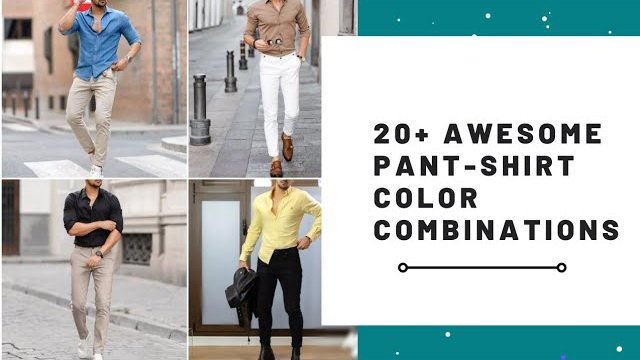 If you wanted to stand out while wearing that usual shirt pants you have to give it some time.
Wearing a hackneyed shirt-pant combo is not going to make you an elegant and dressy guy.
And, If you are wearing a pant shirts outfit with a scrappy combo you are just ruining your outfit no matter how expensive and branded it is.
If you wanted to be dressy, stylish and elegant then you should think twice before wearing your shirt pant combo.
Make sure the combo you are wearing is matching, elegant and distinctive this article will give you an idea, how?
This article will show you various best shirt pant combinations photos that men should try for standing out as dressy and stylish guys.
These are shirt-pants combo that are good to carry in daylight, light and classy.
White and beige
CHECK THIS OUT, TOO;
White and light grey
Light blue and grey
Blue and light grey
Fresh blue and white
Blue and white
CHECK THIS OUT, TOO;
Blue and beige
Pink & blue
Onion Pink and white
Light grey and pink
Lemon yellow and light blue
Lemon yellow and beige
Lemon yellow and white
Some Dark colour Shirt-pant combos that are good to wear in night occasions.
Yellow and black
Olive Green and Black
Blue and black
Black and beige
CHECK THIS OUT, TOO;
Black and Grey
These are those shirt-pants combos that you should give a try.
Dark and light grey
Grey and black
Grey on grey
Grey and white
Olive green and beige
Teal and black
So these are some attractive Shirt-pant colour combos for men, I've covered almost all colour combos that are best for men to go with, but I've missed a colour you might have noticed, it is red colour and it's shade.
I've not added any red colour or it's shade (maroon, burgundy etc.) colour combo here because I've already made a post on this one. You guys can check if you want some combo ideas in dark red shades –
CHECK THESE OUT, TOO;
Thankyou 🙂
Related Web-story