Blue jeans, outfit stuff that presents in almost every men's wardrobe, blue denim pants are the soul of casual wear.
If you use to wear casual outfits then I'm sure you have at least one pair of blue jeans, if you haven't go get one.
We all know that blue denim jeans are so common and almost every people love to wear them but when it comes to carrying them with shirts we get stuck sometimes.
Blue jeans matching shirt is a common outfit of every man, we use to wear this outfit too often.
When you know that you have to wear this outfit regularly, you need variations for looking distinctive and fresh every time you wear this outfit.
But the problem is when we try to get variations of a blue jeans pants and shirts outfit we get stuck, I'm sure you've faced this problem, too.
You've got a shirt in your wardrobe that you wanted to carry with blue jeans but you're confused could it be paired up with blue jeans or not?
It happens to all those men who care about outfit matching because you can't pair blue jeans with every type and colour shirt.
I thought to give you guys a solution to this problem after reading this article you will never going to get confused and stuck on this point.
If you've blue jeans and you want some shirt ideas to pair with blue jeans and make variations of this cool and classy outfit then take a look at this article, thoroughly.
This article will show you 30 best blue jeans matching shirt of all the best types, colours and patterns that can be easily paired up with blue jeans.
So, let's begin
All images are collected from: @instagram
Blue Jeans Pants With Plain/Solid Colour Shirts
Blue Jeans with White Shirts
Blue Jeans with Black Shirts
Blue Jeans with Fresh Blue color Shirts

Blue Jeans with olive green Shirts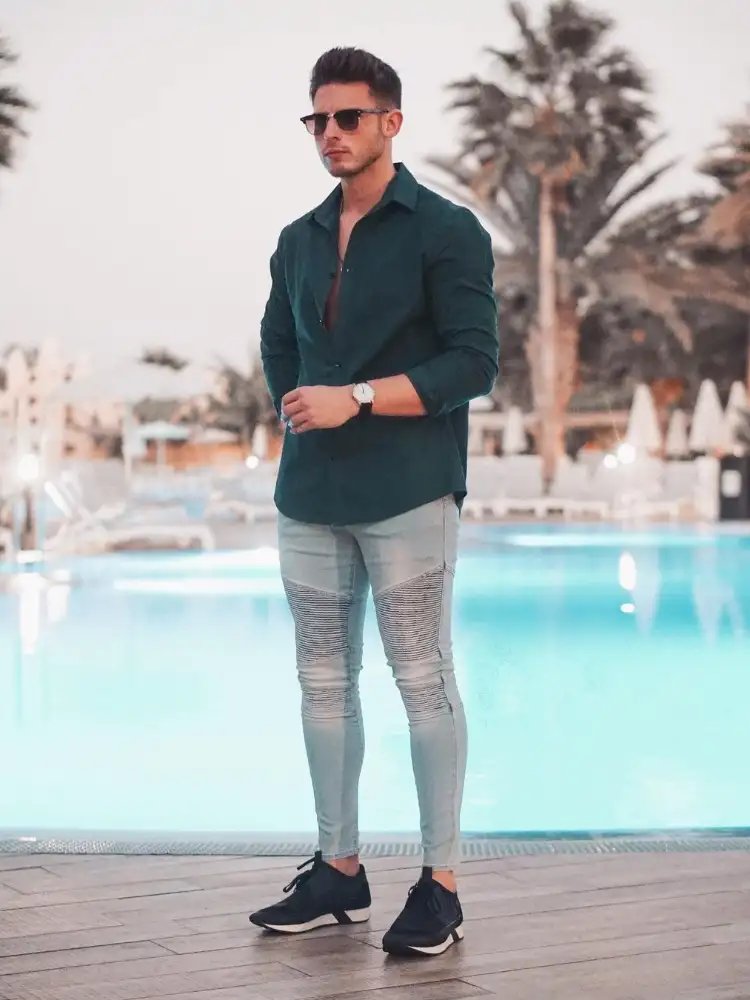 Blue Jeans with Light Green Shirt
Blue Jeans With Orange Colour Shirt
Blue Jeans with Grey Colour Shirt
Blue Jeans With Purple colour shirt
Blue jeans with peach colour shirt
Blue jeans with pink colour shirt
Blue Jeans with cement grey colour shirt
Blue Jeans With Patterned Shirts
Blue Jeans with striped pattern shirts
Blue jeans with check shirts
Blue jeans with floral printed shirt
Blue jeans with pattern shirt
Blue jeans pant with denim shirt
Related Web-Story