In ancient times men used to wear a ring for special purposes. Whenever men used to wore a ring they had a reason behind that. Like as; a signet ring, marriage ring, and engagement rings.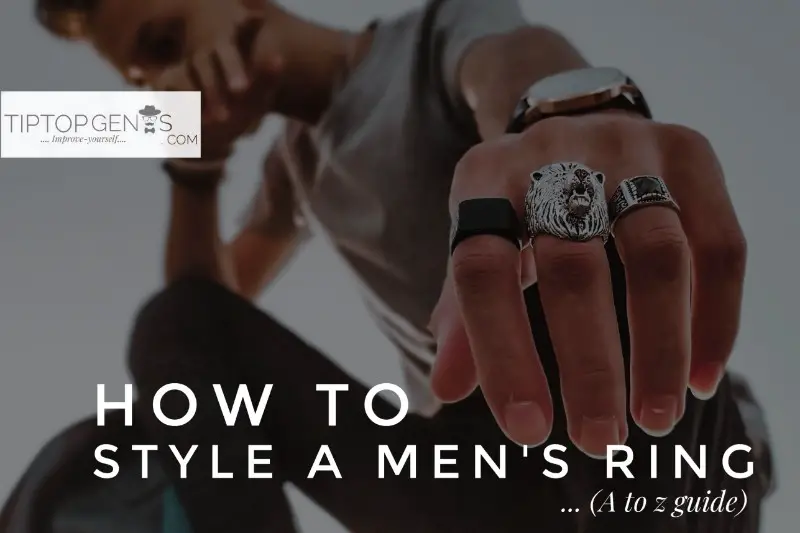 Instructions on how to style a ring. 
But now the ring is not, a girl's accessory and not even just a sign of marriage, for men anymore. Men are also into it, now. The trend of men's fashion rings is in the craze, nowadays.
Now men's fingers are also showing their charm by wearing an accessory, the men's rings. The rings enhance a men's style and class. Men are now wearing it without any purpose, just for style!! 
Here I am going to introduce you all to some rings that are aplomb of men's rings, that are raising the value of men's accessories and they are loved by every man who has a sense of styling.
Here is the collection of that ring's which is trending in men ring's fashion, you should know about it, if you are seeking for enhancing your finger's charm.
TYPES OF MEN'S RINGS FOR STYLING
Band ring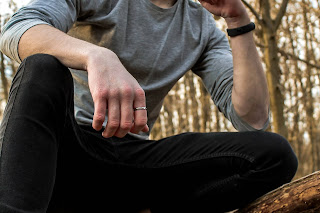 A man sitting outdoor, wearing a band ring.
The first type of ring that a man can style is a band ring. It is the basic simple type of men's ring. It is available in various types, depends upon the material by which it is made. Like as; silver, iron, fiber, etc. In some countries, people used to wear it for devotional purposes. 
The band ring is that ring which is often used to wear as an engagement ring. Because it has a simple look, the ring is also used as a marriage ring.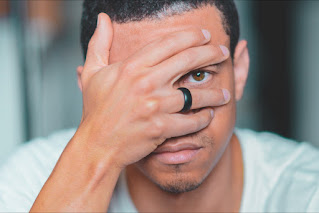 When we talk about styling a ring in men, then the band ring is the ring which is used to wear by lots of people for styling. The reason behind that because it is a simple looking ring which can go with any type of dress like; casual or formal.
You can not wear it in your ring finger if you are single, otherwise, people will think that you are married, that is the limitation of that ring, You would take care of that. 
Normal excess width ring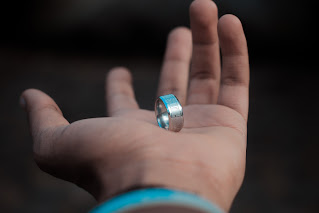 It is another type of ring which is now in the trend. Basically, it is version 2.0 of a band ring, because band ring is a marriage/engagement ring which is hard to wear for styling, lest people will think you get married. 
That's why this ring is used to wear for styling purposes in place of a normal band ring. It has an extra height than the banned ring, that's why it's called as excess height/width ring.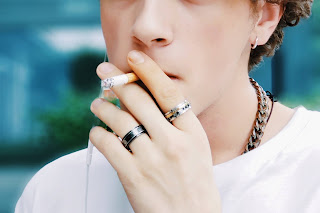 A smoking man wearing rings
If we talk about styling that ring then it can style the same as a band ring but a bit more independently. 
This type of ring has unlimited variations it is commonly made by metals like; iron, silver, or steel. It came with different patterns on it. 
Oval face shape rings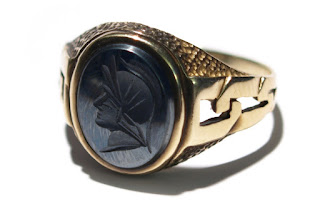 A golden and black color oval face ring.
The third and elegant type of ring, the ring which face has an oval shape. It comes with different pattern designs on its face like; signature, a devotional design or it could be plain also. 
Its crown is made up of different materials. Like; gemstones, silver, gold, iron, etc. You can choose which type you want. Its band is also has different types of materials, available.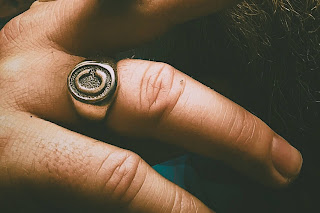 If you wanted to wear it just for a style then go for some dark looking oval face shape ring, with some dense design in its crown. 
It will give a masculine look to you, you can wear it with your jeans/t-shirt and with your suit also. 
Square or rectangular shape's rings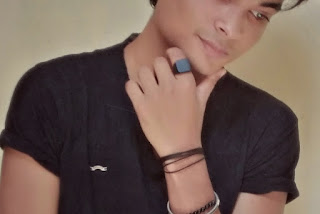 A boy wearing a black, square face ring
The best trending ring ever, it is in craze whether you see a 17 age boy or 60 year's mature man, it is loved by everyone. 
The square or rectangular face shape ring should be your first choice for styling if you are new in the men's rings trends.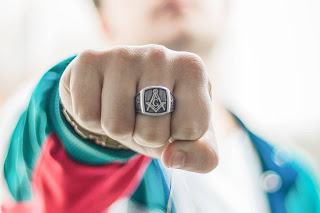 A black color plain square face shape ring is perfect for anyone, it is my personal favorite type of ring. 
You can also try different patterns and colors in square/rectangular face shape rings, too. 
Scary face type rings
A man drinking wine in a glass.
The sign of masculinity, the scary face ring. Used by those who want a masculine swaggy personality. 
It is often worn by the studs. The type of man who loves to show his masculine character, who has tattoos on his body. A boy of a rich father, an over stylish man, an admirer of masculinity.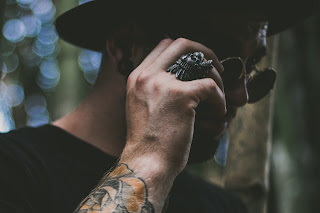 You can style it too with your casual dress, it will look weird on a formal dress. You can go with that type of ring if you are going to wear a
dandy's
attire. 
Signet rings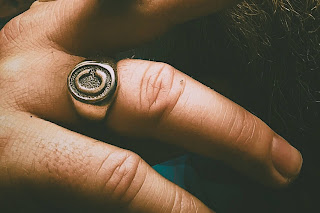 It is not the type of ring which depends on its structure it can be in any shape maybe in one of them I described above. 
It is the ring of the 18th century's rich men. It was then used to wear for remembering something which was priceless for them. Like their signature, their god's sign, or their loved ones' name.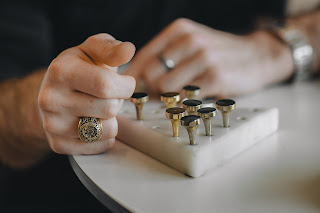 A man's hand, wearing a signet ring.
The reason I am describing that old type ring in trending ring's article because it is trending, now!! 
Some men are wearing it just for styling, no more sign remembering needed in our modern generation, just-style is what everyone needed, and we all know that vintage is a new trend. 
RULE OF STYLING A MEN'S RING | 
There is the horror part also if you are going to wear a ring, you should be aware of that too. The thing which I am talking about is, 
Suppose you get a ring for you the ring which is a men's ring in your eyes, your thought is that, you have bought a masculine ring. You wear it on a special occasion, the horror part is that lest other people make fool of yours by saying you are wearing a feminine accessory.
That's why here I described only about those rings who have a masculine look. I will let you know how you can style them and which type of ring going to look perfect on you.
When in doubt, go for Black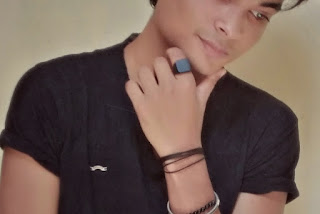 If you wanted to wear your ring just for swag and elegant look and not know much about styling then follow the hard and fast rule of men's style which is!! 
Go for black, with any type of ring I described above black color will look good. 
Prefer Geometric or structural face!! Avoid circular
If you want to wear a silver or gold material type ring then, for a masculine look always go for structural or geometrical face shape's ring-like; square, hexagon, rectangular etc. 
Avoid wearing the ring which faces shape has no corner like a circle, if you are seeking for the golden or silver color ring. 
Avoid luster
Luster is feminine. Avoid wearing a ring with luster. Sparkle in a ring will make it look feminine. 
Making combinations 
Many men used to cover more than two fingers of their hand with rings, it is personally not my favorite, I would not recommend wearing more than 2 rings in one hand. 
But it's your choice if you want and you are smart enough to carry it you can go for it. 
Here are some tips for carrying it which can help-
Same combo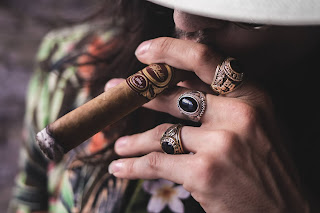 When wearing a combination of rings you can go for the same combo. It means that you wear rings with the same type in your fingers. Like if you are wearing a square face ring then wear all the three-ring with square face shape. 
Different combo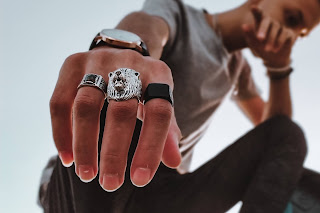 The next style you can go while making combo is the different combo style. It means that you style the ring with different types in different fingers. 
Like; square face in the index finger, scary face in the middle finger, and band ring in the ring finger. 
You can change the ring position finger-wise as you want. They should be indifferent types in all your finger. 
CONCLUSION 
If you wanted to style your ring with the casual dress then a black color any type of ring I described above will be perfect, you can pair it up with other types of rings too for making it more casual.
For a formal dress, a silver, iron, or black color ring will be perfect. An elegant watch and matching color ring is never a bad idea, but do not overdo with it because formal means simple.