Hey!! Guys today I'm going to introduce you all to a very elegant and stylish men's attire. If you are from India then you are known to it, but if you are from other countries rather than India then it will be new for you.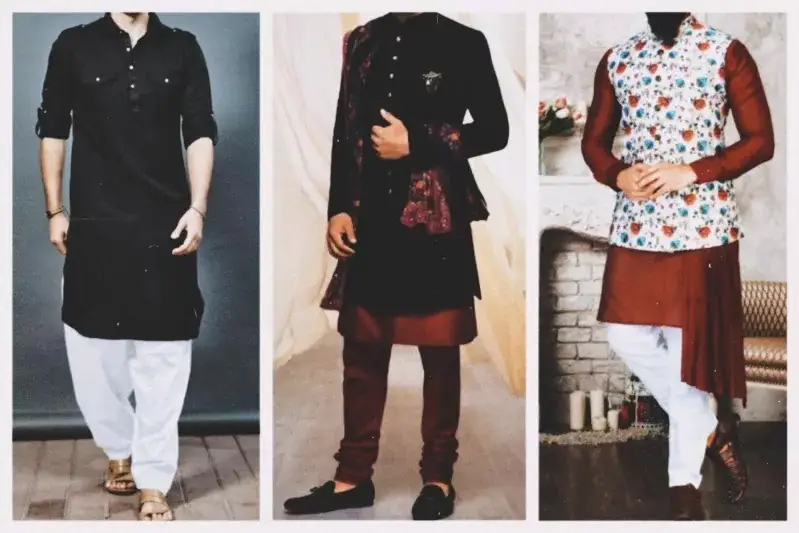 I'm talking about India's traditional fashion wear of men, which is kurta-pajama. See, in India, almost every man used to wear a kurta pajama especially if you are from Punjab or Haryana. But there are other states in India and other countries in the world who are now grabbing this attire, nowadays. 
So, when everyone is wanted to grab and style this attire, then as a fashion blogger why would I sit back? So I thought let us write a post on 'how to style your kurta-pajama'. 
I will give here some tips which will help you to look stylish in your kurta-pajama.
By following These guides you will be able to style any type of kurta-pajama in any situation. 
Let's explore – 
Let us talk about kurta, first. There are various varieties or types of kurtas for men to go with. You should choose the best one of them for you. 
They look almost similar, they have only two or three major things that make difference between these varieties of kurtas. 
Collar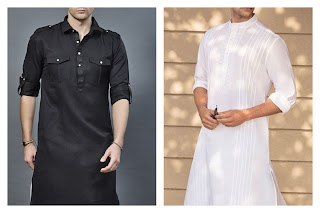 There are mostly two types of collars in men's kurta. The first is a normal shirt type collar and the second is a short Chinese collar. 
The first type of collar is found in pathani kurtas, If your kurta's collar is the first type then for better styling you should open up 2-3 buttons from the upside. 
Never fastened every button. This is a stiffed collar it needs more care, you should iron it and take care that it should be stiff always. 
The other type of kurta rather than a pathani kurta has that second type of collar, if your kurta's collar is the second type the Chinese or small collar then the most important thing you should take care that its shoulder should not be much tight. 
Meant to say that this collar type kurta looks stylish if it is worn with a full button closed. 
So, when you are going to close all buttons then your kurta should be a littlebit loose fit on the shoulder, otherwise, you are not gonna feel comfortable with it. 
Sleeves or Half-Sleeves
As usual, there are two types of sleeves in kurtas. Full sleeves and half sleeves. But people prefer wearing a long sleeve kurta, mostly. 
You should wear a half sleeve kurta only if you have a great physique and especially big biceps. 
Styling Full sleeves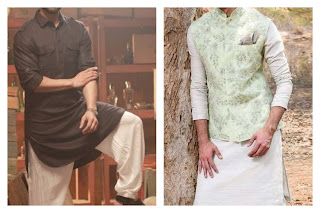 So, now let us talk about full sleeves kurta's sleeve. When it comes to full sleeves there are two main types of full sleeves available in kurtas. 
The first is stiffed cuff sleeve end and the second is a sleeve with the normal end. The stiffed cuff sleeve end type kurta's sleeve or you can say it is a normal shirt like a sleeve. This type of kurta is best for rolling your sleeves and letting your forearms be enhanced.
The second is a sleeve with a normal end it does not have any cuff. You can not roll the sleeves of This type of kurta. If you wanted to enhance your forearms in this type of kurta then you can pull it lilbit, it will give your kurta elegance. look. 
If you are one of them who loves being simple and doesn't want to pull or roll his sleeves, then you should care that your sleeve should be a little bit tight on your forearms position and it should end just before your wrist.
Pajama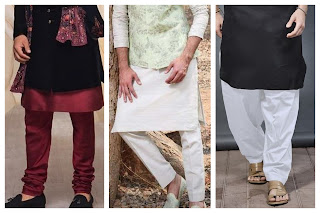 So, after describing a lot about styling a kurta in the right way let us move on and get some tips about pyjamas. There are three basic types of pajamas for wearing with a men's kurta. 
The first is churidar pyjama, the second is normal fit chinos type pajama and the last is that loosen fit pajama. They all have their speciality. They look good according to different circumstances.
The best type that I would prefer you should go with, is that second type of pyjama. Because it is an all-rounder type pajama you can wear it in any situation whether you are going to Someone's wedding or you are just wearing it for the normal outing, the second type of pajama gonna look well on every situation. That's why most people pair up their kurta with chinos, nowadays. 
If you want you can go with the other two types of kurta, I'm not saying that they are gonna look bad on you. 
But they will sometimes look a little bit awkward, like take an example of that churidar kurta if you pair it with sandals then imagine how it gonna look. Don't worry after reading this post completely you will be able to style those two types of pajamas also. 
After talking about the main topic like types and styling of kurta and pajama let us know about some other items to wear with your kurta-pajama… 
Pairing it up with full sleeve upper wear.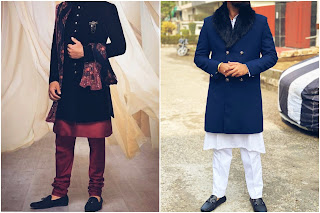 When we talk about styling a
kurta pajama
in winter then the first thing that comes to our mind that which type of upper wear gonna look cool with a kurta pajama in different situations. 
If there is severe cold then wearing upper wear is a must. That's why Being stylish guys we should know how to rock with them. 
If you are going on some special occasion then you should not wear some casual jacket or something with your kurta-pyjama, a formal looking kurta-pajama jacket or you can say it a full-sleeves Nehru jacket, it will best for occasions like wedding. 
If you are wearing your kurta pajama just for going out to some normal places then you have many options to pair with your kurta. Like; as a normal jacket (bomber or leather), coat etc. 
Pairing it with no sleeves upper wear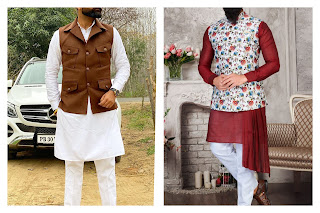 The trend of wearing a kurta pajama with some no-sleeve item is rocking. It is my favourite style for wearing a kurta pajama. If there is mild cold or spring season then you could not resist wearing your kurta with that style. 
For a special occasion you can pair your kurta-pajama with a vest or no-sleeve Nehru jacket it is gonna be look rocking. 
Always keep in mind that if your kurta is in plain colour then you should go with some patterned vests or jacket, and if your kurta has some pattern or floral print on it then you should wear it with a plain colour vest or jacket. 
For a normal outing, you can try some other no sleeves jacket like seen in 1st fig. In the above image. 
Styling Watches and bracelets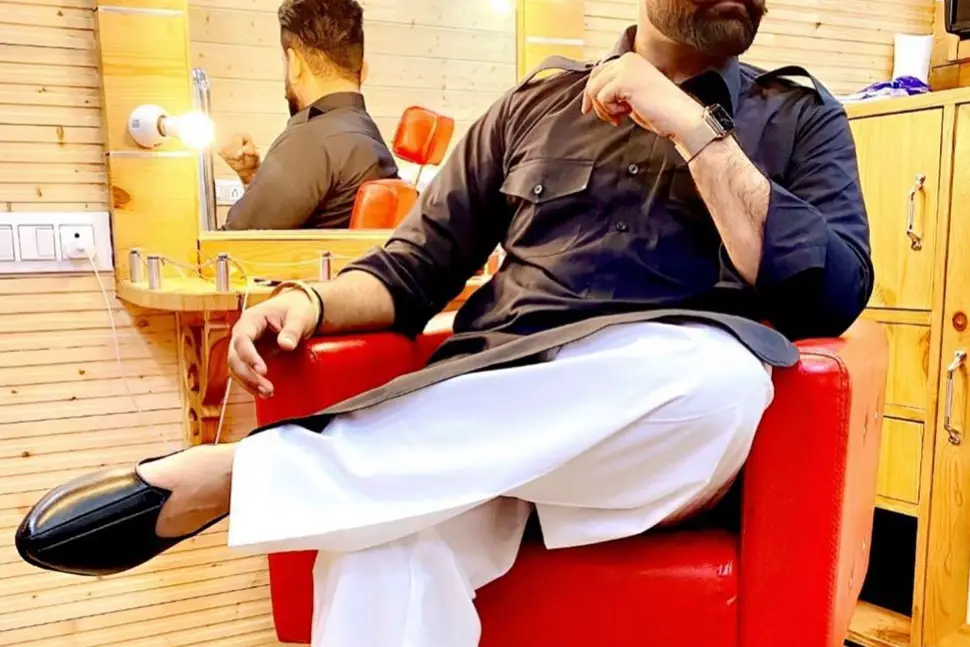 After talking about clothing items let us move on to accessories. How you have to wear accessories with your kurta pajama for looking a stylish guy. Besides watches, the other item that is famous as an accessory for kurta pajama is a men's kangan. We usually wear our watches in the left hand and the Kangan has to wear just the opposite hand you are wearing your watch. 
When we talk about kurta pajama it is taken as more formal wear rather than casual. So when it is up on watches then, a watch that is best for styling formal wear is gonna look stylish also with your kurta pajama. 
If you are pairing your kurta pajama with a stylish full sleeve coat or jacket then you should avoid wearing any type of hand accessories. 
When you are going for a pathani kurta or normal outing kurta then a watch in one hand and a kangan in another hand is gonna be the best combo. 
If you wanna enhance your look a Lili bit more then always try to match your watch colour with your shoe colour. 
Shoe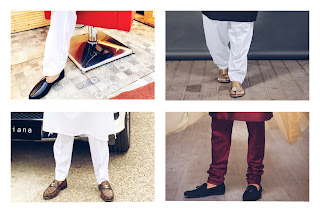 Shoes play a very important role in styling your kurta pajama. It is not that type of attire on which you can wear varieties of shoes. It is an attire on which rare types of shoes you can style. 
The four types of shoes that are common or least for wearing with a kurta pajama-
Jutti or nagara (fig. 4) 
The first and traditional type of shoe that was used to wear for a long time with kurta-pajama. 
You can not wear it for a normal outing it is only for special occasions like parties and all. 
Sandals (fig. 3)
Normal looking and just for a normal outing. You can wear it with your kurta pajama if you are just going to some casual places. You can not wear it on special occasions. 
Boat (fig. 2)
This is the new type of shoes for kurta-pajama.
 I do not prefer wearing it, but Lots of people started wearing it with a kurta pajama, nowadays. You can style your kurta pajama with it, it is a type of loafer with some differences.
Loafers (fig. 1)
The last and the best one is shoes for that attire because it is all rounder type of shoe especially when we talk about pairing it with kurta-pajama. It is my personal favourite you can wear it almost every place wherever you go with your kurta pajama. 
Gamchha or wrapper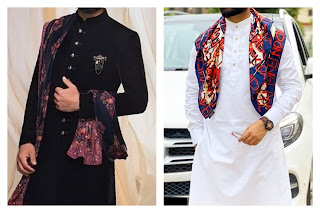 This is something that people were used to wearing for absorbing their sweat in summers and protecting themselves from cold in winters. 
But that is now turned into a style and now the people who are fond of wearing kurta-pajama often go with that gamchha or wrapper.
While kurta-pajama has a short collar that's why lots of people use that gamchha for giving their neck a contrast. 
The best rule for styling your gamchha with a kurta pajama is following the opposite rule, meant to say if you are wearing a light colour kurta then use a dark colour wrapper and if you are wearing a patternless or plain kurta then use patterned and printed gamchha… VICE-VERSA. 
Shades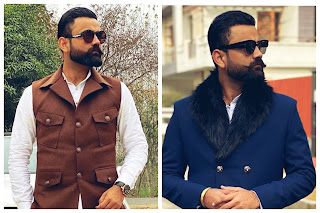 Last but not least is a shade. When we are talking about styling an attire then how can we forget about this? Shades are the aplomb of any style so how can we leave it alone, while we are styling our kurta-pajama. Here are some tips for styling shades… 
Do not wear your shade at night. Shades are not for wearing at night. But if it is necessary for you then you can go with spects if you wanted to cover your eyes. 
You can try other colours, but it should match up with any item of your outfit like; a kurta, watch, shoe or pajama. You can not wear a yellow colour shade while your kurta is blue and pajama is white.
That's why the best thing is that always give priority to a dark black glass's shades.
Conclusion 
These are some tips that will surely help you to stand out in a crowd even if there, everyone is wearing the same attire the kurta and pajama. 
These are complete guides one can give you on the style of a kurta pajama, now it is up to you how you can take it and make your kurta payjama look fabulous on you.