Hey!! Gents, today is the new day and I'm writing a new post here. This post is going to be interested for those who are fond of wearing traditional wears and for those who like the Indian dressing style.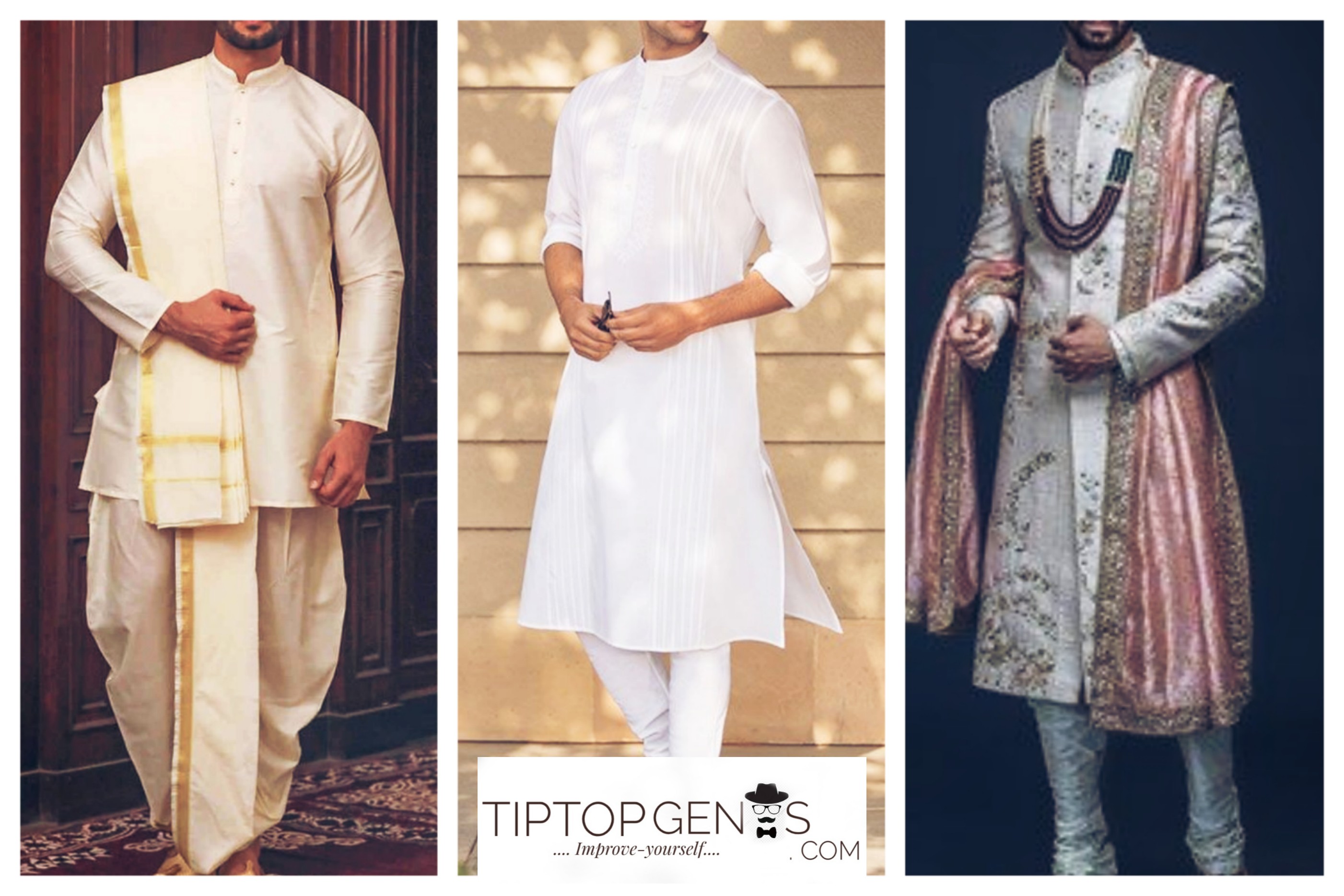 So, basically today I am going to explain about some men's dresses which is used to wear in India traditionally.
When we talk about Indian tradition it is hard to describe about it, because India is the country of different traditions. There are different cultures and traditions. So when we talk about traditional dress of India everyone love to know about it, people from India as well as people from foreign countries. That's why it is important for writing an article on it.
I am going to describe here about the top 5 traditional dresses of India which is worn by Indian men.
KURTA – PAJAMA
The first and only thing that comes in mind when anyone talk about Indian traditional wear is kurta-pajama. The kurta pajama is aplomb of Indian dressing culture. As I say India is the country of various cultures, almost in every culture of India's people used to wear kurta pajama.
Culture wear.
People in India related to different cultures used to wear kurta-pajama as a cultural wear. They are using this dress to wear from long time as a tradition.
It is used to wear in some states of India as a daily wear like; punjab and haryana.
Festival wear.
Kurta-pajama is a festival dress of India. People realted with any religion mostly used to wear kurta-pajama on their festivals. Like; Hindus wear kurta-pajama on their festivals like holi, diwali etc. And Muslims wear pathani kurta-pajama on their festivals like eid.
It is used to wear on different festivals like; Diwali, eid and holi by Indians.
It is an unique traditional dress of India's men.
SHERWANI
The second Indian traditional dress of men's, is sherwani. It's same as kurta pajama but with some updates, you can say it version 2.0 of kurta-pajama.
The design and styling of sherwani is almost same as kurta pajama but it is little bit more decorative and patterened than kurta pajama.
It is more expensive than kurta pajama and for wearing on special occasions and by special person of that occasion.
Wedding Wear-
Sherwani is traditional wear of grooms for his wedding. There are different types of ceremony occurs in an Indian wedding and the sherwani is wear as a traditional wear in these ceremony like; engagement and jaimaal.
DHOTI-KURTA
In India, the culture of west bengal and south India the people used to wear dhoti-kurta. Here kurta means a bespoken normal shirt, they often prefer a white colour shirt.
Dhoti means a long rectangular shape of cloth which a man wraps around his waist, the people used to wear it from long time their forefather was fond of wearing 'khadi' dhoti and now the new and modern India's people are following this tradition. A normal design of Dhoti is made up of a cotton cloth in white colours, and their border has golden colour lining.
BESPOKE TROUSERS AND SHIRTS.
The made-to-order shirt and pant are like a routine wear of senior men of India. This dress is a tradition of wearing as a official dress in India. Whenever the senior people of India have to go anywhere for normal outing they prefer a bespoke pant-shirt. However the new generation of India is not on this tradition they love to wear the western culture's outfit for normal outing like; jeans and t-shirts.
Official work wear
Bespoke shirt and pant means those clothes which is tailored by a tailor as per customer's Demand. A dark colour pant or trousers and a light colour shirt is popular for wearing as a official dress by India's men. The people of India who work from 9to5 in office they do not much into a fashion they are just usedto of this dress. They just buy a cloth and ask their tailors to make that dress for them according to their fit and that's it they used to wear it on their office.
NEHRU JACKET, GAMCHHA AND LUNGI.
After describing about the three best dresses that a India's men used to wear as a tradition. Now at last I'm going to describe some items which are not a whole dress, but they are part of an outfit and used to wear in India as a traditional wear-
Nehru-jacket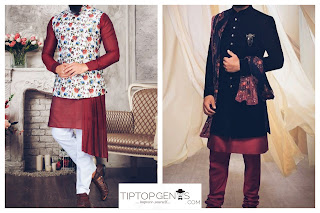 The name describe that it is a Indian outfit item. It is basically a type of jacket or you can also say it a type of coat. In India they are worn in winter. especially when someone is wearing a Kurta-pajama or sherwani in winters then the first preference they use like a jacket on it, is a Nehru-jacket.
Nehru jacket is a short collar type jacket. Which have a pocket on it's chest and 6-8 buttons. They are available plain and as well as printed also. They come in full sleeves and no-sleeves.
In India when it is mild cold or spring season then people prefer no-sleeves nehru jacket and when it is severe cold they moved to the full sleeve's nehru jacket.
Lungi
It is a 2nd version of dhoti, it used to wear as a home wearing outfit of India's men. It is available in various colours, patterns and fabrics.
Like a dhoti, men used to wrap it on their waist to their leg, but dhoti has a white colour often but lungi is famous for wearing in different colours.
The check patterned lungis are most famoust type in between various patterns.
The Gamchha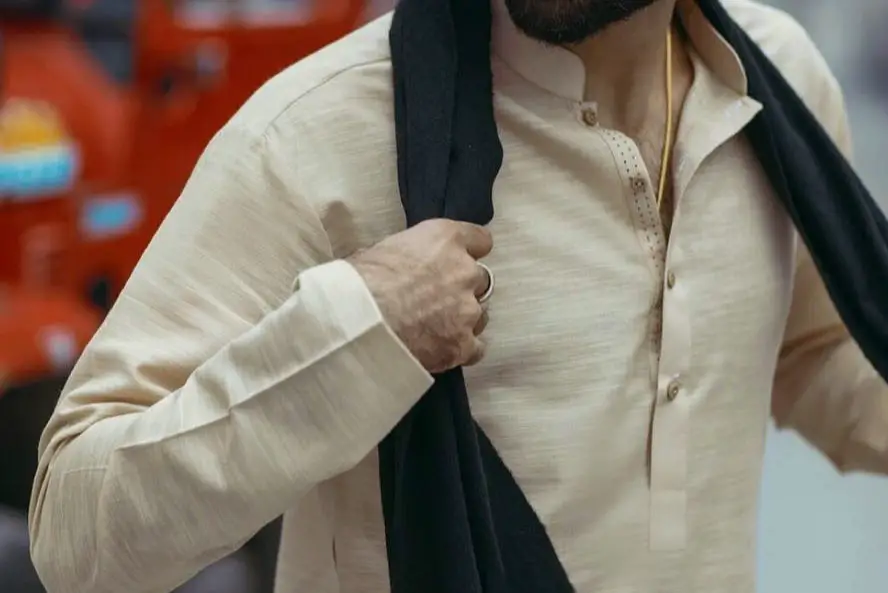 It is an small outfit item of India's tradition but it can go with every outfit by Indian men. It is famous item of East side of India's people. Prople of bihar and uttar pradesh almost used that item with their outfit. Especially the rural people often use this item, because that on item give them various benefits.
It used to wrap around the neck, it saves them from cold in winters and absorb sweat in summers that is why people also go with a gamchha, in place of a handkerchief.
It is a rectangular small piece of cloth but bigger than a hanky. A 'bhagwa' colour angochha or gamchha is aplomb of Hindu tradition.
CONCLUSION
These were the top 5 traditional dress of Indian men's. The top 4 were the traditional outfit and in the last section I described about some other outfit items which is used to wear In India as a traditional wear. Hope you guys love this post please be in touch with us for becoming a tiptopgents from a man.