Dressing style for skinny guys.
There are different types of men according to their body. Some of us are fit, some are fatty and some are thin or slim body type.
As men, most of us are skinny in our young age or teenage. Some of them increase their body weight by gym or dieting, but what about rests, who still have a skinny thin body.
Suppose, you are a skinny guy and you bought a stylish trendy outfit for yourself and wanted to wear this on a special occasion, but when you wore it.
It looks like an outfit is hanging on something because you are an excessively skinny guy and you do not know how to wear it without looking terrible.
If you face a problem like I mentioned above then this post is for you this post is only for slim body types men/teenage boys.
Being skinny is not shameful we all have different body type and if you are skinny it is your strength a skinny guy have next level of charm, just you have to enhance it.
For enhancing that charm you should dress which will suit on your body and that's what I'm going to tell here, I'm gonna solve all your problems, you are facing as a skinny guy. After reading this post you can
increase your attractiveness
even if you are a skinny guy.
In this post, I will give you tips and tricks for skinny guys to look good. Like: Best clothes for skinny guys to wear, shoes for skinny guys watches for skinny guys, layering techniques for a skinny guy, etc.
What and what not to wear if you are skinny (men)?
UPPER BODYWEAR
Type of shirts/T-shirts to wear for skinny guys.
a) Wear a normal collar shirt and a normal polo t-shirt they are always a good choice if you are skinny. These are normal color shirts or t-shirts which will help you to hide your neck because as skinny guys we all know that our neck looks kind of terrible because of it's skinny ness.
b) Go for round neck t-shirts or sweaters, it will help you to look a little bit thicker than you are.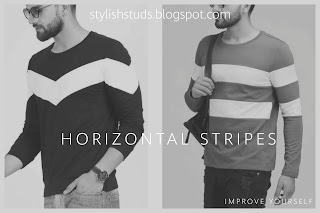 c) Wear a T-shirt with a horizontal stripe design on it, the design of that type of shirt will enhance your body to look a little bit thick and it will help you to hide your skinny body type.
d) Always wear a full sleeves shirt or t-shirts to hide your hand's skinniness because as a skinny a guy a naked thin hand looks so terrible so try to hide it as much as you can.
Type of shirts/T-shirts to avoid wear if you are skinny guys.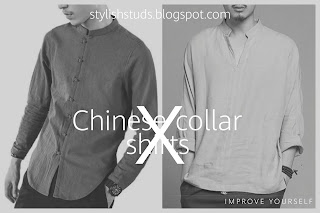 a) Avoid wearing a Chinese collar shirt or short collar shirt. A Chinese collar shirt has a short length of their collar and it would not cover your neck properly and that's why a skinny guy should always avoid this type of shirt because it will show your skinny neck and skinny neck ruins your look.
b) Our hand enhances that we have a skinny body, many of us are fond of wearing half sleeves shirt or T-shirts but I will suggest you to avoid wearing half sleeves shirt or T-shirts as much as possible if you are skinny because naked hands show our skinniness you have to hide your biceps and shoulders if you are skinny, As a skinny guy avoid wearing half sleeves shirt.
LOWER WEAR
Types of pants to wear if you are a skinny guy.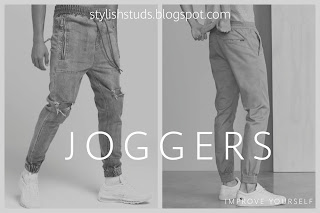 a) If you are skinny and going shopping to buy some lower wear stuffs like; jeans then I'll always suggest you try buying joggers. A jogger will always look perfect on a skinny body type because it hugs on your ankle and helps you to hide your chicken legs. A jogger will enhance your back to show. if you are buying sports lower wear also buy it in jogger type.
b) Dark color pants or jeans will always be a good choice no matter how your body type is, so that is why I'm sharing this. dark color pants are useful for everyone so if you are skinny you can go with that one.
c) Always wear full-length pants as much as possible a full-length pants will hide your legs skinny ness.
Type of pants you should avoid if you are skinny.
a) Don't wear too baggy pants it will look like you are wearing a 'tamboo'.So avoid wearing baggy pants especially if your legs are chicken legs.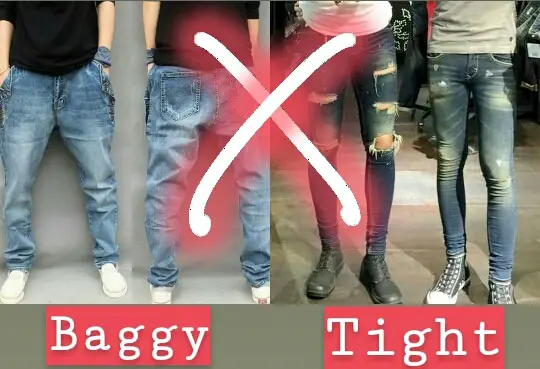 b) Don't wear those slim jeans when you are a skinny guy because it makes you more skinny. Slim jeans always look classy on girls or men who have muscular legs. But we are skinny so we have to avoid wearing slim jeans, which hugs our legs and enhance that we have a chicken leg.
c) Do not wear pants in sagging style many of us have a habit to wear pants from a lilbit lower than our waist. Believe me, it is a disaster, not a fashion you have to avoid this in any case. Do not wear pants in sagging style.
What is sagging pants?
d) Do not wear half pants if you are going out. A half pants or Caffery looks great but on muscular legs. When it comes to skinny body type then it will ruin your look and makes you look terrible.
e) I know there's a trend of wearing half denim pants in men many of us love to wear it but I'll suggest you avoid wearing it if you are going out because it will gonna ruin your impression. Yeah!! If you are at home or in a colony and fond of wearing these types of pants, then you can wear them.
How to wear if you are skinny (men)?
Tips for wearing Best clothes for skinny guys, to look good.
Well fit outfit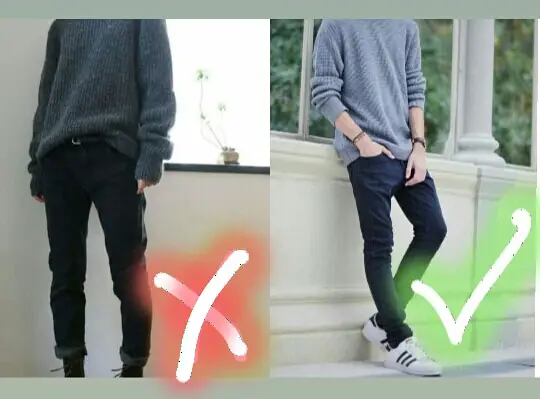 Always wear a well fitted outfit according to your body. It is an essential point for everyone, well fit outfit looks great on everyone. Avoid wearing too loose or too fit outfit.
Styling pants/trousers
If you are wearing pant-like; chinos, trousers, etc. then always go with perfect ankle-length pants, which is not too baggy not too slim perfect fit pants.
Styling jeans
If you are wearing jeans, buy a perfect pair of jeans again not too tight not too baggy. But As a skinny guy, most the jeans are a little bit loose because we have very slim and thin legs so a trick to quick fit your jeans and it also not show your skinny legs, is cuffing roll your jeans.
Here is>>>how to cuff roll your jeans
Layering
Tips for layer your outfit if you are skinny.
Guys as a skinny guy the best hack to hide our skinny body type is layering. You had listened that layering is best for skinny guys much time before, but you never know how you have to actually layer your upper body outfit so I'm here telling you the basics of layering these tips will help you to layer your outfit in style and as well as help you to hide your skinny body type.
Layering is best for winters to go with a t-shirt, shirt, jacket and you can rock it even if you are too skinny. But what about summers you can't layer too much on summers. The thing which I do is always wearing a half sleeve t-shirt in place of the upper body underwear it helps me in two ways
1. It controls sweat better than that and the
2. It helps me to look lilbit fit.
So always try to wear half sleeves round neck thin T-shirt under your shirt if you are going on a special occasion, Not every time.
ACCESSORIES
Talking about accessories that will help skinny guys to look good.
Shoes for skinny guys
Types of shoes you should avoid if you are skinny.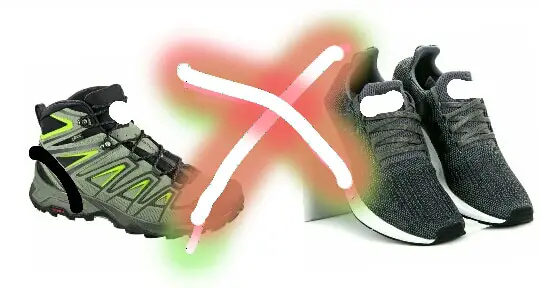 Avoid Heavy shoes A heavy sport type shoe is now in trending and I know most of you are wanted to wear that type of shoe but, if you are a skinny guy then I will suggest you do not wear that heavy shoe.
As a skinny guy, we should avoid those shoes, which is so heavy and looks bigger. A heavy or wide type shoe on a thin body will never look good. It shows you more skinny than you are.
Types of shoes you should wear if you are skinny.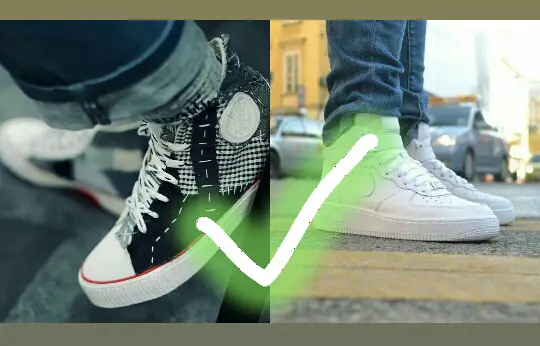 A Thin High ankled shoe or sneaker is best for a skinny guy a lightweight sneaker or a high ankled shoe will always look perfect. It enhances your body and hides your skinniness.
Always wear a thin & high ankle length shoe. A perfect sneaker will best for skinny guy sneakers are the best shoes for any body type of men.
Styling men scarf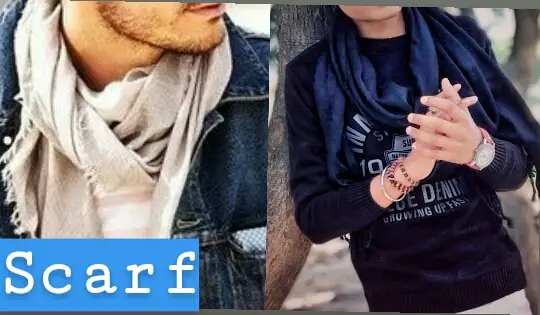 Neck is the most irritating part of body when you are a skinny guy. When you saw yourself in the mirror the thin neck looks so ugly you have to hide your neck as much as possible as a skinny guy.
The trick which I use to hide my neck is
I always use a men scarf. A summer scarf in summers and winter scarf in winters it helps me to hide my thin neck as well as it prevent me from cold in winters and absorb sweat in summers.
Here》》
How to style accessories for men.Like as; SCARF, watches etc.
Watches for skinny guys
Never wear a heavy-looking sports watch, because as a skinny guy our wrist is so thin and it looks terrible when we wear a heavy watch on a skinny wrist.
Always wear a simple looking with slim belt watch.
Avoid other Heavy or big accessories
Try avoiding heavy accessories like shades(heavy) , rings, bracelets, necklaces (men) because it all looks good if you have some weight in your body, but if you are skinny then try some slim and light accessories.
Conclusive words
Guys these are hacks if you are a skinny young guy but don't sit back after knowing all these hacks. You should know that you are a skinny guy you have to improve that. Get up and go to the gym. These hacks can help you but not could make you fit. You are the one who can change yourself so have a healthy diet and go GYM. If you are unable to go to the gym for some reasons, then here is something for you.
》》Home workout you should must follow for skinny guys .
THANKYOU.