Wife-beater is a name that sounds quite hazardous, many men think that wife-beater is something that'll lower down their personality because of its name.
But, there is nothing like that nowadays wife beater is in craze in fashion world many fashionistas are styling it in various ways.
The wife-beater is outfit stuff that can go with you anywhere if it is a summer season you can wear it as innerwear and if you're on a beach then pair it with shorts or pyjamas.
There are various ways by which you can make your several outfits and styles using a wife-beater and that is what this article will show you here.
But first let me clear myths on this outfit stuff's name, The wife-beater;
What is Wife-Beater?
The wife-beater is just a piece of clothing stuff, a sleeve lkoess white colour deep neck t-shirt. It is worn by males as well as females too.
Why it is called a wife beater?
It is just an ancient name given to stuff because of the violent man in the past who used to wear this type of stuff.
In today's time, just the name left with the stuff it's wearing style and culture is changed, now.
If you wanted to style this stuff then you should go for it, you don't have think about it's name it is just a name.
Various fashionistas and fashion influencer are rocking this cool stuff in various ways, wanted to take a look? read the article till end 🙂
Wife Beater Outfits Men
With Full-sleeves Shirts
You can wear your wife-beater under a full sleeves shirts and pair it with your favourite type of pant and sneakers, like;
With Full-sleeves shirts and trousers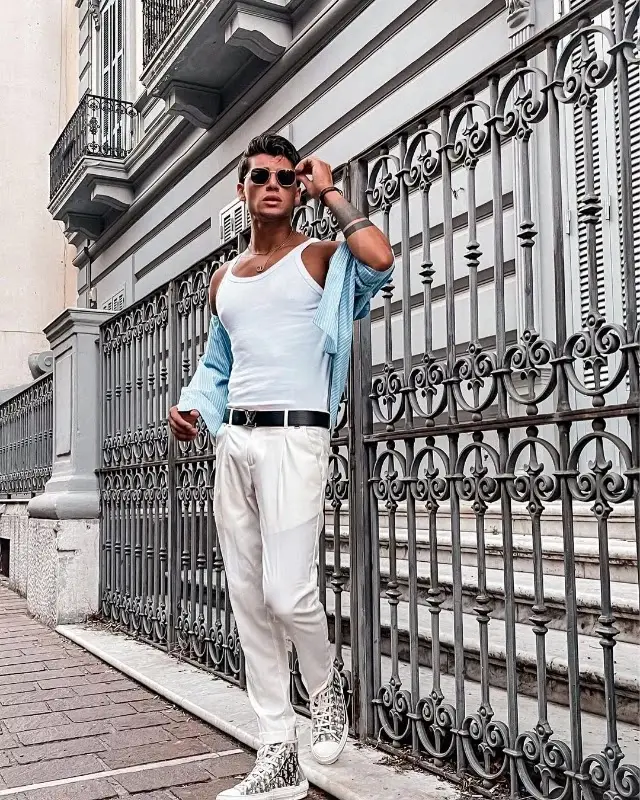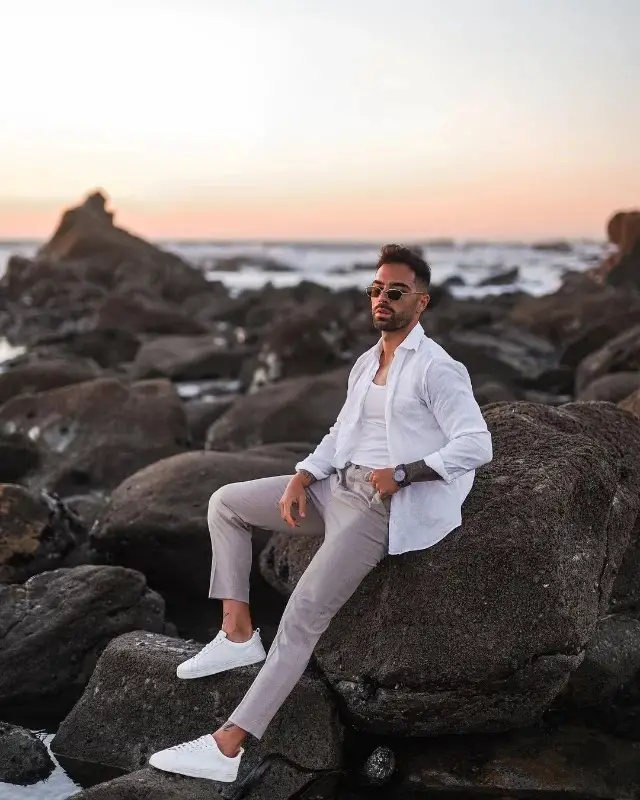 Wife-beater under a shirt and trousers combo is best outfit comno for street styling in summer season.
With Full-sleeves shirt and shorts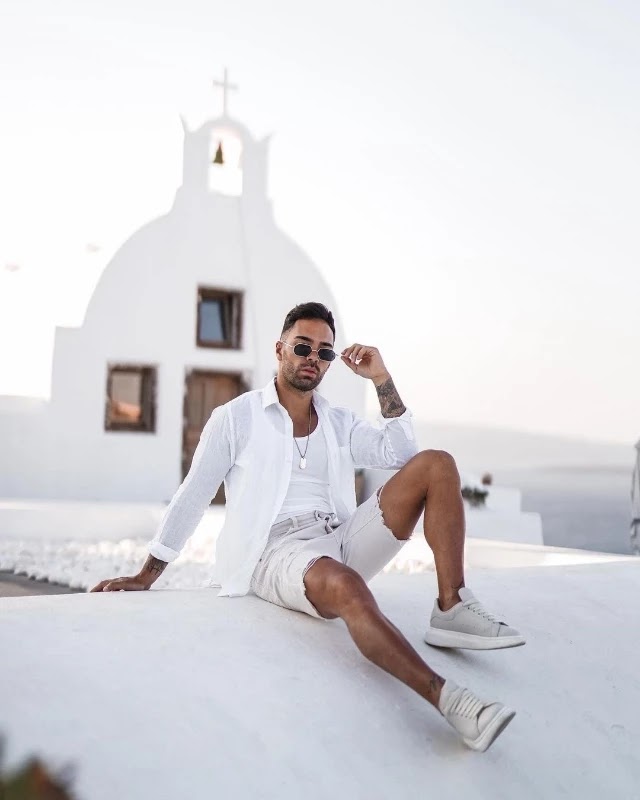 If you're fan of wearing shorts then you are good go with your favourite one with a wife beater.
Great outfit for going beach and for visiting casual places and markets in summer season.
With Short Sleeves Shirts
If you wanted to pair it with your favourite summmer outfit stuff of your wardrobe, short-sleeves shirt then you can pair it without thinking twice.
Printed Patterned short-sleeves shirts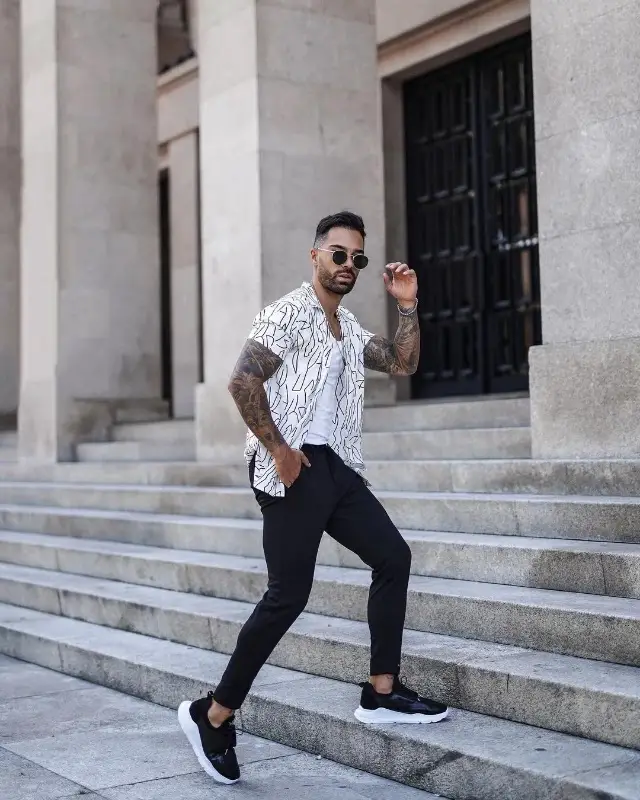 A printed patterned short sleeves shirt is in craze nowadays for men's summer fashion and you can style your wife-beater with this stuff, too.
A patterned or striped printed short sleeves shirt with jeans/trousers and sneakers just beest for summers as a casual wear.
Plain short sleeves shirts
If you prefer solid pattern rather than printed then you can wear your beater under a plain short-sleeves shirt, too.
With A Suit
Here is another outfit, using your wife-beater as innerwear with a suit.
You won't think of wearing a suit like tgis a way but believe me it a cool stylish outfit many well know fashion influencer are rocking this style as clearly seen in image.
With Leather Jacket
Yes, you can wear your wife-beater under a leather jacket perfect outfit for a season having mild cold like; fall season.
Wear you wife-beater under your lather jacket and pair it with nice jeans and sneakers.
With trench coat
Not just under a suit's coat, you can wear your wife beater under a long trench coat, too for a classy and Nonchalant look.
Final thoughts
These outfits are just the example for showing you how you can pair up and style your wife beater.
The wife beater is nothing just take it as a sleeveless t-shirt and wear it with all those outfit stuff that you would wear with a normal t-shirt.