As men we all wanted to buy those outfit items which have versatility, we never flinch to invest in those items which we can wear with almost every time and event.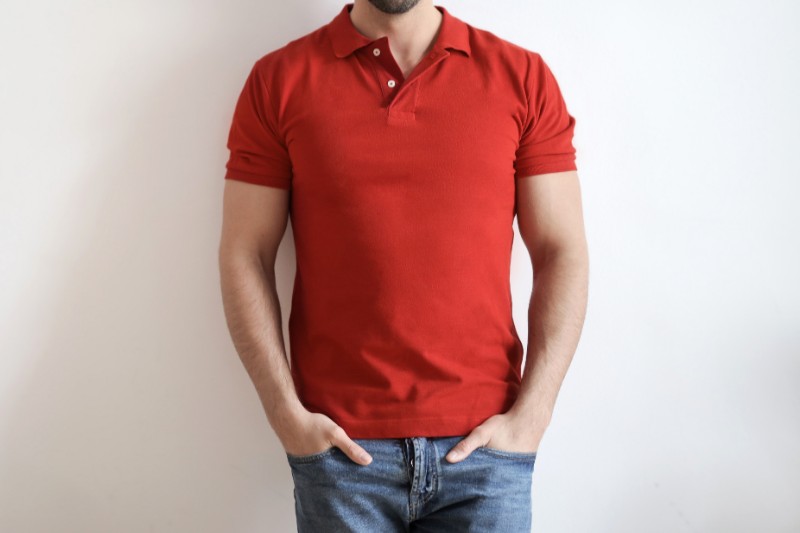 If you are someone who loves to buy stylish and versatile outfit stuff for your wardrobe then you should must-have polo shirts in your wardrobe.
We all are known to polo shirts, if you not, let me define it in shortly "A T-shirt with double stitched normal collar called polo shirts or polo T-shirts."
Polo shirts are one of the most versatile men's wearing item. It can go with almost every type of men's wear (formal, casual, sports).
You can wear it on almost every place like as; casual parties, streetwear, sportswear, athleisure wear, casually-formal wear etc.
It is the must-have outfit item you should add in your wardrobe, but adding it in your wardrobe is just not sufficient you should know how to wear it on different modes.
Yes!! you can wear your polo shirt on almost every place and event but not in an indistinguishable way. You can't wear your polo in the same way in different places.
There are different ways of wearing polos depends on the place.
You should know how to style your polo Shirts in various style and on several occasions. That's what this article will instruct you.
So, without ruining more '0' clocks let's see, how-
Polo Shirt's Colour Pattern
There are different type of patterns in polo t-shirts are in the market. Patterns play a silent role in your polo shirts.
When you are wearing your polo shirt never ignore the pattern it has. You should know the flawless way of wearing that pattern of polo shirts whichever it has.
When I'm saying pattern, it means the pattern of colours here.
what are the best patterns of polo shirt for men?
Here are 3 best types of patterns men wear and these three are the most demanding patterns of polo shirts-
Plain (No Patterns)
Plain polo shirts are worth buying. A plain (no pattern) polo shirts can go with any type of over wear(jacket and all) & lower wear(pants) patterns.
Stripes
Polo shirts with stripes a second stylish pattern. There are mostly two types of stripes which you should wear as a stylish man, horizontal stripes or vertical stripe patterns. These stripes width can differ.
If you have a polo shirt with stripe pattern then you should take care of some points
As you see that your polo shirt has already pattern then try to minimize the pattern in other stuff of your outfit.
means you should not add extra outfit stuff which has pattern as; your lower wear(pants) or overwear(jackets) should plain.
Floral pattern
The last type of pattern is a floral pattern. Floral or tie-dye pattern is in trend nowadays that's why I've mentioned it here.
But simple style lover is absent following this pattern, men who love the casual style they love to wear a polo shirt with this pattern.
Rule of wearing a floral print polo shirt is as same as stripes pattern polo shirts.
Polka-dots
Polka dots pattern colour is another best choice you can get for your polo shirt. Polka-dots means a shirt which has a base colour and it has dots of another colour.
Rule of wearing a Polka-dots print polo shirt is as same as stripes pattern polo shirts.
Your polo shirt's Fitting-
Fitting is an essential part no matter you are styling which outfit and that's why I make the heading of your polo fitting too.
Which fit is best for wearing a polo shirt and how fitting matters for styling your polo shirt.
If you wanted to style your polo t-shirt a bit formally then it requires a perfect fit.
Your t-shirt should hug your biceps properly(but not too tight).
It should fit perfectly on shoulders, it should not look like it is dripping.
After closing all of your polo shirt buttons your two fingers should easily get in between the gap of your neck and collar.
If you wanted to style your polo casually and you are someone who loves to wear well fit outfit then make sure your polo should fit perfectly, like described above.
If you are wearing your polo as sportswear or athleisure then you can go for a bit loose polo shirt because in sports we prefer comfort more than style. A stretchable athleisure polo will perfect.
Pairing with lower wear (pants).
What type of lower wear(pants) should go with polo shirts-
What pants to wear with polo shirts?
Casually formal/Formally casual
If you are going to wear your polo shirt a bit formally(simple classic style) then a trouser should be your first preference.
Ankle-length trousers with a perfect fit are best to go with your polo shirt.
Never forget to wear tuck-in your polo shirt for giving it a formal look.
You can go for with belt/without a belt.
Casual
Jeans is best for polo shirt for styling it as casual wear.
You can go for tuck-in or without tucking-in.
Prefer going for without tucking-in mostly, because casualwear doesn't require a tucked-in. But if you are fond of tucking in then you can tuck in your polo with jeans but never forget to wear a belt with it.
You can try chinos too with your polo shirt.
You can fold your chino from its cuff (the trend) for making it more casual and stylish.
Athleisure and sportswear.
Athleisure a new type of menswear! Polo shirts are there also.
A stretchable polo shirt is worn as an athleisure and sports polo shirt.
You can pair your athleisure polo with athleisure jogger or shorts for wearing it as athleisure wear and sportswear
Wearing your polo as an innerwear.
Polo shirts are also worn as an inner-wear. it is also best for wearing in winter season under jackets.
What to wear over a polo shirt, male?
You can style your polo shirt under different jackets(bomber, leather, etc.).
People are wearing it under blazer also.
When you are wearing it as an innerwear, then never forget about patterns, wear and style it according to the rule of patterns described above.
Pairing accessories with your polo
Accessories are something which decides the mode of wearing your polo. Classic formal accessories with your polo outfit will make it formal and stylish trendy accessories will Make it casual. So, here is the guide on which type of accessory is best for wearing with polo shirts on different modes.
Styling watch
Prefer wearing a watch with leather, fabric or strap band.
If you are wearing your polo a bit formally then simple analogue watch with a simple band will best.
If you are wearing your polo shirt as casual wear then you can go for any of digital, automatic or analogue watch.
Casually, you are free with its band type also go for any type of band in those 3 described above.
If you are wearing your polo as sportswear then you should go for a digital watch with a band which is made up of rubber, in short, a sports watch.
Athleisure, sports watch/casual watch.
Styling shoes
Wear formal slip-on or loafers with your polo shirts. (formal)
Wear a stylish sneaker with your polo shirt (casual).
A Chelsea boot can go with any type whether you are styling your polo shirt a bit formally or casually.
Other accessories.
You can wear other accessories too for making your polo shirt more stylish and elegant.
Style shades with your polo if you are styling it as streetwear.
You can wear spects for giving it a simple formal look.
Important tips
If you are styling your polo shirt a bit formally then-
Try to match the colour of your accessories for making your polo more elegant.
Match your one accessory colour with another accessory like;
If you are wearing belts then wear a shoe with the same colour which your belt has. Or your watch band colour should match the colour with your shoe or belt.
Match your polo shirts colour with your accessories colour (with a belt, shoes, watchband).
Outfit Ideas for styling your Polo shirts/t-shirts.
Polo shirts and trousers (tuck-in without belt)
Polo shirt with trousers( tuck-in with belt)
Polo shirt with trousers (tuck-out)
Polo shirts with jeans (tuck-in with belt)
Polo shirt with jeans (tuck-out)
Polo shirt with chinos (tuck-in with belt)
Polo shirt with chinos (tuck-out)
Polo shirts with shorts (tuck-in)
Polo shirts with shorts (tuck-out)
Polo shirts with a suit, men's outfit combo