Open shirt with t-shirt combination is a stylish casual and street-style look and this style is gaining popularity in men's fashion wear day after day.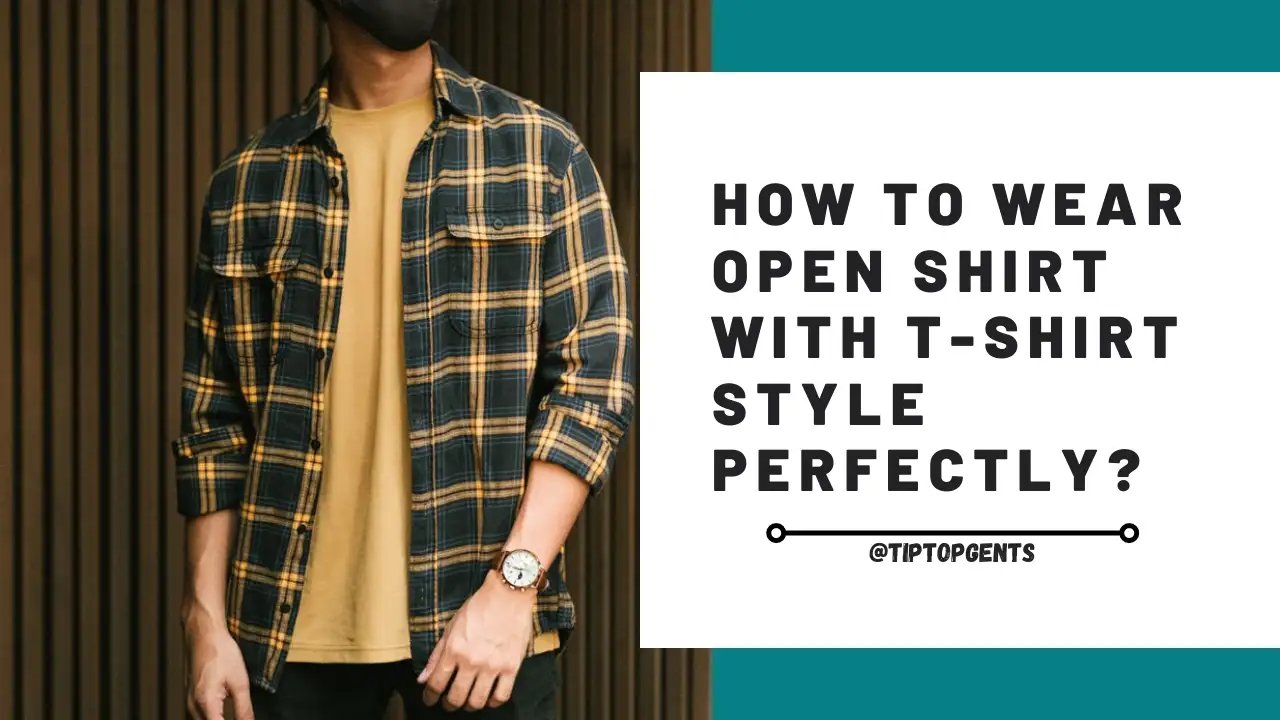 There are various reasons why the shirt with t-shirt style is gaining so much popularity and now every man wanted to adopt this combination.

First, it is a versatile combination you can carry it in summer as well as fall season too, in summers and fall both season you can carry this combination comfortably.

Second, if you're a skinny guy it is a great layering option to carry in the summer season and look a bit fit. Third, you can carry both of your favorite shirts and t-shirts at the same time and play with various combinations.

How we can forget this one, it will make you look stylish!! there are many more reasons that are responsible for the popularity of open shirt with t-shirt combination.

Well, if this article catches your eyes and you're reading it with this intense it means you know about this stylish and trendy combination and you've already planned to try this combination.

If you've planned for trying the shirt with and t-shirt combination and wanted to carry it perfectly then this article will guide you on how.

This article will provide you with a complete guide which will help you to look stylish in your open shirt with t-shirt combination outfit.

Like; as the best type of shirt and t-shirt for this combination, the best ways to carry it, the best color shirt, t-shirt and pants pairing to make a perfect combination and some important tips.

So just read the article thoroughly and we will make sure you look stylish in this combination.
All the images are collected from @instagram
Best Types of Shirts for Open shirt with t-shirt Style
Here are the best types of shirts that you should wear to nail shirt and t-shirt style perfectly.
Denim Shirts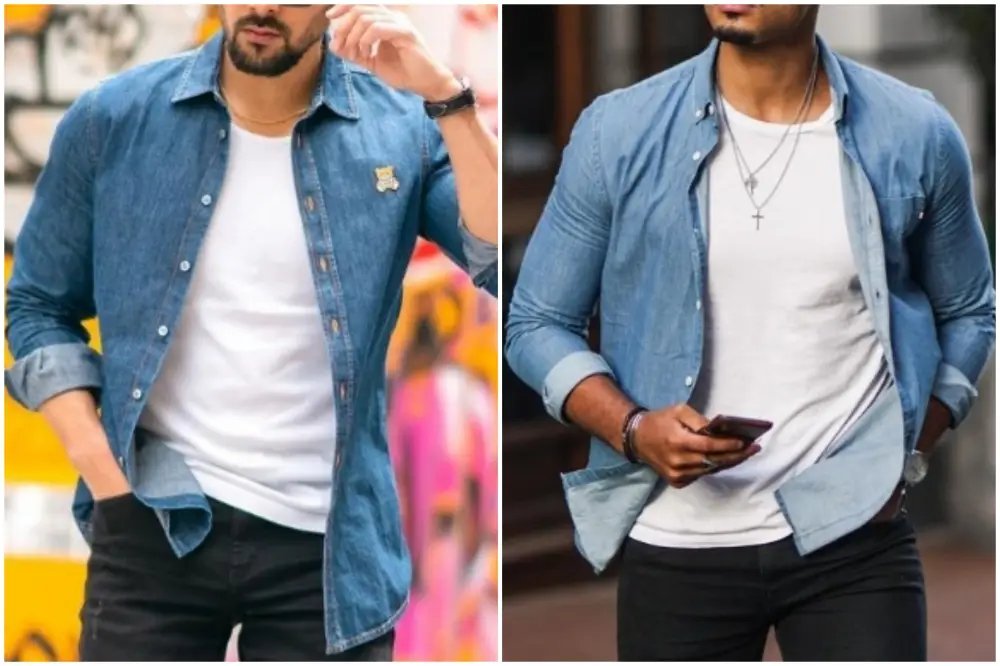 The first type of shirt that you can use for making open shirt with t-shirt combination is denim shirt, perfect for this combination.
Double Pocket Shirt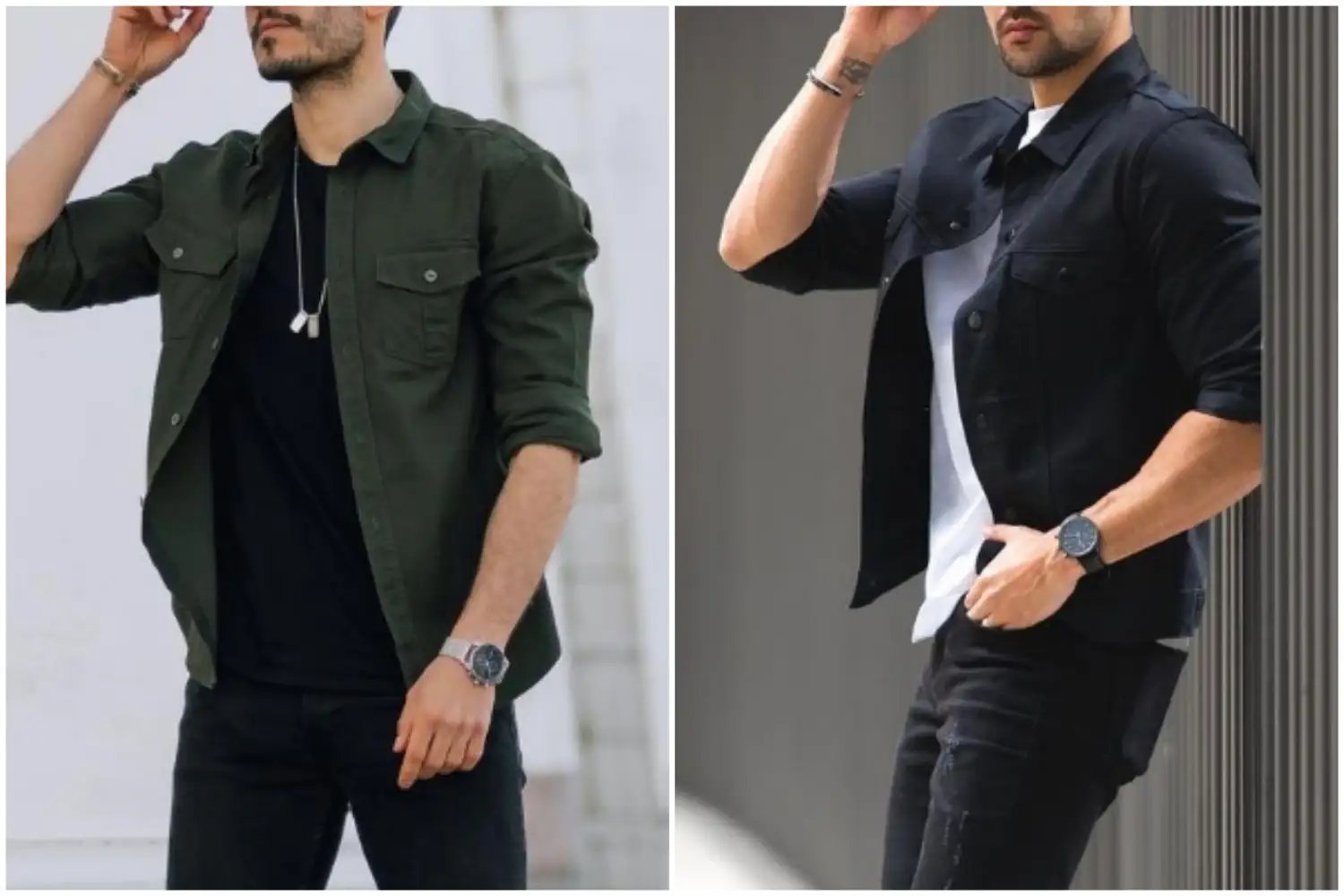 Second, you can use your double-pocket shirt with this combination too.
Solid Pattern Shirts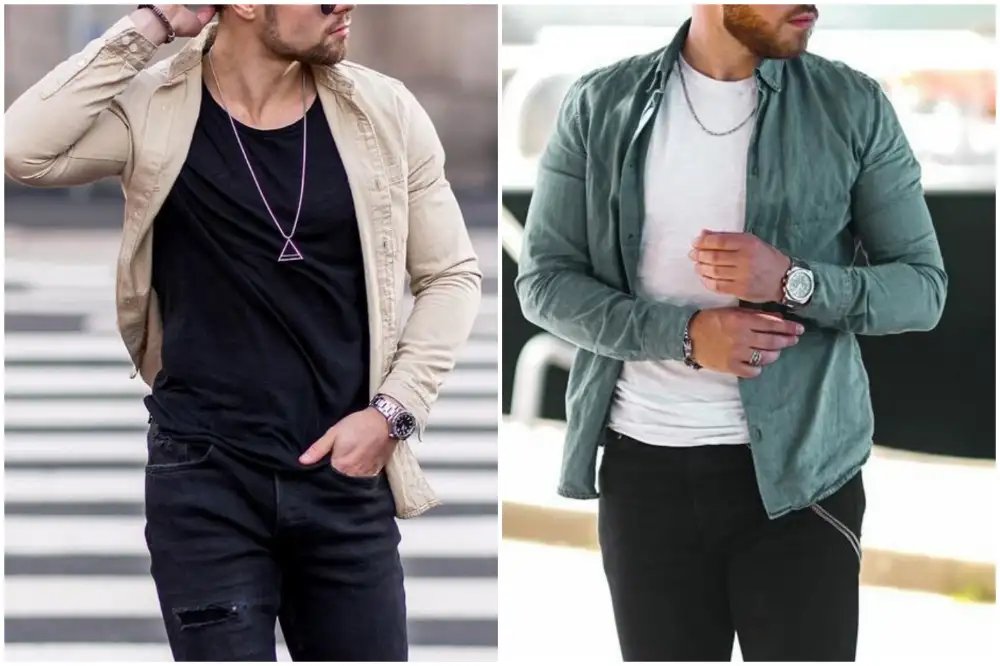 Next is a solid pattern or no pattern shirt that you can use in your open shirt with a t-shirt style
Check Shirts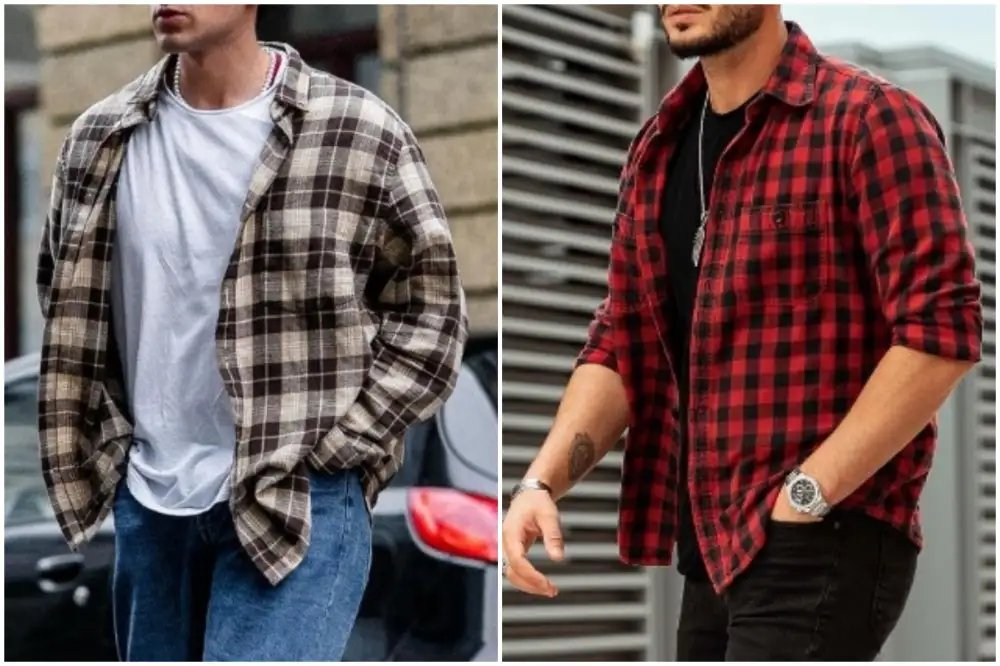 Ok, let's talk about patterns. The first and most popular pattern for the shirt and t-shirt combination style is check, plaid or flannel shirts.
If your style is oversize then You can carry your checkered oversized shirt for the combination and if you prefer a perfect fit style then also this pattern is perfect for the open shirt with tee style.
Stripes or Other Pattern Shirts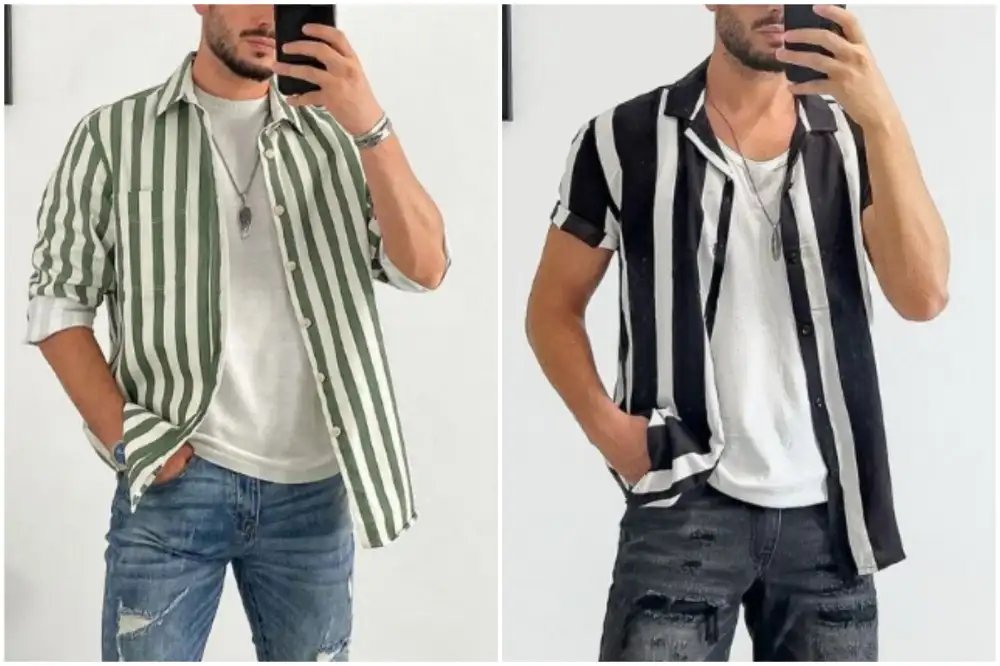 The second most popular pattern shirt that is used in this combination is striped pattern shirts.
There are other patterns/print you can try too like the popular print for the summer season the floral print.
Shacket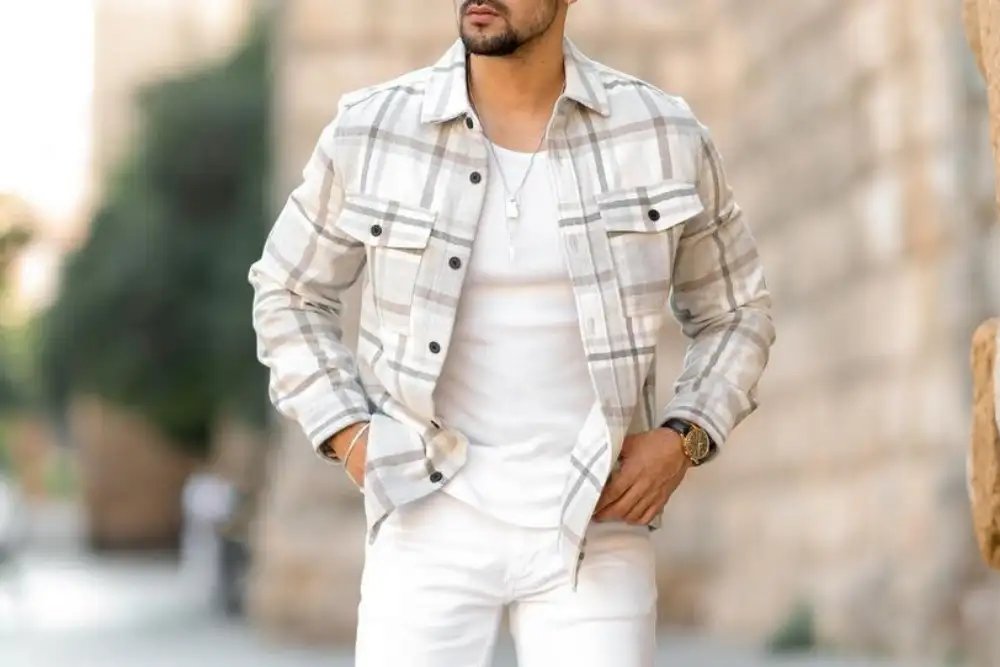 The last type of shirt is a shacket it is not a shirt it is a combination of jacket and shirt it stays somewhere between shirt and jacket and looks like both jackets as well as shirts too.
The shacket with t-shirt combination you had must be seen already because it is one of the popular and trending combinations nowadays.
The reason why this combo is so much popular is that the shacket is a new piece of clothing in men's fashion and There is only one style in which men are carrying this interesting clothing stuff 'shacket' it is open shacket with t-shirts.
Best Types of T-shirts for Open shirt with t-shirt Style
The perfect type of t-shirt that you should always prefer is a solid pattern, one color, Crewneck t-shirts if you want versatility then go for white or black color solid Pattern Crewneck t-shirts.
If you want to try some patterned or printed t-shirt you can go for it but when you're carrying a printed/patterned t-shirt there is one thing you should be aware of, I'll tell you what it is in the next heading.
I would suggest, going with a solid one-color t-shirt for the minimalistic, simple but stylish look.
Basic Guide to Combine Your Shirt with T-shirts Perfectly
If your shirt is in dark color then try wearing a light color t-shirt.
If your shirt is in light color then try wearing a dark color t-shirt under it.
If your shirt has print or patterns then try wearing a plain solid color t-shirt.
Now, comes the important which I've left on above, it is about the pattern t-shirt.
If you're going for a pattern or printed t-shirt then make sure that the shirt you're combining with it should be a plaid solid pattern shirt.
So, these are the basic rules that you should always consider while pairing your shirt with t-shirt for the perfect outfit but there are exceptions to these rules too so you can play and try various combinations and carry what suits you best.
Open Shirt with T-shirt Style Combination Ideas
I've provided you with the basic guide and other tips that you should know first for nailing this combination perfectly.
Now is the time to show you some examples of shirt and t-shirt styles that will give you an idea of how you have to pair your shirt with a t-shirt to look the most stylish out there so let's explore…
Open Check Shirt with T-shirt Combinations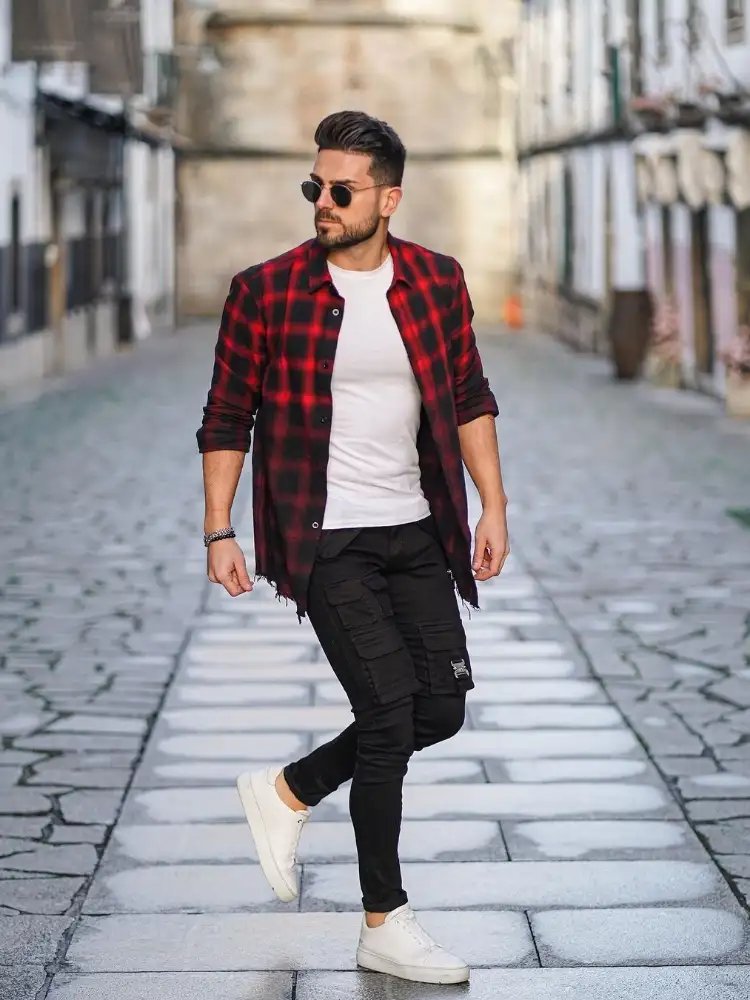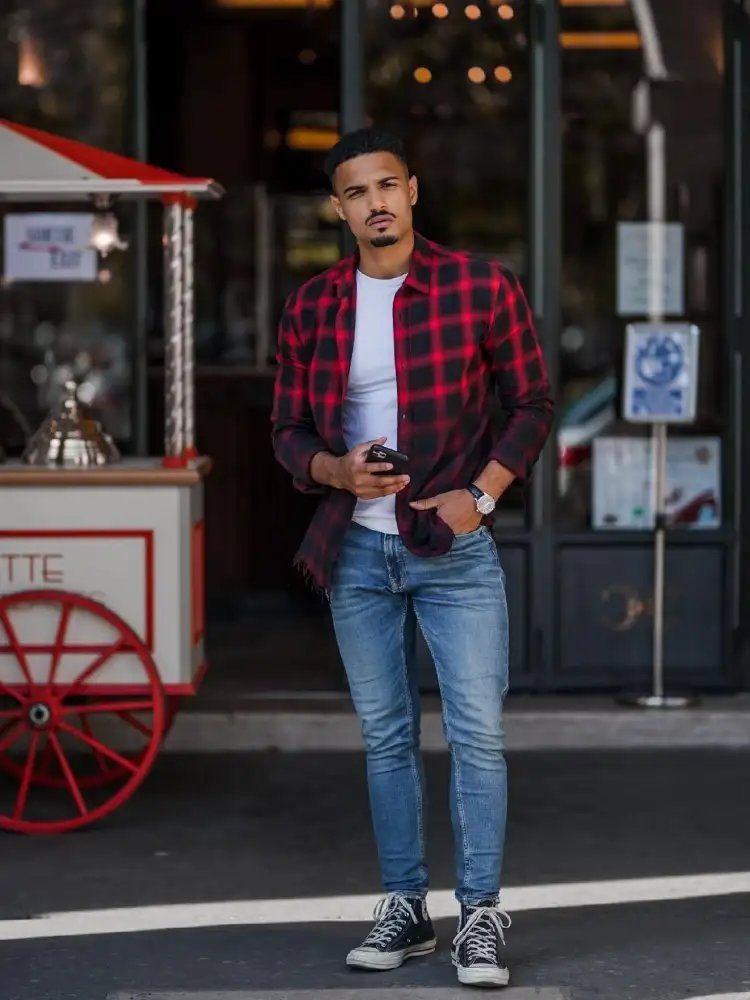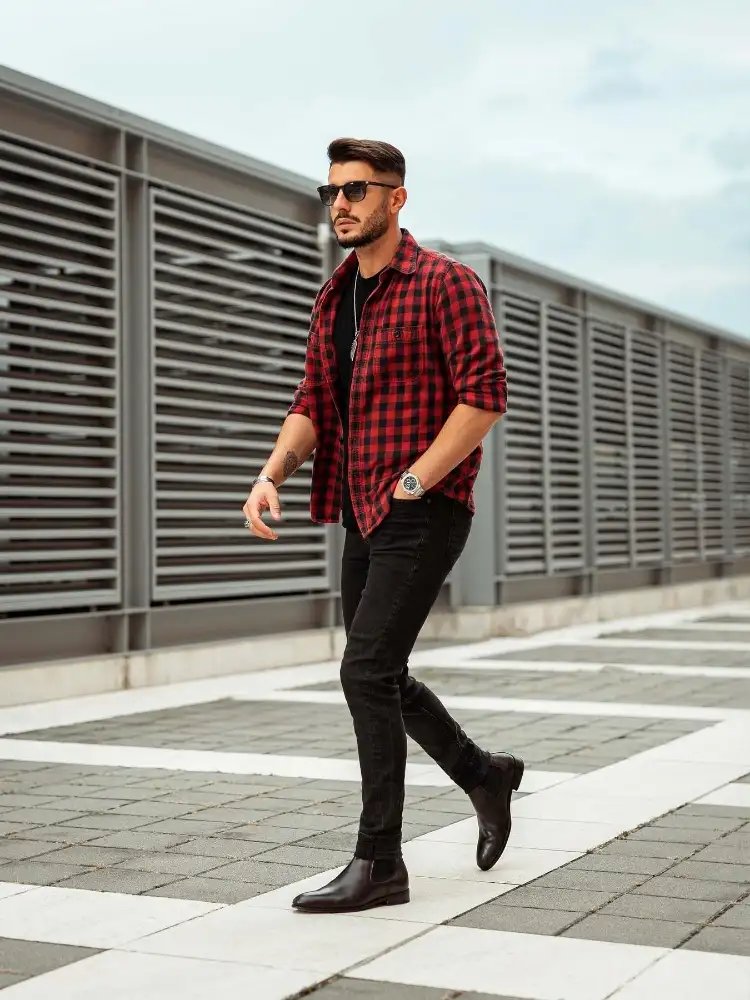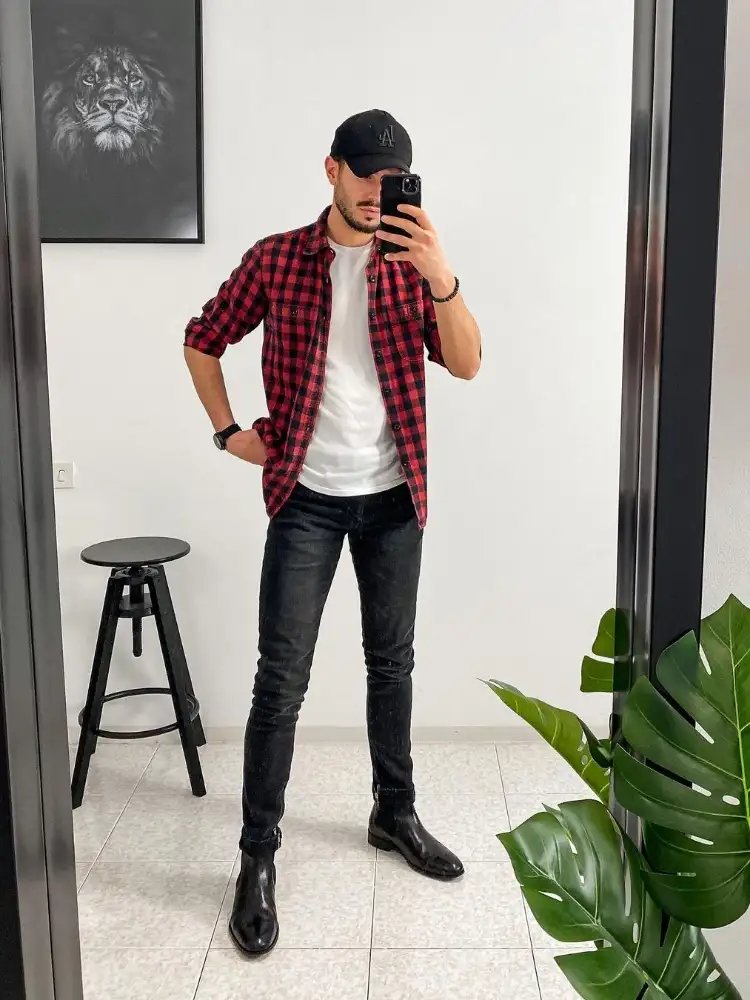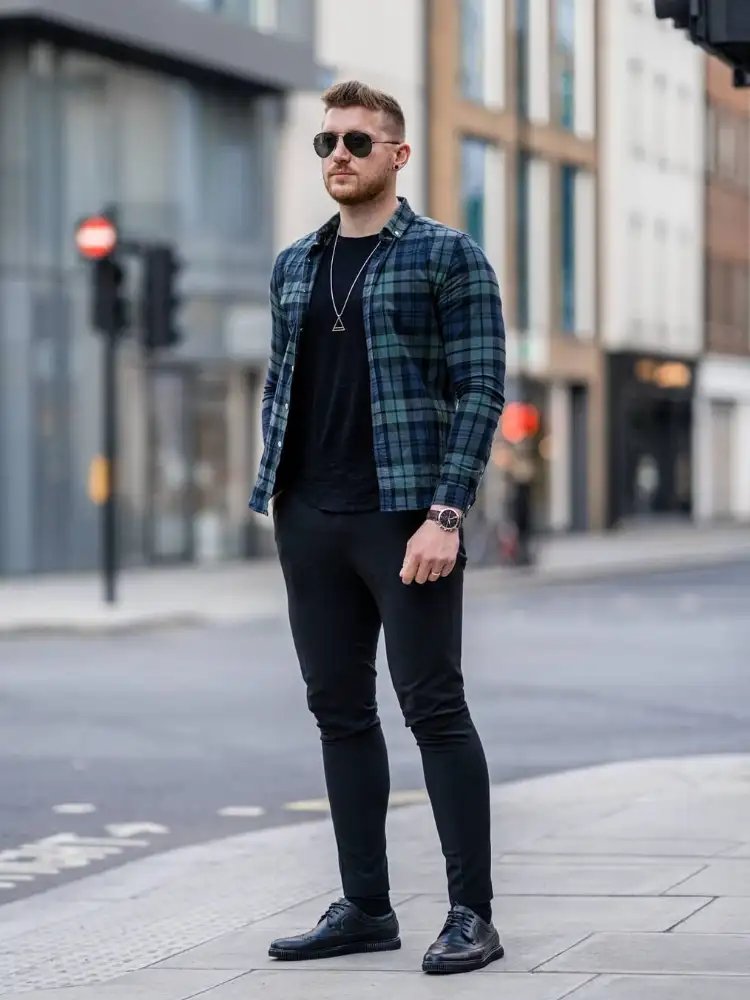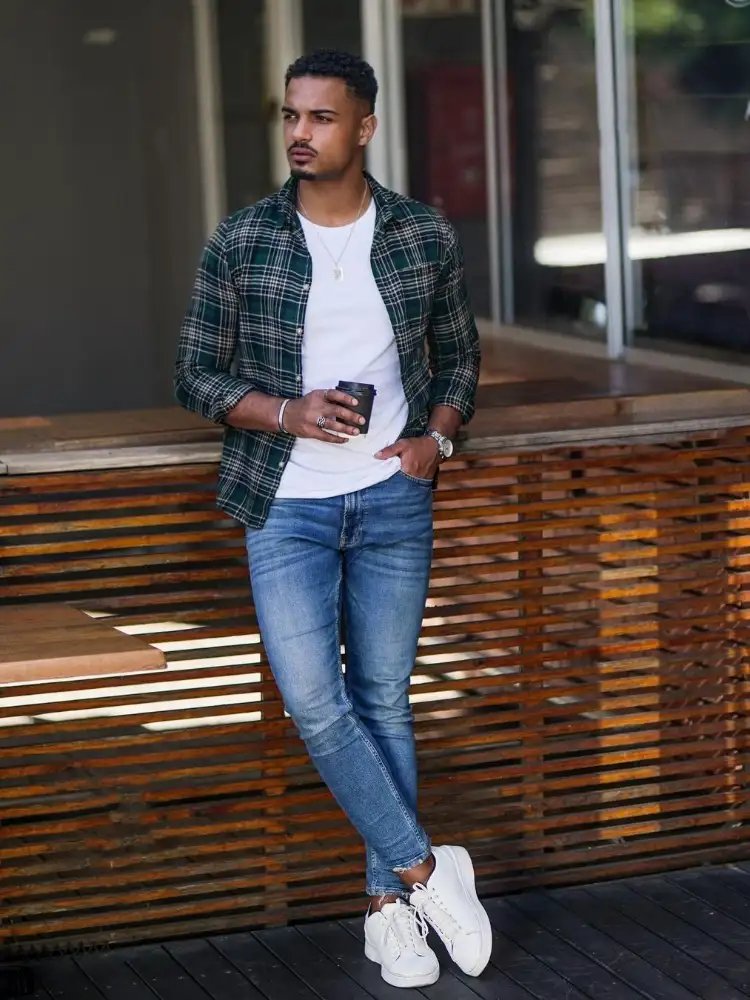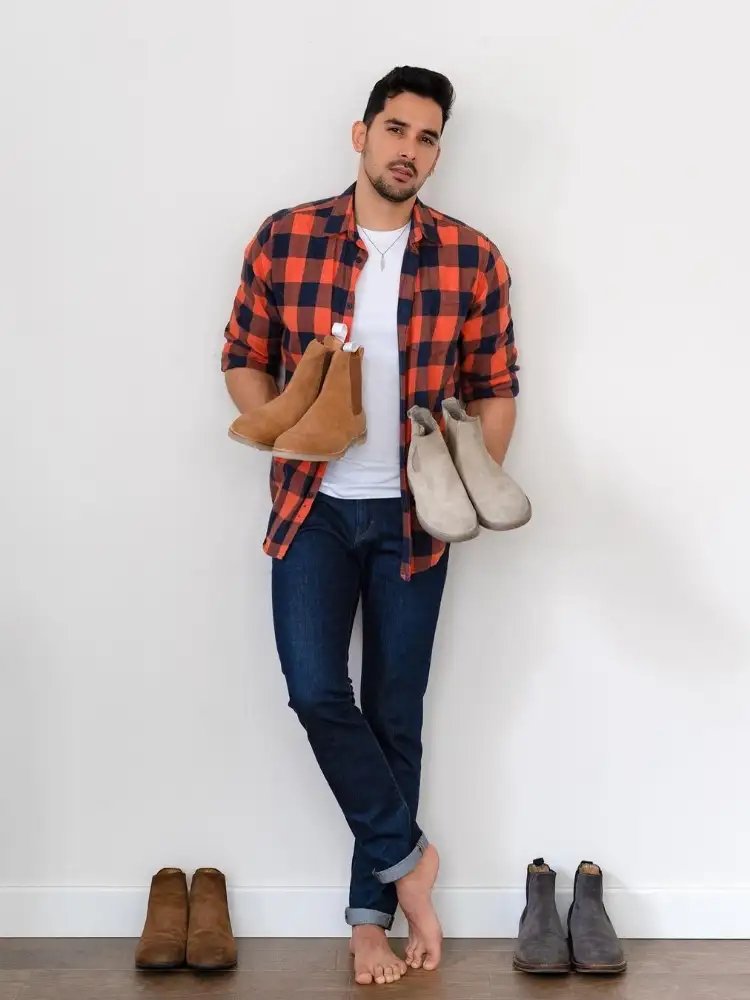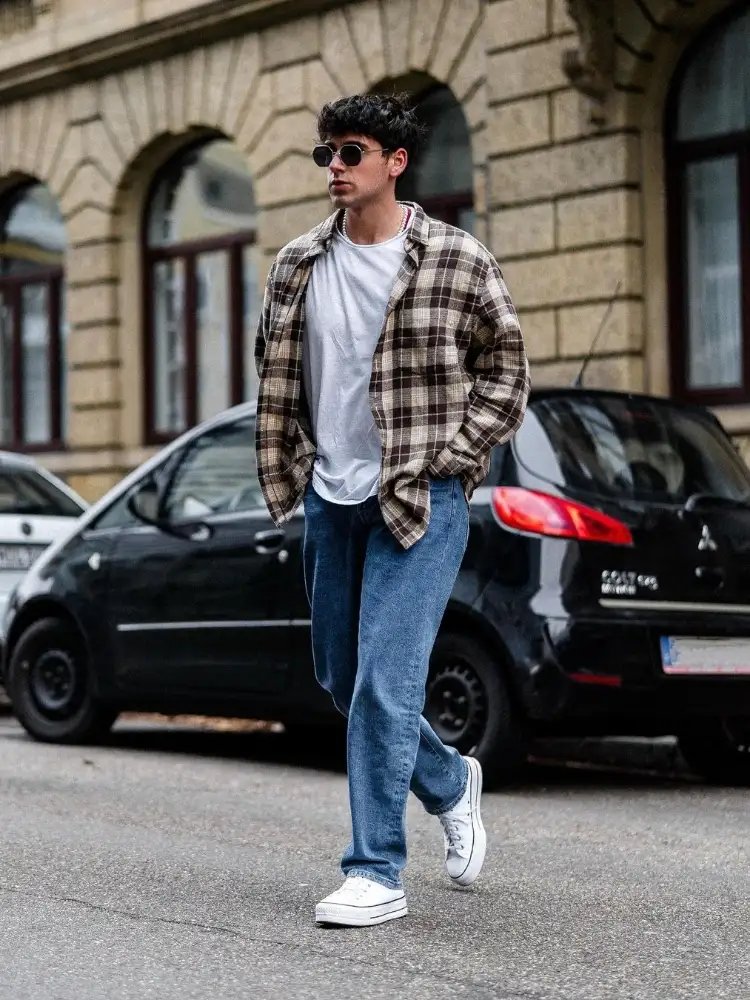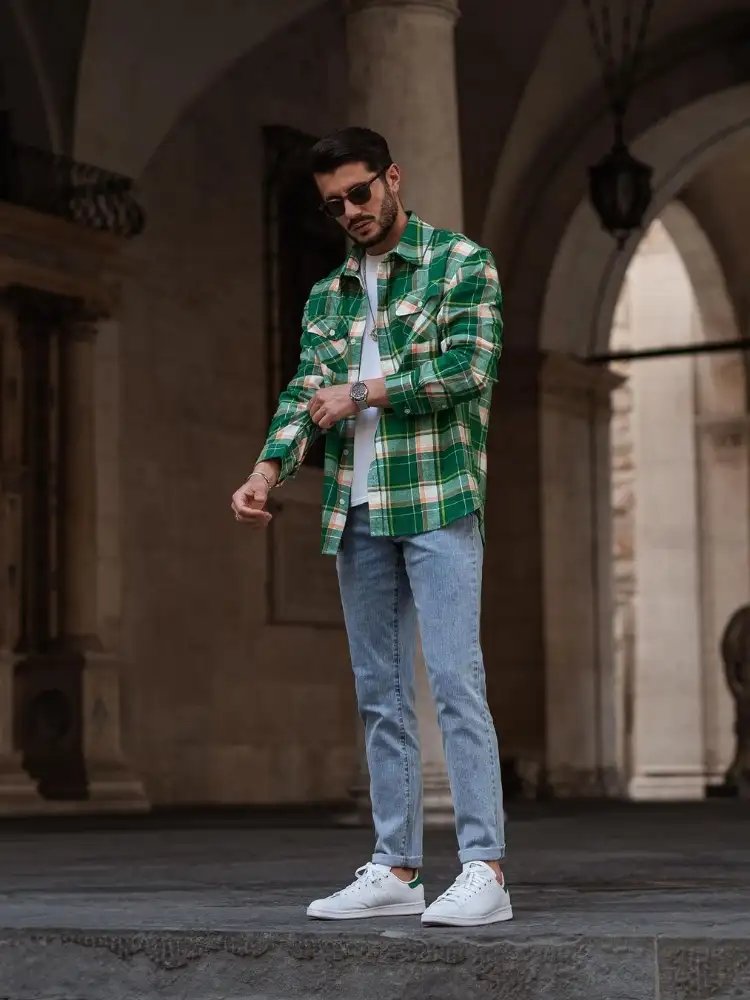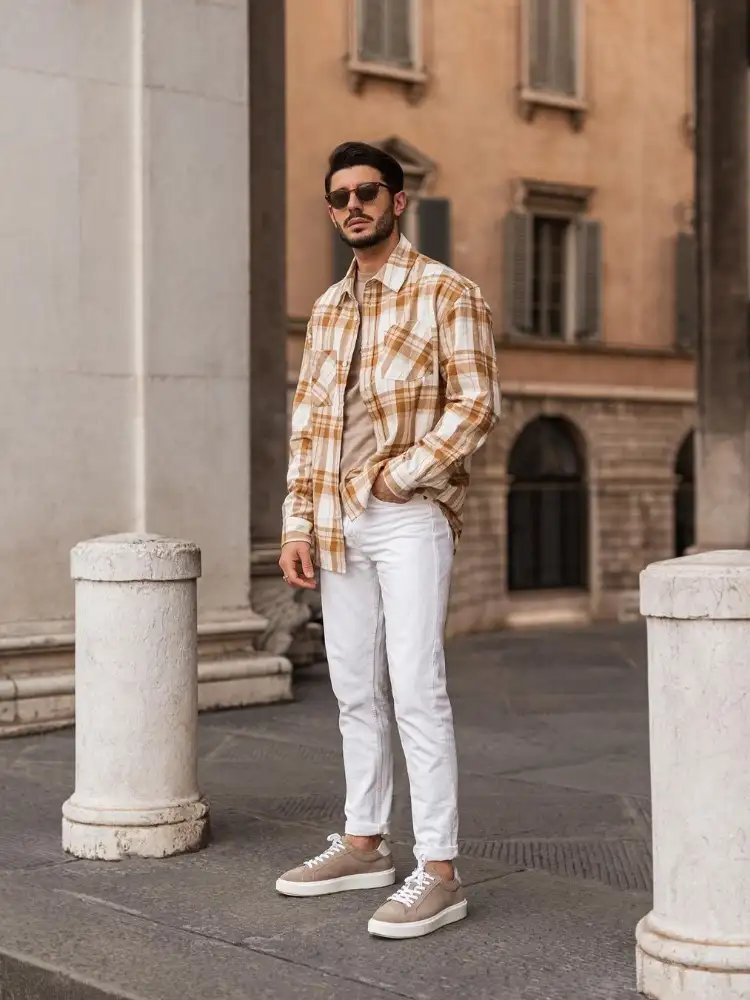 Solid Pattern Open Shirt with T-shirt Combinations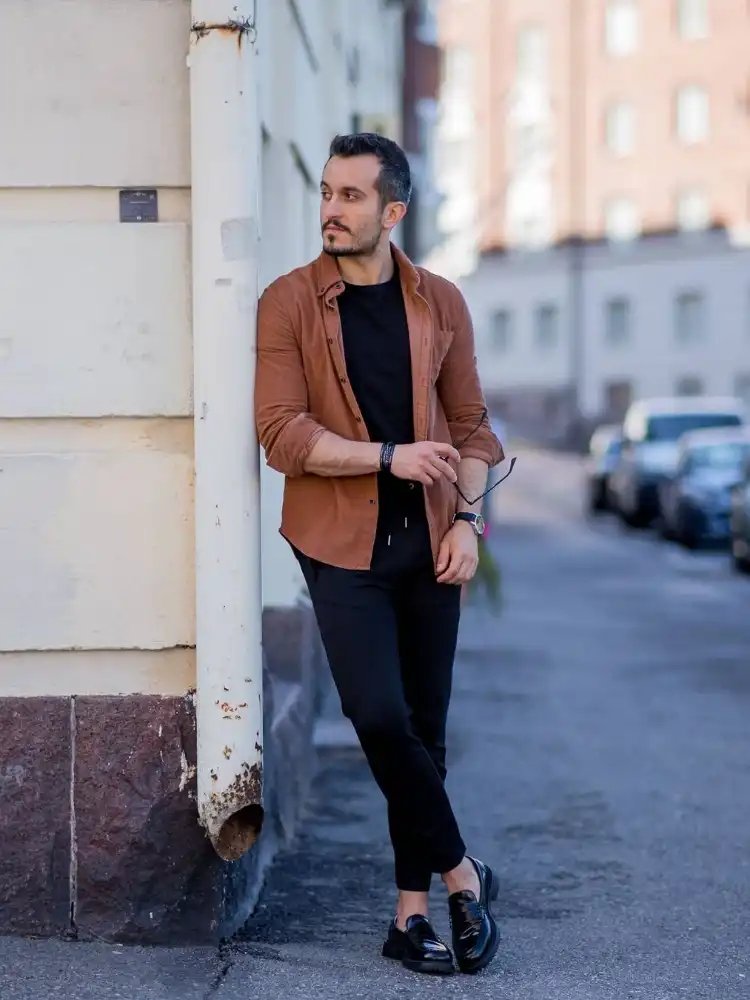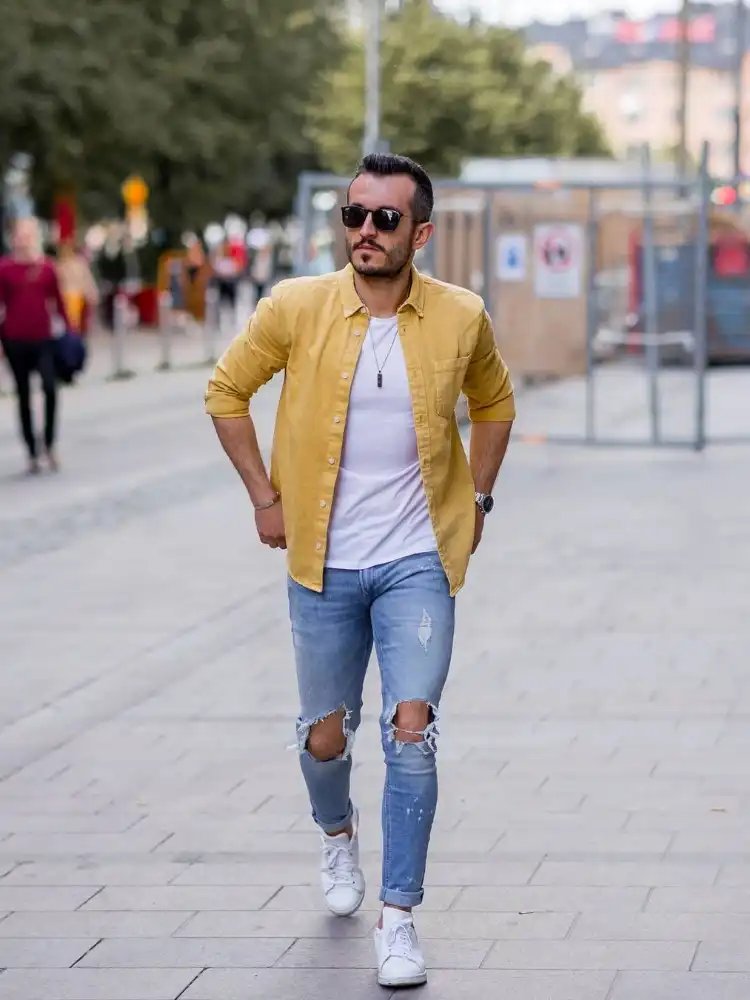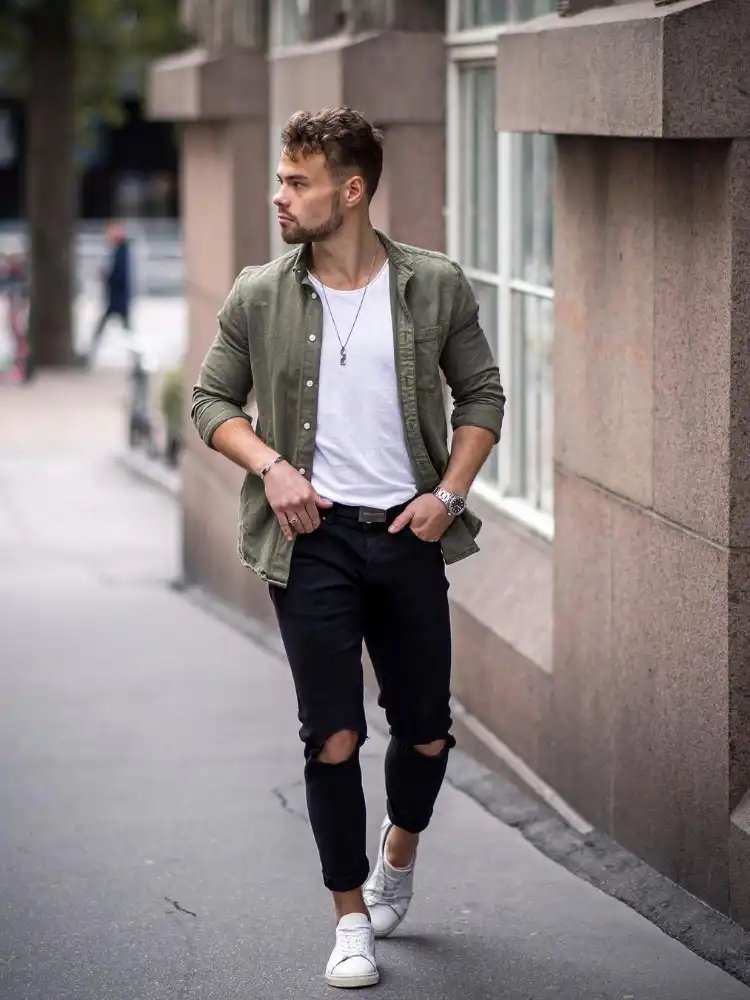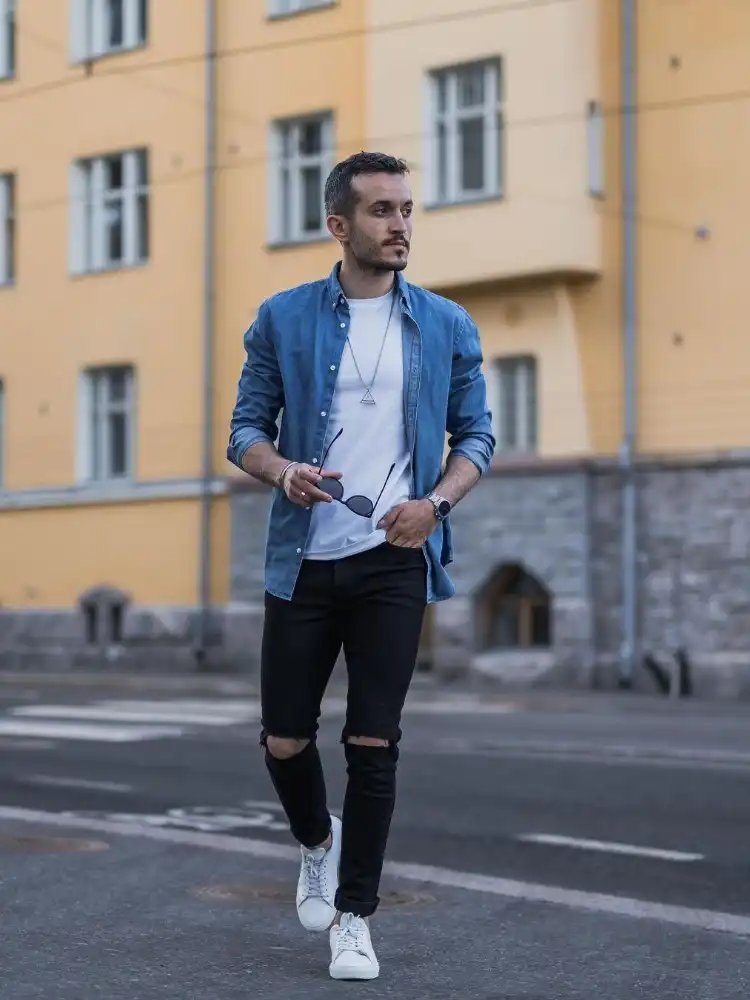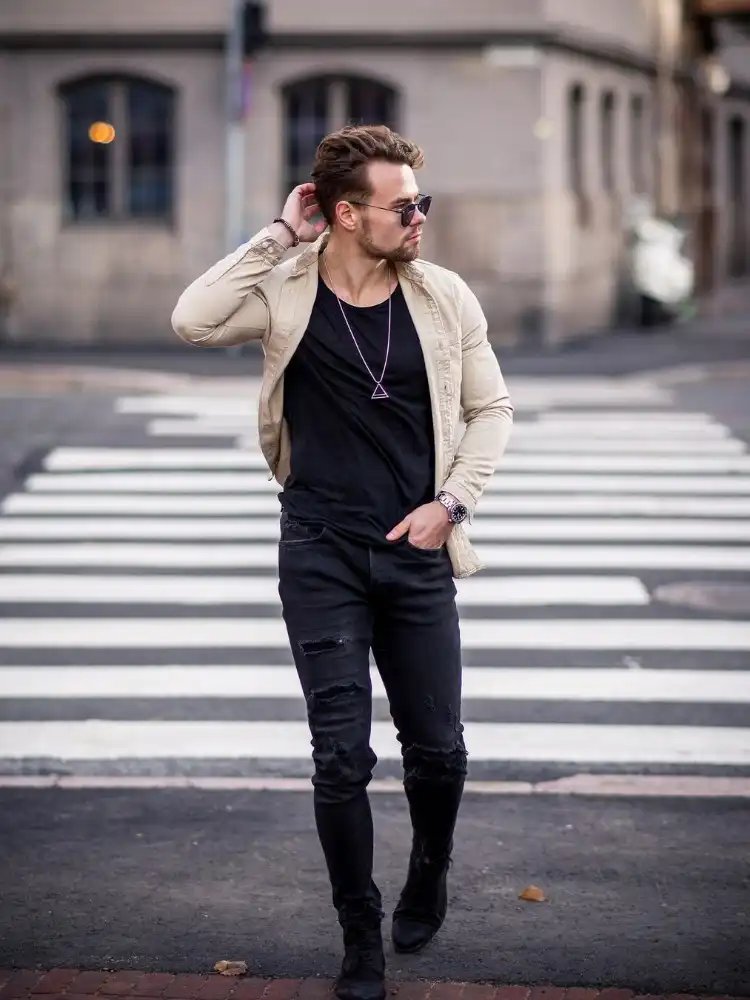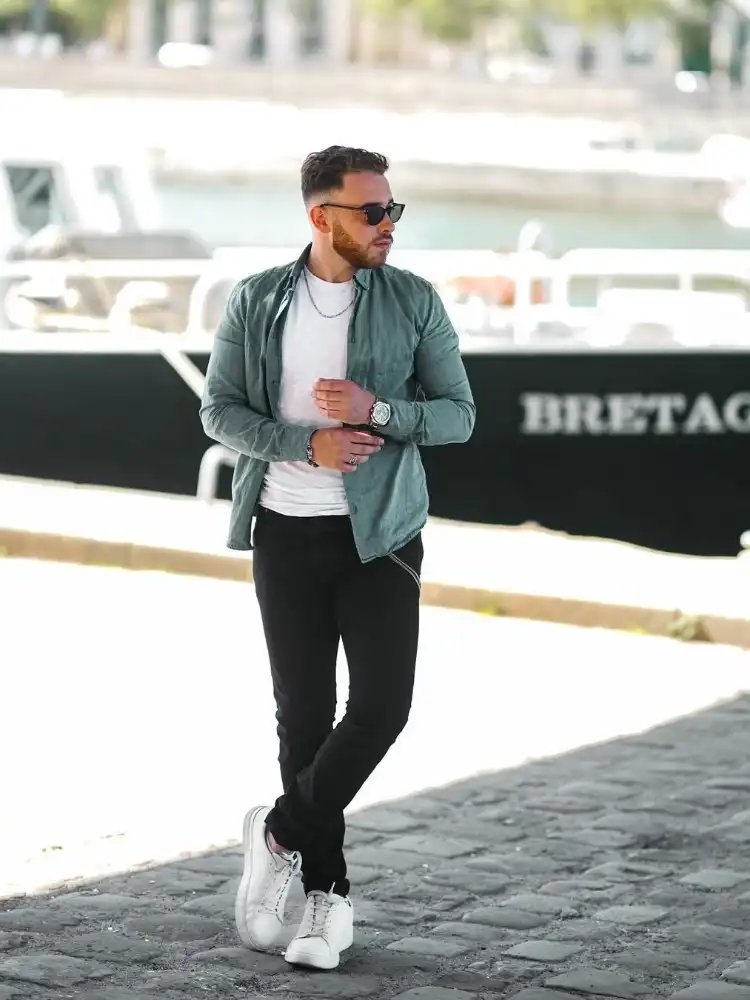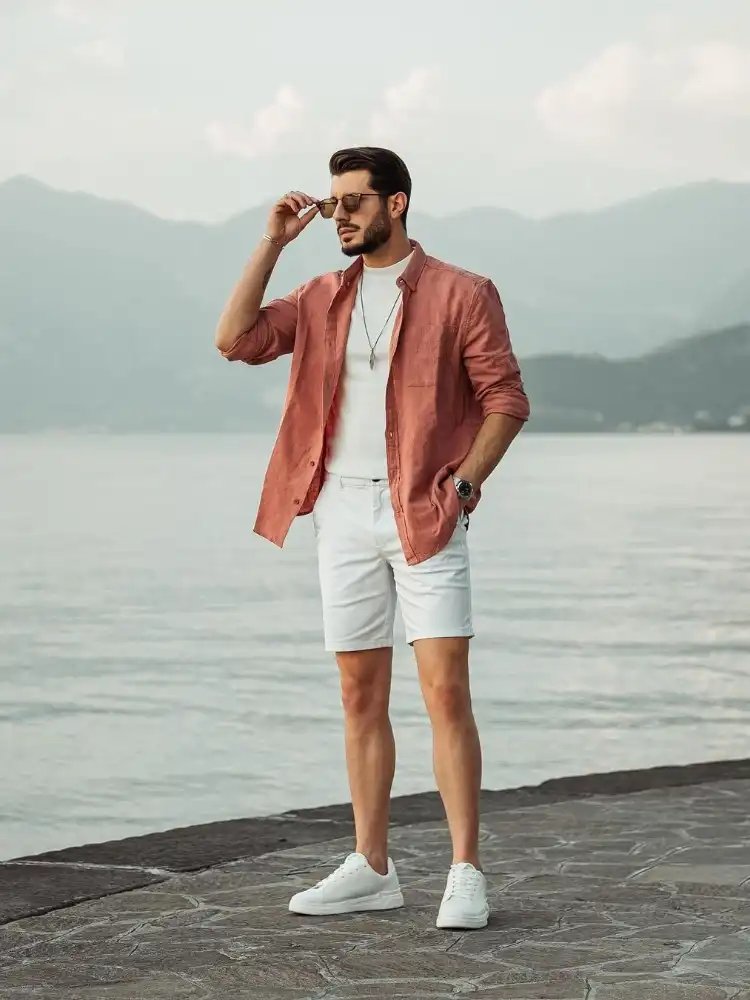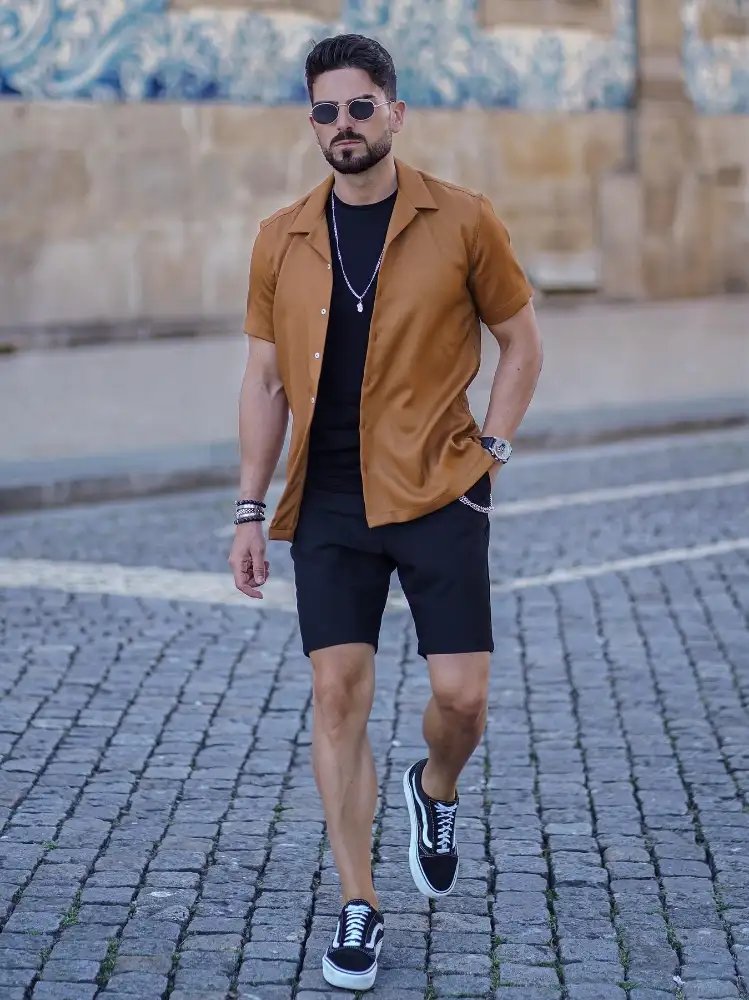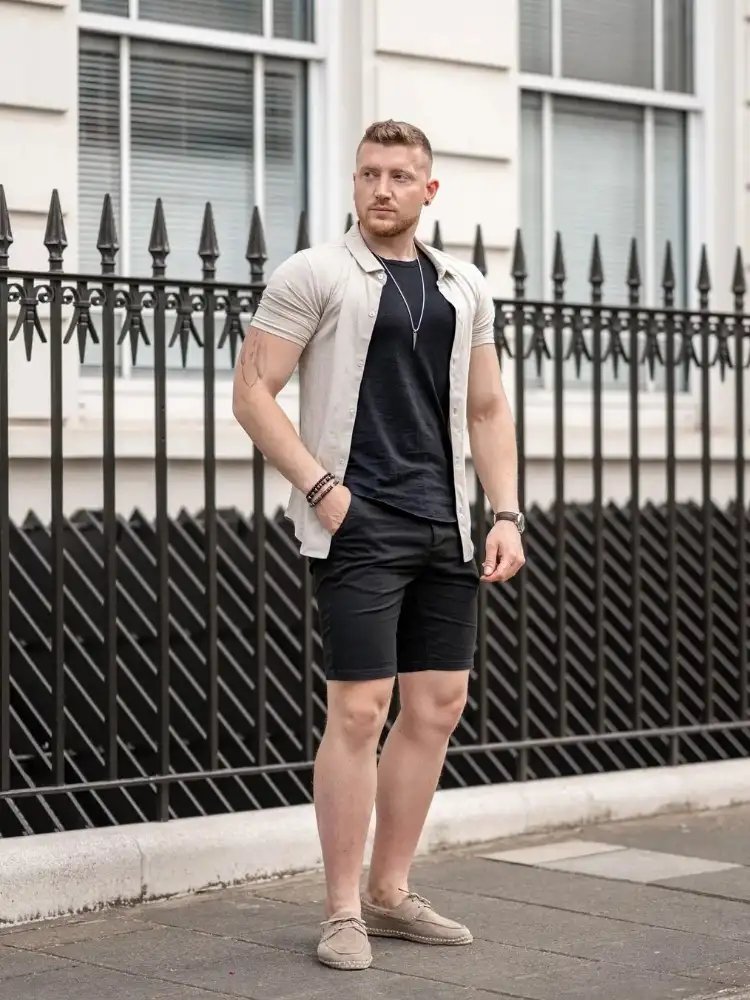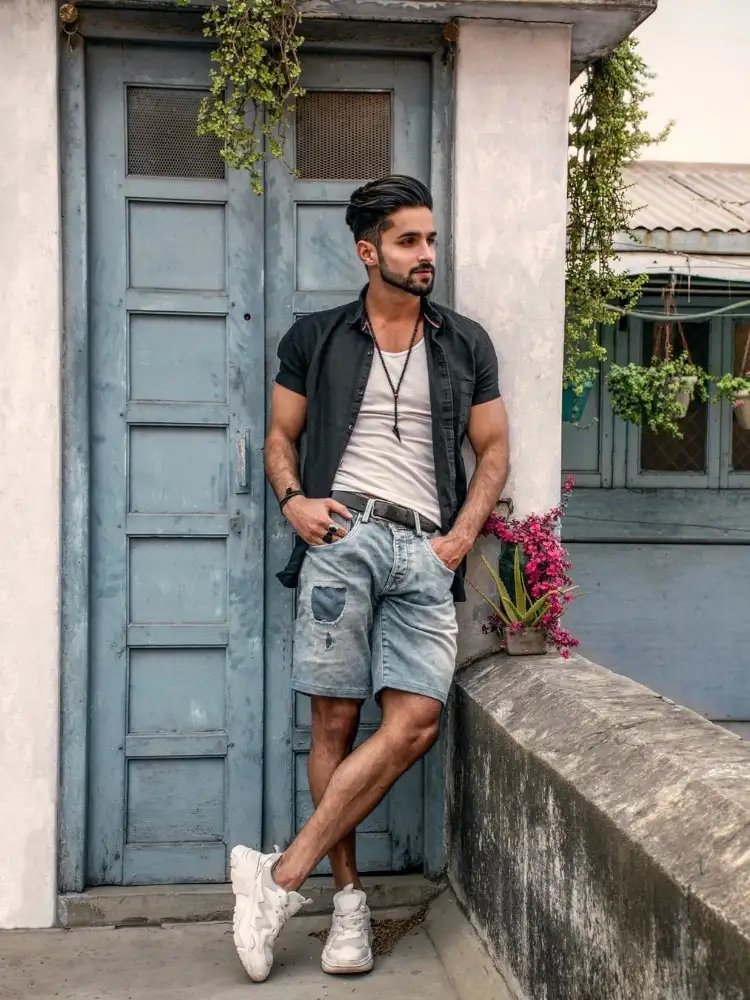 Striped Pattern Shirts with T-shirt Combinations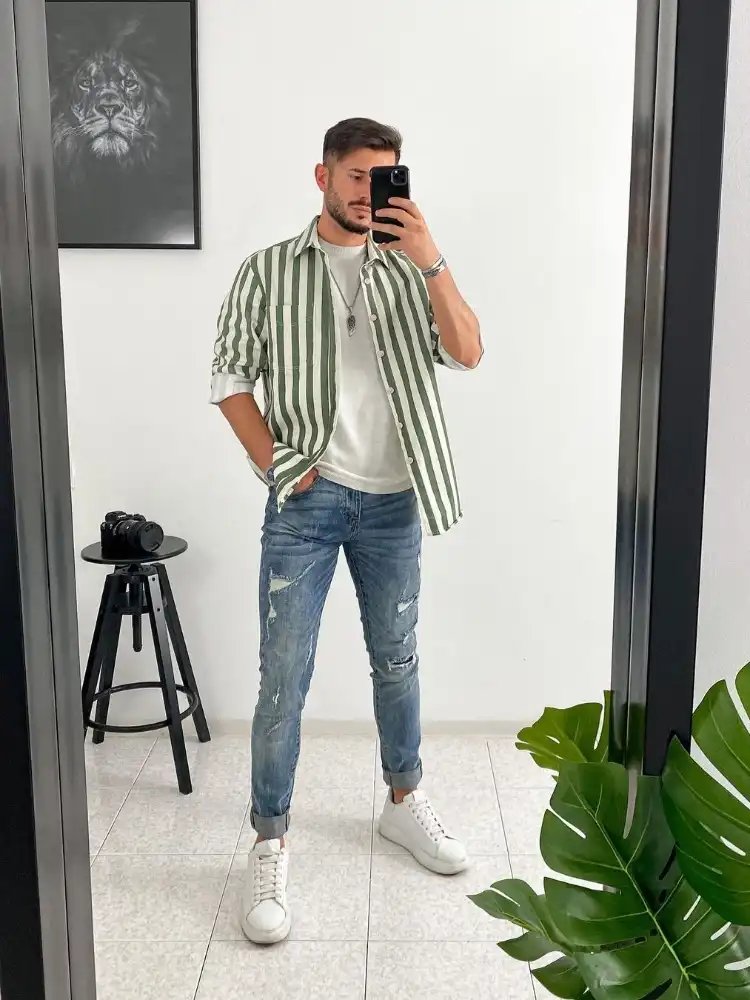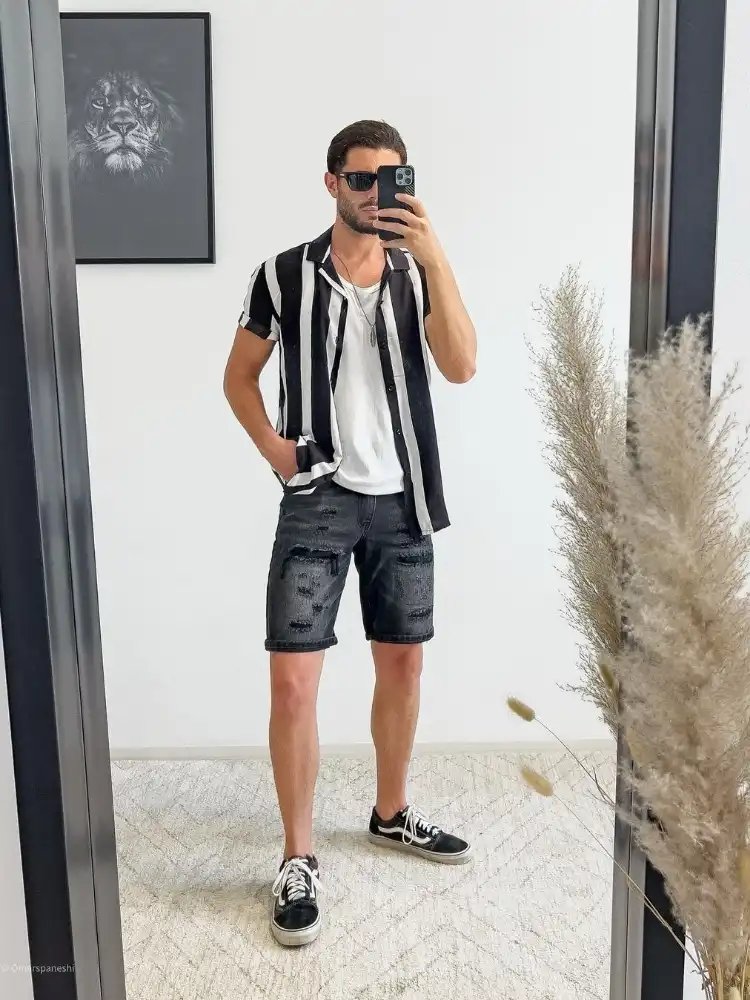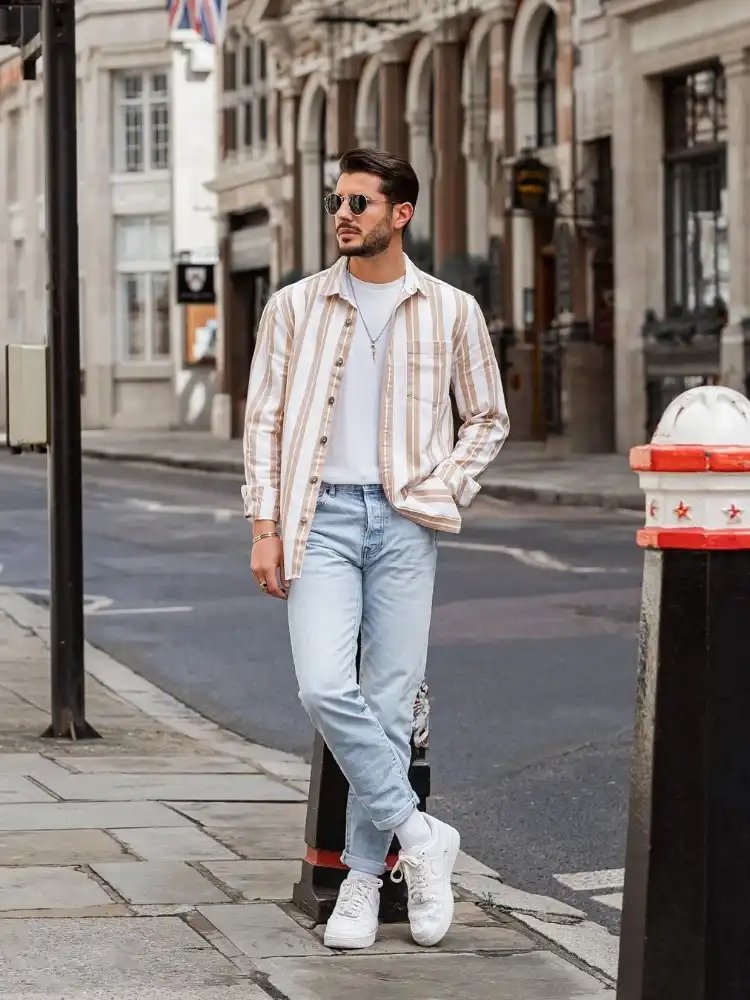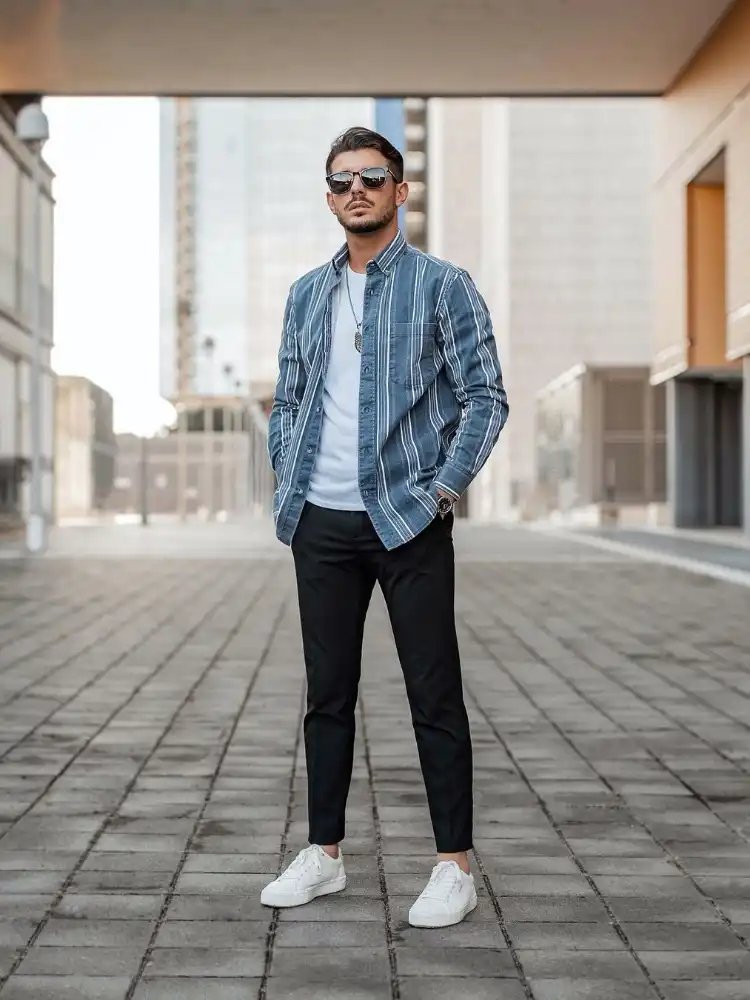 Floral Printed Open Shirt with T-shirt Styles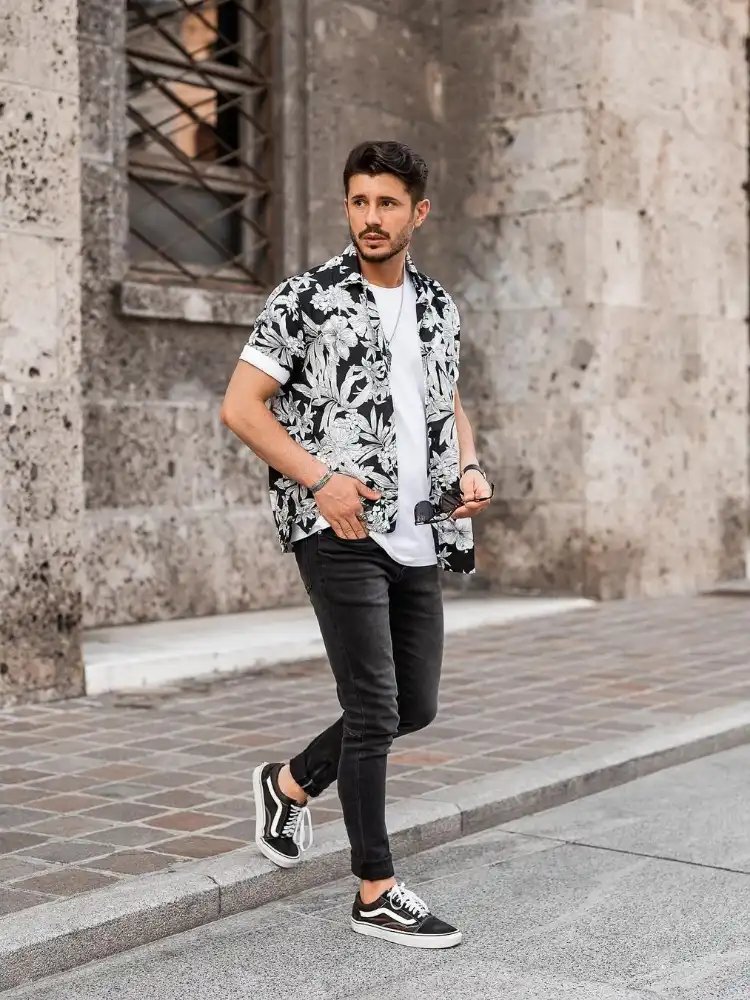 Button Open Denim Shirt with t-shirt styles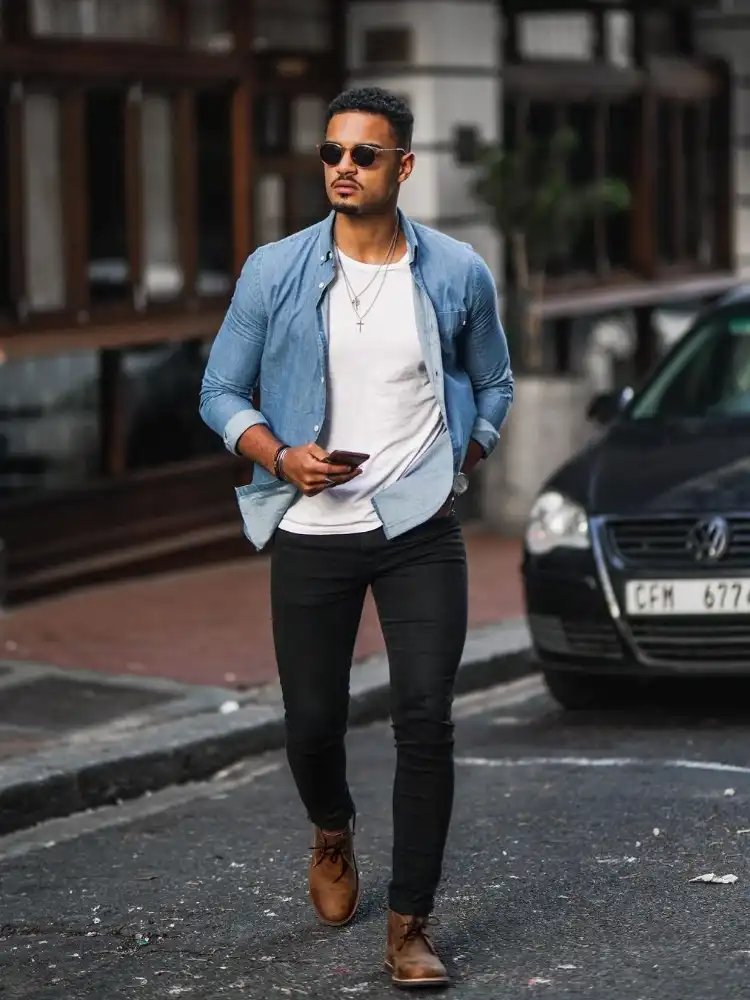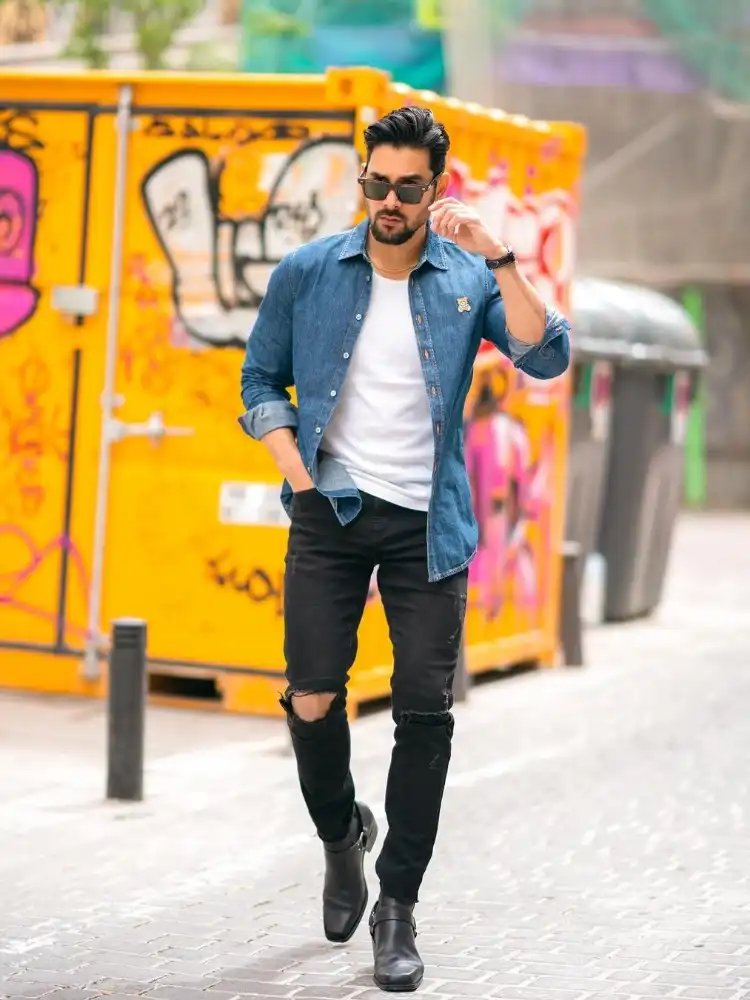 Double Pocket Shirt and T-shirt Combinations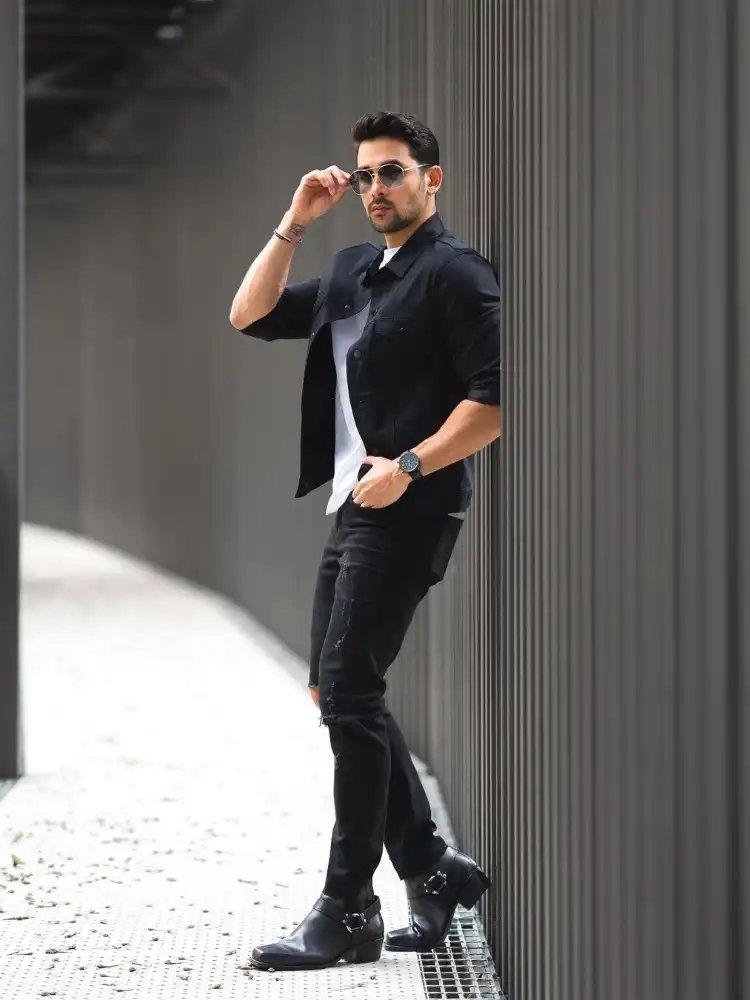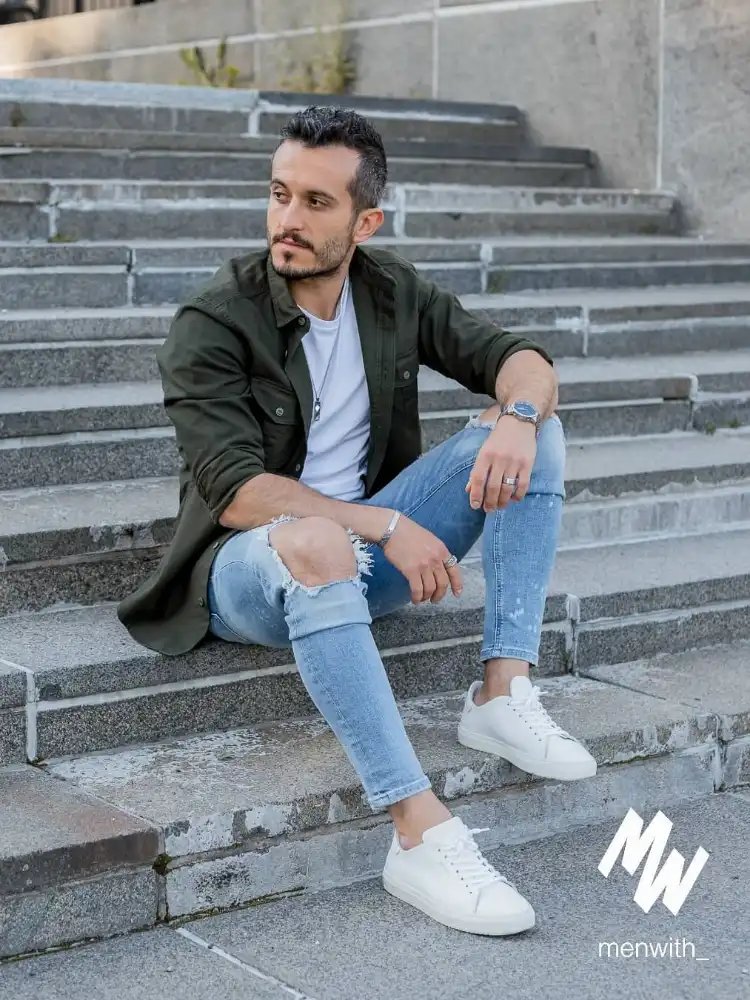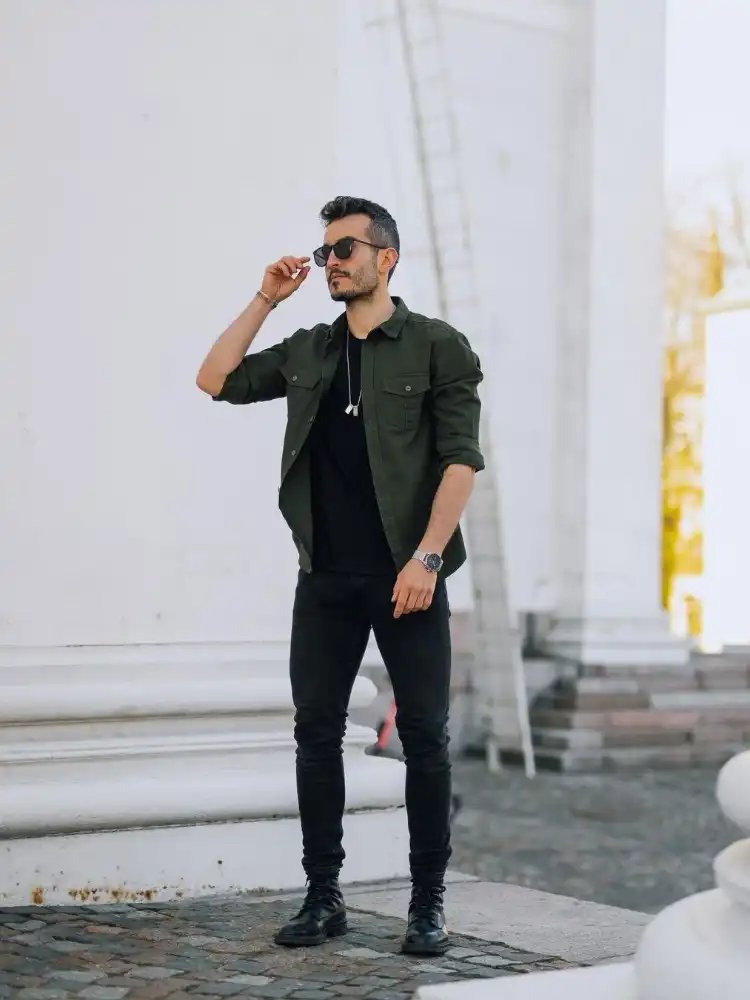 Shacket with t-shirts combinations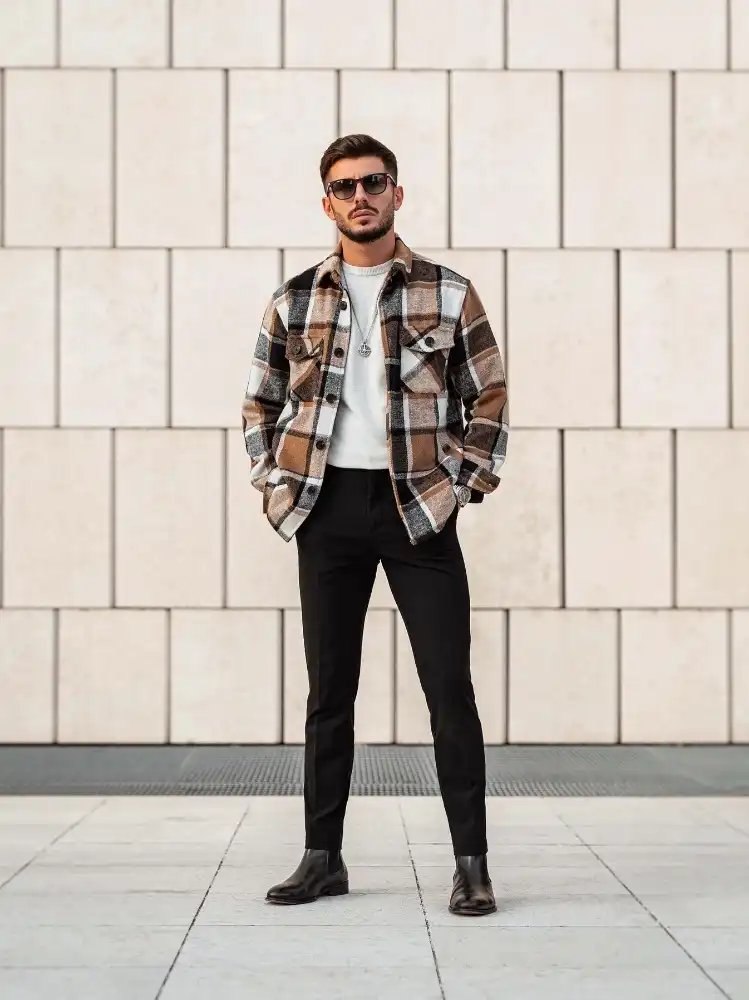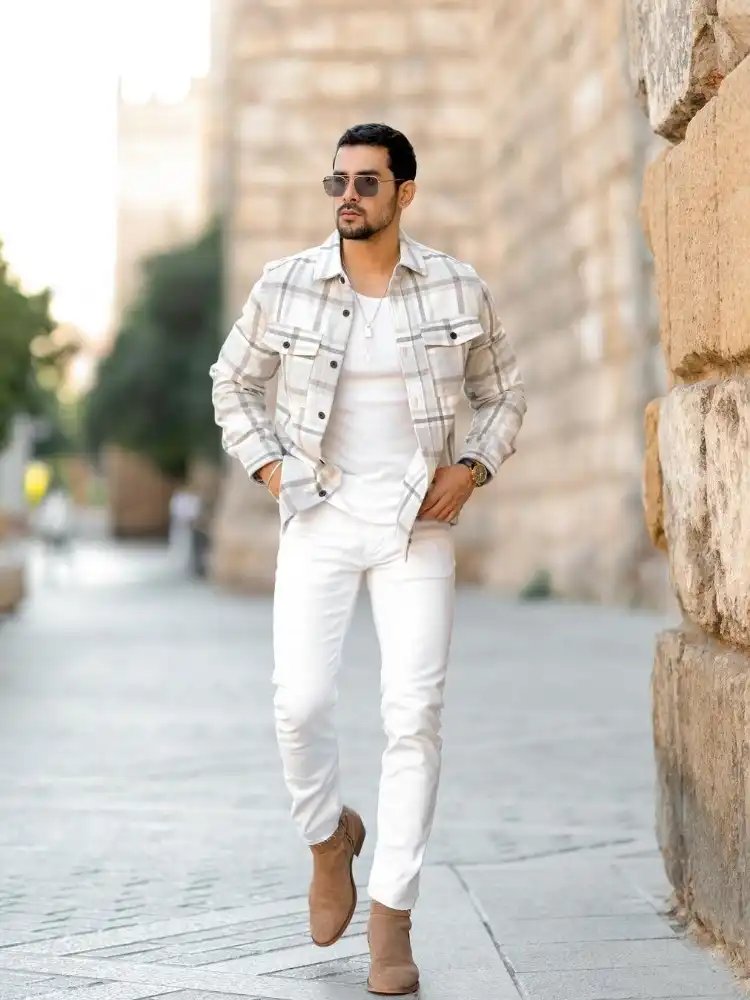 Ending Words
So that's it for this post if you've read the article so for then now can you know the everything and I can guarantee that you can carry shirt and t-shirt combination perfectly and could look most stylish in it.
But, if there is still something that is confusing you then don't hesitate to comment I'll reply instantly. Thanks for reading, stay in touch with our blog TIPTOPGENTS for such tips and guides.