Let's be real; the world of the wealthy seems light-years away from the everyday. Private jets, gold-plated iPhones worth a small fortune, and multimillion-dollar homes dotting the globe—a lifestyle most can only dream of.
Unless you happen to win the lottery or plan to marry into royalty, the odds of joining the elite are slim. But don't let that get you down. Just because you are not rolling in gold doesn't mean you can't look like you are.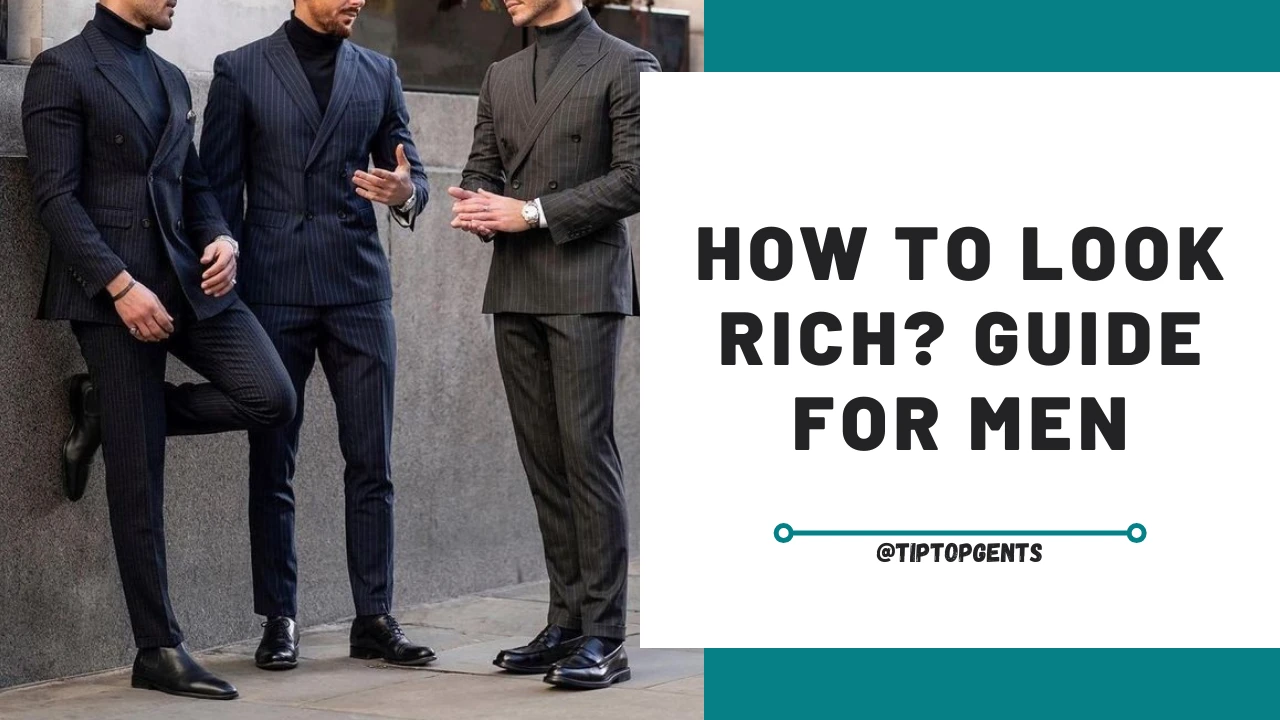 Gents, it's time to swap those lottery tickets for some smart wardrobe choices. Here's your straightforward guide to exuding millionaire vibes without breaking the bank.
Opt for Classy over Flashy
Those with newfound wealth often flaunt flashy trends, but true affluence favours timeless classics. Aim for that old-money sophistication. Picture yourself in khaki pants paired with a classic polo shirt and a men's pullover sweater for those cooler yacht days. It's a simple yet elegant look that speaks volumes without uttering a word.
Tailoring is Key
Looking great in stylish clothes isn't reserved for the mega-rich. It's about having a discerning eye, knowing where to shop, and, most importantly, having a great tailor. While a bespoke wardrobe might not fit the budget, consider having your favourite suits professionally tailored. A navy or dark grey suit can go a long way. Add a tie and pocket square to seal the deal, and you'll be thanking us when that well-deserved promotion finally comes your way.
Embrace the Right Accessories
Accessories can transform your look and project an air of sophistication and importance. To boost your aura of affluence, invest in these men's accessories:
A sleek watch: Few items scream wealth like a well-crafted timepiece. It doesn't have to be a Rolex, but quality and craftsmanship are key.
A leather bag: Carrying a leather bag is stylish and practical. It's a subtle signal of your importance, but maybe leave it behind for those beach outings.
High-quality belts: Upgrade your belt game with different styles for various occasions. Start with a braided belt for casual outings and a refined leather belt for business and formal attire.
So, gentlemen, while you may not be swimming in riches, you can certainly look the part. Remember, it's not about how much you spend but how wisely you invest in your style.
Invest in Your Footwear
Investing in high-quality footwear is key to achieving a rich and sophisticated look for men. Quality shoes not only enhance your overall style but also speak volumes about your attention to detail. Opt for well-crafted leather shoes in classic styles such as oxfords, loafers, or brogues, preferably from renowned brands known for their craftsmanship. These shoes not only exude timeless elegance but are also more durable, ensuring they maintain their pristine appearance. Keep them well-maintained with regular polishing and repairs, as scuffed or worn-out shoes can detract from an otherwise polished appearance. Quality footwear is a subtle yet powerful indicator of affluence and refinement, making it a smart investment for those aiming to look rich.
Go for Tried-and-True Combos
There are regular outfits, and then there are outfits that scream, "I've got money," worn by the mega-rich. These carefully curated ensembles often blend classic pieces with a touch of modern flair.
Want to look like you've just stepped out of your city penthouse? Here are some style combinations you should definitely try:
Turtleneck with your slickest suit: Few combos exude as much sophistication and posh style as the classic turtleneck paired with a sharp suit. This sleek combination is ideal for fancy date nights or holiday parties and is your express ticket to legendary-style status.
Polo shirt with a sweater casually tied around your shoulders: This move takes a page from the country club style playbook. Rock a striped polo shirt with a sweater nonchalantly draped around your neck, and wear it with confidence. Don't let anyone question your fashion choices.
Blazer teamed with dark wash denim: If the polo and sweater combo feels a tad too fancy for your taste, go for a classic sports shirt paired with a timeless blazer and dark wash denim. Complete the look with Chelsea boots for a sharp ensemble that could easily land you in an Inc. Magazine entrepreneurial success story.
Level Up Your Grooming Game
One key to looking rich is investing in high-quality grooming products. Start with a premium skincare routine that includes a gentle cleanser, exfoliant, moisturizer, and sunscreen. Opt for products from reputable brands known for their effectiveness. A good skincare routine can help you maintain clear and healthy skin, which is a hallmark of an affluent appearance. Additionally, consider upgrading your shaving routine with a high-end razor and shaving cream for a smoother, more luxurious grooming experience.
Furthermore, if you have facial hair, keep it well-groomed. A neatly trimmed beard or moustache can convey sophistication and style. Regularly visit a skilled barber or invest in quality grooming tools to maintain your preferred facial hair style. Keeping your facial hair clean, conditioned, and styled can enhance your overall look and create an impression of meticulous grooming, which is often associated with wealth.
Finally, grooming isn't just about skincare and facial hair; it also extends to your overall appearance. To look rich, pay attention to your clothing, hairstyle, and accessories. Choose well-fitted, classic clothing from quality materials, such as tailored suits, leather shoes, and designer watches. Maintain a timeless and sophisticated hairstyle that suits your face shape. Pay attention to details like cufflinks, tie clips, and pocket squares to add a touch of elegance to your outfit. You can project an image of affluence and sophistication by combining meticulous grooming with a polished wardrobe.
Final Thoughts
We all know that wealthy individuals often receive more respect and opportunities with ease. If you aspire to achieve a similar air of affluence, the key is to project it until you genuinely achieve it. With these style tips, you can successfully create the illusion of being financially well-off without emptying your wallet in the process.