Many of us love having tattoos on our body because it makes us look a bit more stylish and swaggy, some will go with permanent and some keeps it temporary.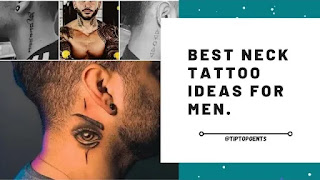 Some tattoo addicts cover almost their whole body with tattoos and you know what it indicates about them.
It shows that they don't care about what other think of them they just do what they love and not caring about others and just doing what you love is very phenomenal quality.
Many of the fans like body tattoo ideas that give a sassy showoff to the world. Therefore, find fistful types of designs that'll give a treat to many eyes by exploring the minimalist tattoo designs for a start, and then slew into your interesting choices to have one.
So, let us move ahead if you are a tattoo addict and wanted to get a tattoo on your neck or you are new who wants to get a tattoo on your body and wanted to start with the neck then this post is just for you.
You might discover the neck is one of the preferred areas for the glory of tattoos. So, go with the flashy tattoo designs based on your selected portion of the neck- Back Neck, Full Neck, Front Neck, and Minimalist.
Also, the latest Trending Neck Tattoos are- Butterfly, Birth Year, Geometric Shapes, Lion, Initials, Eye, Religious, Eagle, Cross, Rose, Tribal, Crown, Wolf, Pet Paws/ Animal Face, and Skull.
Here I've collected more than 50 neck tattoo designs of every type to help you choose the best tattoo for your neck to take a look at these tattoos and decide which one you will gonna get on your neck.
All images collected from;
Small neck tattoo designs

Lord Shiva and Ganesha Neck tattoos –
Written text (quotes, words and alphabet) Neck tattoos
Flower or rose men's neck tattoos designs
Medium/Big size neck tattoos
Back Neck tattoo designs
Front Neck Tattoo Designs
All- Round Neck tattoo designs
Male Celebrities Neck Tattoos
Hardik Pandya's Neck Tattoos
Willie whey neck Tattoo