Are you looking for some variousness in your attire style, and decided to try something different than usual? Yess?? Continue…
Well, when we talk about us men we might think that we don't have that many options available in our attire category.
You need to know that men's fashion is going on the next level too, there are various styles invented in men's wear and fashion from then till now.
And there are several options available for you to try different looks, just you need to explore your fashion game.
And today I'm going to talk about one of these variations, yes you guessed it right!!
A different type of menswear, a jumpsuit. yes!! It is a men's jumpsuit. If you wanted to know what is it, how it will help you look stylish and how you can style it, then read this article through the end.
I'm going to introduce you all to this stylish and new type of men's wear jumpsuit, I'll provide a detailed guide like; its intro, history, style guide and Outfit ideas that will help you to adopt this style perfectly.
YouTube video on similar topic ;
Men's jumpsuit
Intro:
Like its name describes, a men's jumpsuit is a full-body attire that covers your whole body, it means you wear the same colour, pattern and fabric cloth on your body (upper and lower).
Similar upper and lower wear, Like; men's co-ords but it is slightly different than co-ords because in this type of wear The upper and lower wear stays together they are jointed to each other.
Info;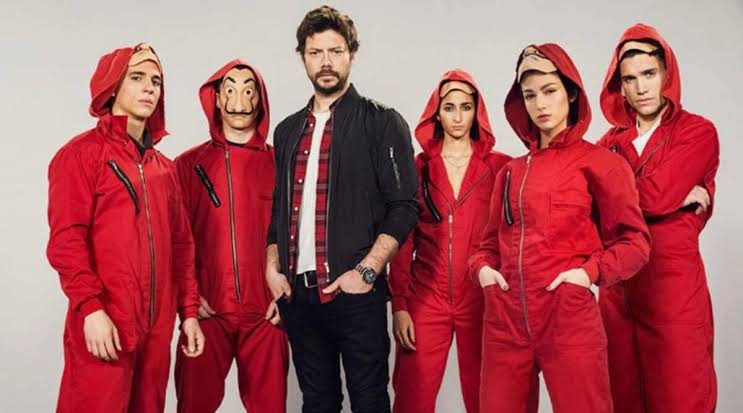 source; Netflix/Facebook
The jumpsuits were invented for the Parachuterrs and sky-drivers as a solo-piece attire for their comfort.
But in these modern fashion's days, it becomes a new sensation in men's fashion wear.
If you think you are a stylish guy then you should try that cool men's wear.
In the new sensational web series you all must seen it, the webseries money heist. The iconic red dress in this webseries is real jumpsuit and this webseries is also one of those reason that is making jumpsuit so pupular.
Pairing it with other outfit stuff (Ways to carry it)
I know, some of you might be thinking that it is awkward men's wear I will look awkward when I will carry it.
This is a common feeling of some of us men who don't try too much and stay to be simple and normal, but you don't have to worry here I am going to show you different ways how you can carry your jumpsuit without looking awkward by using a different type of other outfit stuff.
Classic way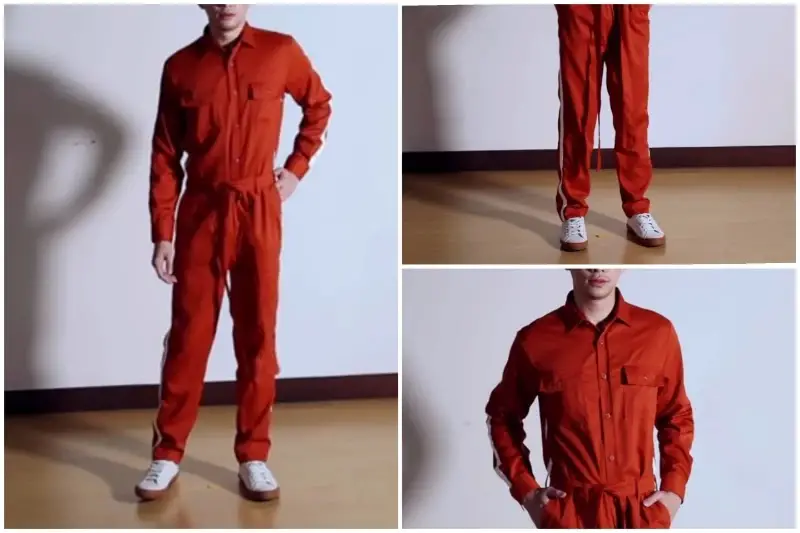 The first way of styling a jumpsuit is a cold classical way, in the classic style of wearing a jumpsuit you just have to wear it in a simple and n normal way, nothing extra style or stuff needed, just keep it simple.
This way of styling jumpsuit is for those guys who prefer to be Simple though stylish.
With t-shirts
half sleeves t-shirts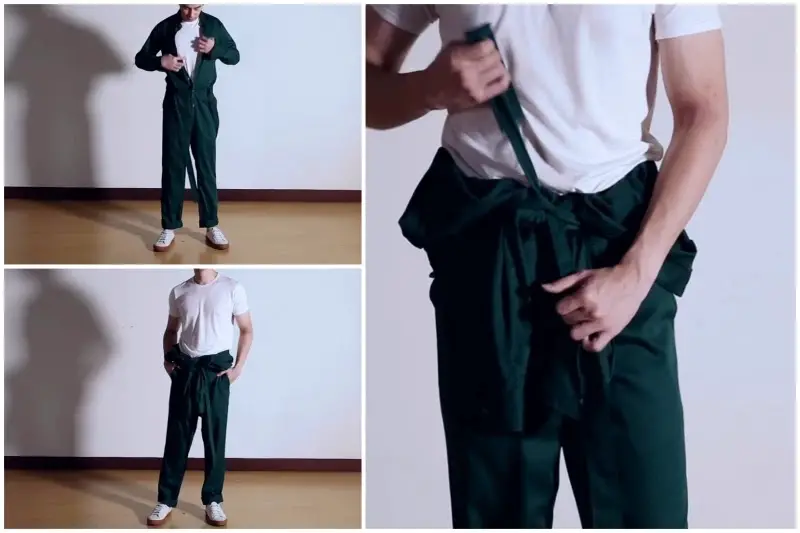 The next way of carrying a men's Jumpsuit is pairing it with a half sleeves t-shirt.
A plain crew neck half sleeve t-shirt would be the perfect one to pair with your jumpsuit.
If you want, You can get off the upper part of your jumpsuit's and tie them on your waist (like shown in the image) to make it look more stylish.
Full-sleeves t-shirts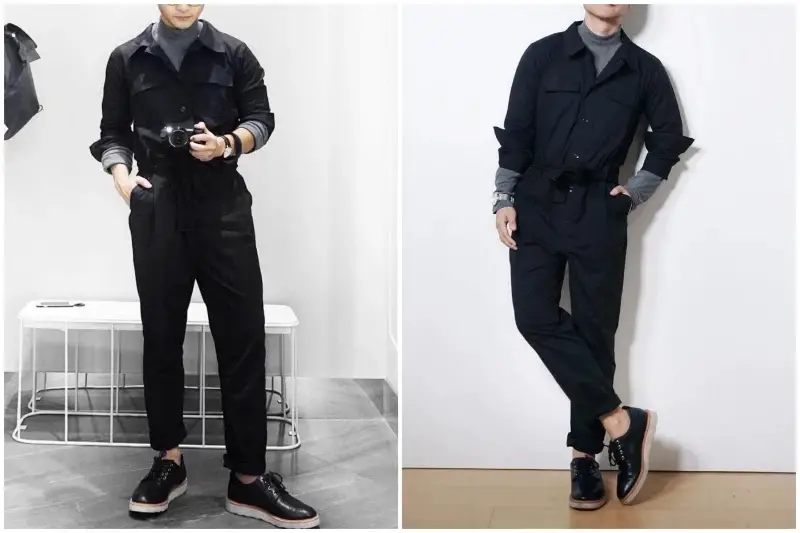 The third way to carry your jumpsuit is with a full-sleeved t-shirt. Go for a full-sleeved, crewneck, plain t-shirt to carry with your jumpsuit.
Go for those colour t-shirts which contrast with your jumpsuit's colour.
Roll your jumpsuit's sleeves and roll your t-shirt sleeves over it to make a contrasting cuff for a stylish look.
With shirts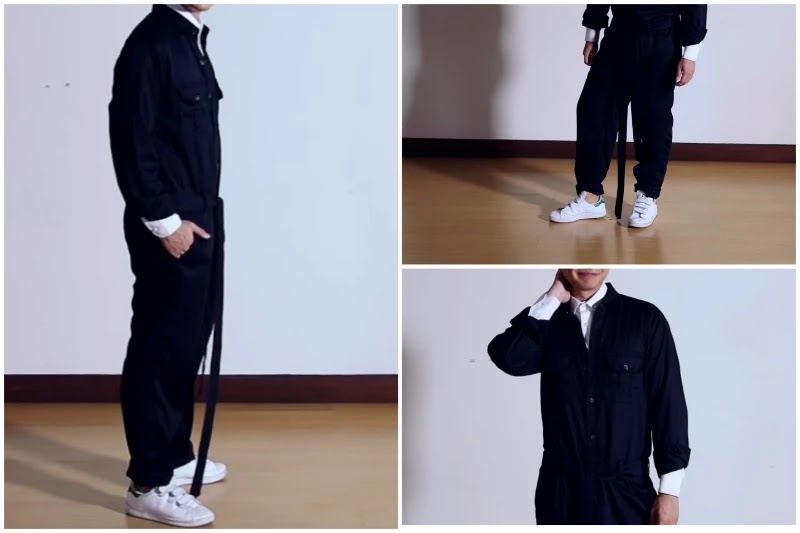 You can also wear shirts with your jumpsuit, a contrasting colour shirt can go under your jumpsuit.
Shirts & tie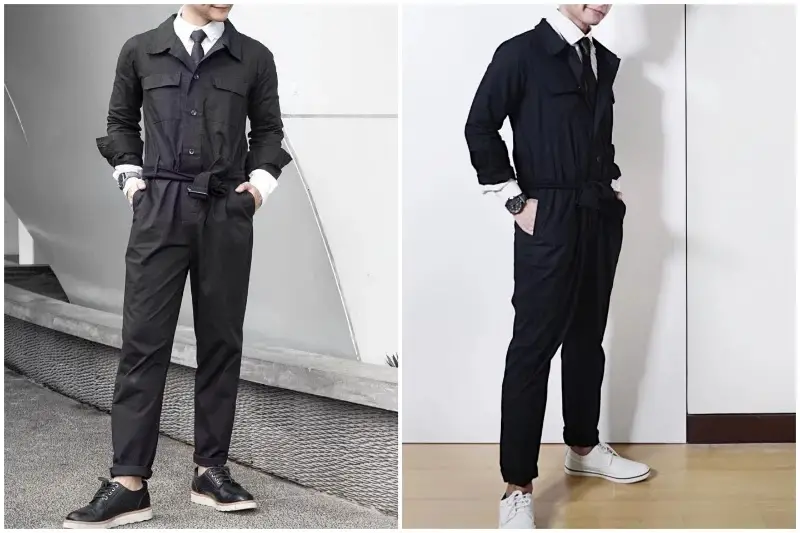 You can add a tie, too for making your outfit more classy and stand out as a fashionista.
With jackets
Leather jacket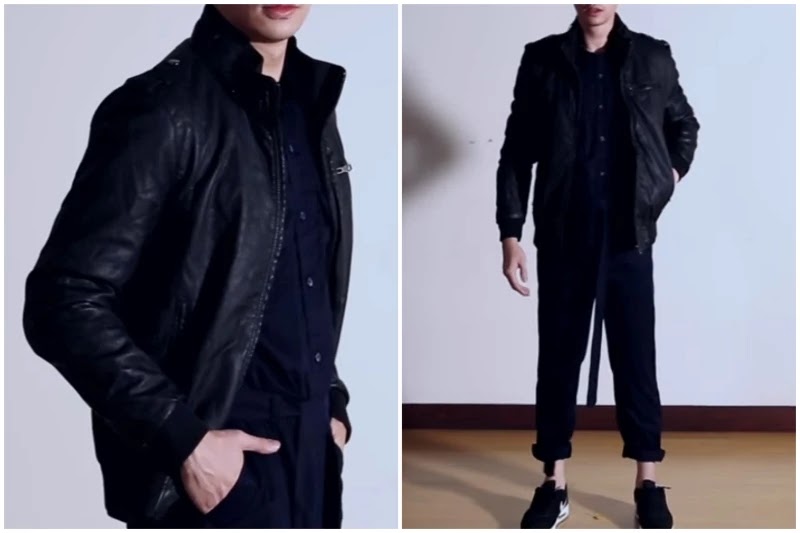 A leather jacket over a jumpsuit is another way of styling your jumpsuit for winter.
A perfect fit leather jacket wears over your jumpsuit and match it with cool sneakers.
Denim jacket
You can carry another jacket, too with your jumpsuit. Denim should be your second preference to wear with your jumpsuit, except if your jumpsuit is already a denim jumpsuit.
If it is the winter season you can layer up your jumpsuit using t-shirts and a denim jacket.
Other important points for styling Men's jumpsuit
When to wear
Men's jumpsuit is kind of a casual type outfit or wear, it can be wear in almost all those places where you carry your casual outfits.
It is a street styling men's wear go for it when you're going out for casual work, friend's b'day party, restaurant, cafe and other casual parties and places.
Which one to go for
Always go for those types of the jumpsuit which have an option there for bathroom use.
There are still some jumpsuit designs in which you have to undress it completely for bathroom use, and ut is annoying.
But there is good news too, nowadays most of the jumpsuits have options available for bathroom use.
Accessories
You can add other accessories like;
Belts
Most of the jumpsuits have belts already and they are different from normal belts you can go for other belts too, but go for cloth belts
Avoid wearing leather belts.
You can go without a belt, too.
Watches
You can go for a casual or aviator watch with your jumpsuit.
Shades
You are free to wear any of your favourite shades with your jumpsuit.
Shoes
The best shoes to wear with your jumpsuit is a sneaker.
But if you want variation you can try other casual shoes too or you can go for Chelsea boots.