Men's dungaree or Men's overalls is the type of wear which men like to keep their distance from, more than half of men thinks that men's dungarees are awkward men's wear.
Maybe you would one of them, and it is quite obvious to think like that because men's overalls or dungarees have the design which is not so popular in men's fashion.
It is the type design of which is more popular in Kids or female's fashion.
So, maybe that's the reason why we don't go for it.
If you are a guy who loves to be simple and have less courage and confidence to try something new then it is my honest opinion that doesn't go for men's dungarees or overalls.
Because carrying this type of men's wear you need a self-confidence on yourself that you are responsible to make it look good on you, you are looking good in it and be a bit nonchalance too.
If you are a guy who has that much style sense and confidence, then just go for it and leave the rest on me.
I will ensure that you will look stylish in these dungarees, By telling you everything that you needed to look stylish in it.
I will provide you with every detailed style tip on men's overalls like; what is it? how to wear it? and how to match it with your other outfit stuff and accessories?
So let's get going –
Watch video on similar topic :
Intro –
Men's dungarees are a distinctive type of menswear, it's name 'dungaree' is well known in India. In some foreign countries, the same menswear is called mens overalls or some people prefer calling it men's jumpsuit too.
It is a type of menswear in which both top wear and bottom wear stays together it means it is a single piece of attire that goes over your body from top to bottom.
It is quite similar to a genuine men's jumpsuit but in men's jumpsuit, they have variety on its upper design (like; short sleeves, full sleeves etc.).
But in men's overalls or dungarees, they all have one same upper design in which they have no sleeves only a belt type design goes over shoulders, this type of upper design is called a bib.
When the bib and trousers got connected then it forms dungarees or overalls.
Best Men's Dungarees/Overalls Types –
Here are various types of dungarees or overalls which are popular in men's fashion.
Denim Dungarees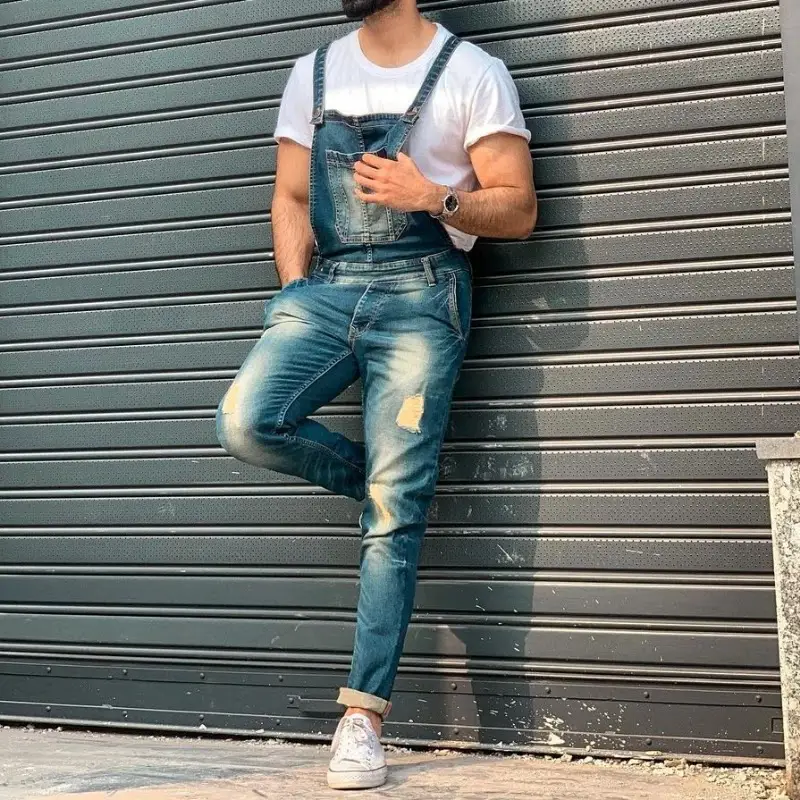 The most popular type of dungarees in men's fashion is denim dungarees. Maybe It is so popular because it gives tough look to the guys. Denim dungarees are best to wear in fall or a bit cold season, but you can't wear them in the summer season because denim is a thick fabric and it will make you feel uncomfortable in summers.
Jogger bottom dungarees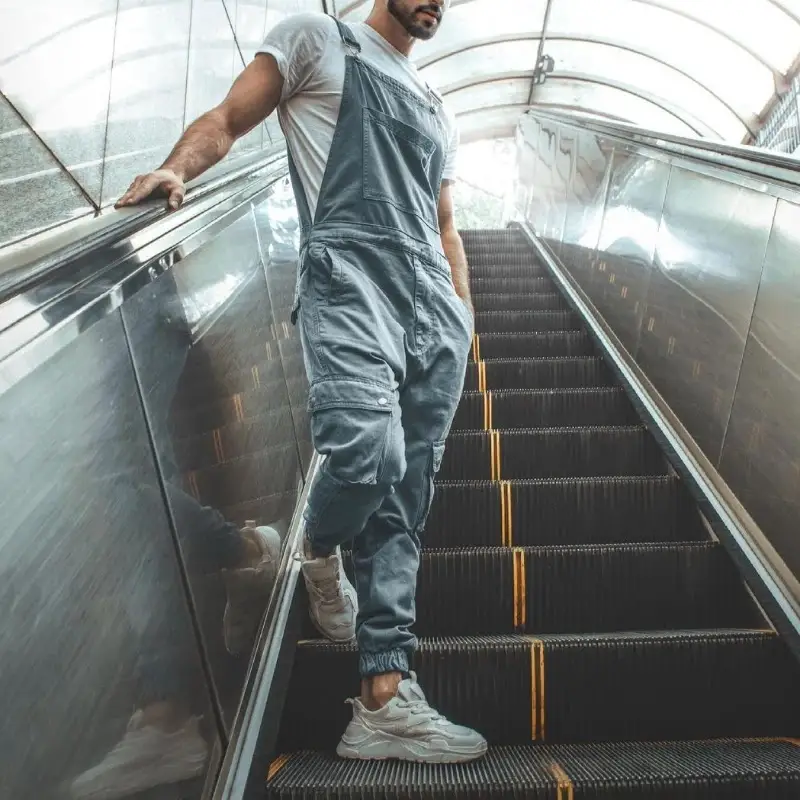 Another popular type of dungaree and my favourite one is jogger bottom dungarees. In this type of dungaree, the design of its bottom is similar to joggers pants design.
You can get both denim and cotton fabric dungarees in this design.
Shorts bottom Dungarees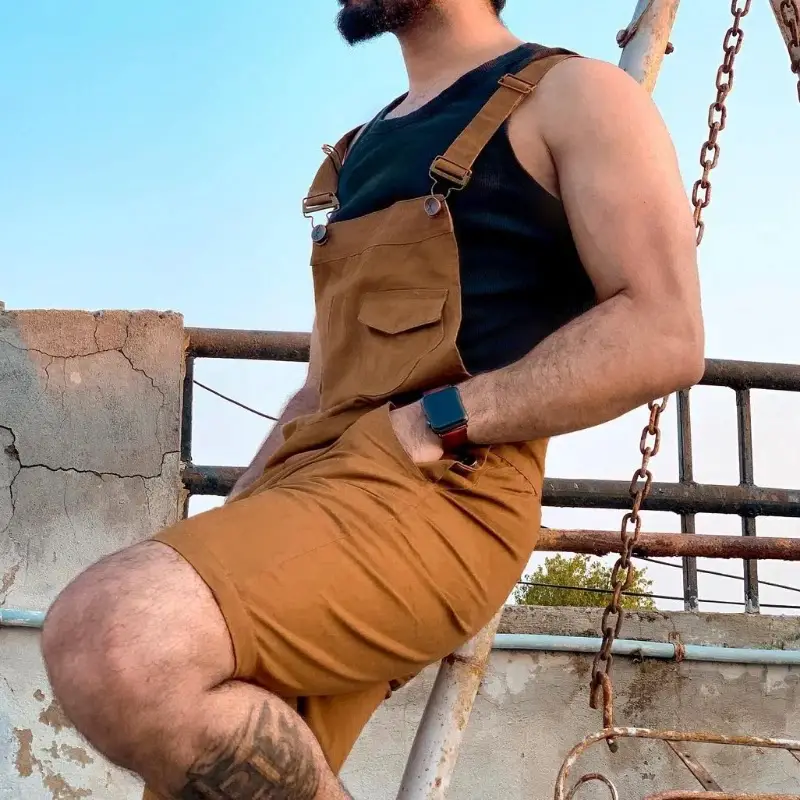 Next is, shorts type bottom dungarees. This type of dungarees have shorts in the lower wear
Best for styling in the summer season make you feel comfortable and stylish at the same time.
Cotton fabric Dungarees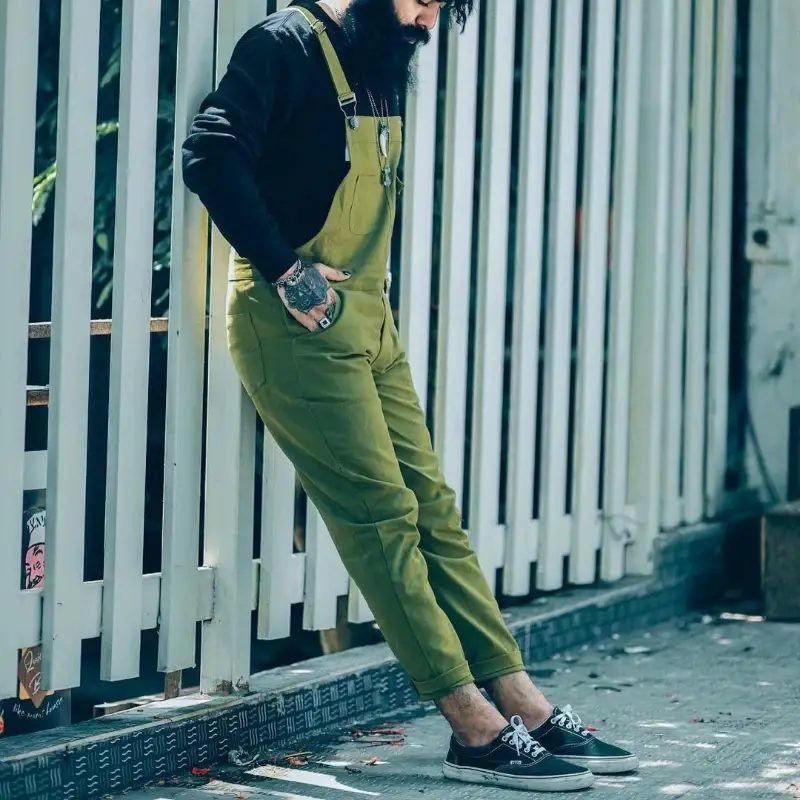 Like denim fabric, it is a different type of dungarees (fabric wise), cotton dungarees. It is a very versatile type of dungaree you can style it with different outfit stuff and various occasions.
Oversize style Dungarees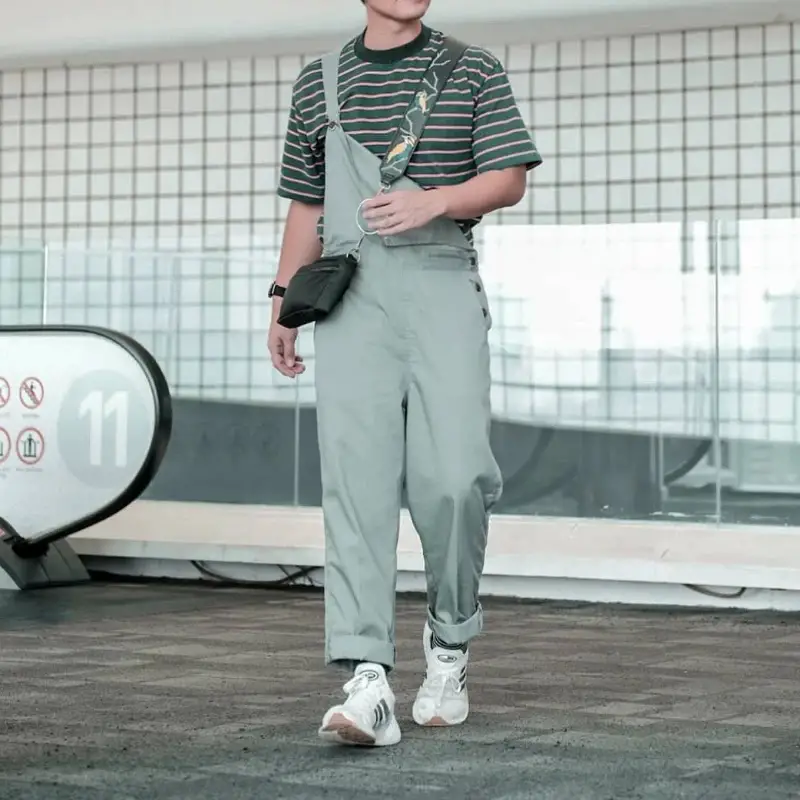 If you are a tall guy and love to wear oversize dresses then this type of dungaree will be perfect for you.
Oversize dungarees look awesome if you style them perfectly.
Men's Dungarees/Overalls Style Guide
Just buy any of your favourite dungarees that have been shown above. If you have chosen your best type of dungarees now it's time to style it.
Accessories
You can go for your regular & favourite casual wear accessories like; shades and watches.
Chain band, leather band aviator, a digital watch can go with your dungarees.
You can go with any of your favourite shades or specs for a classy or stylish look.
Shoes
The best shoes are the only white sneakers, you can try other shoes too.
Like; Heavy sneakers, High ankle sneakers or Chelsea boots.
When to wear?
Men's dungarees or overalls is a casual wear attire, you should wear it in casual places.
It can be worn As Casual party wear, streetwear, you are going shopping and other casual places.
How to wear it?
After knowing all the details and following them perfectly, now it is time for you to wear your dungaree.
Wearing dungarees is an easy task just take outfit stuff that you are going to pair with your overalls and grab your dungaree and wear it over that outfit stuff.
Now your question will be, what are those outfit stuff that can go with dungarees? For getting the answer to this question read the next heading.
Different ways to carry Men's Dungarees/overalls?
Here are different outfit stuff you can pair with dungarees –
With short-sleeves crewneck t-shirt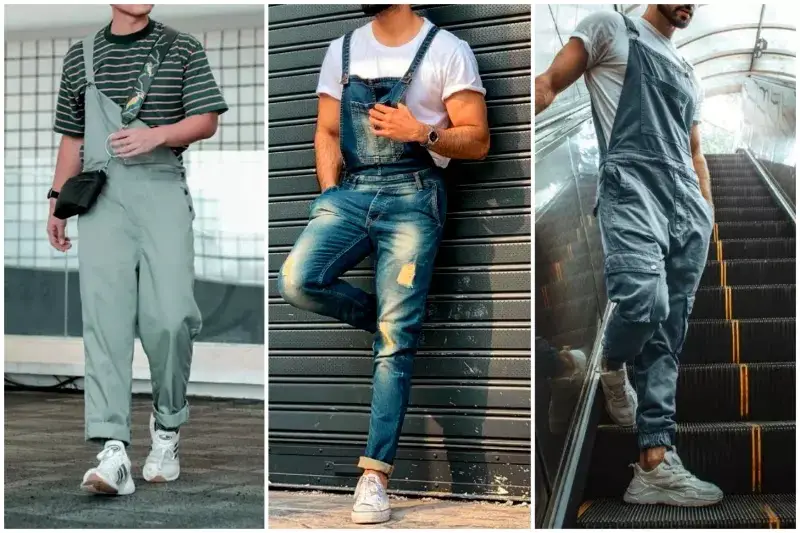 With Full-sleeves crewneck t-shirt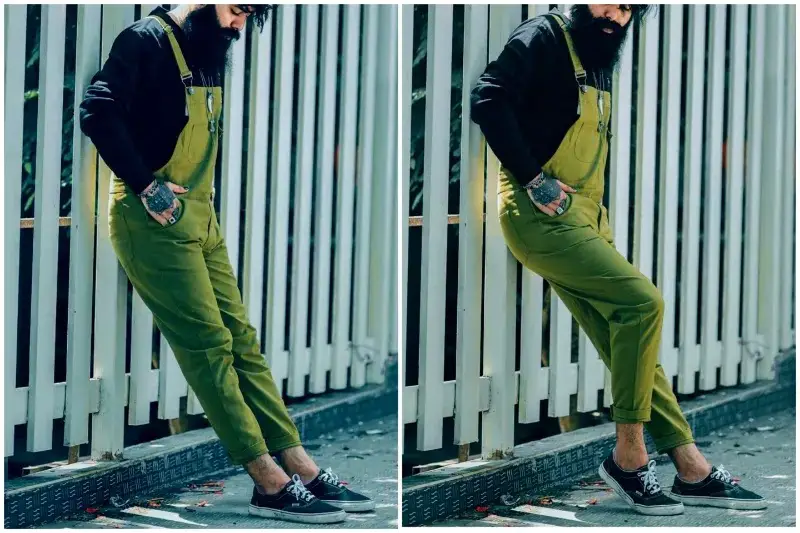 With shirts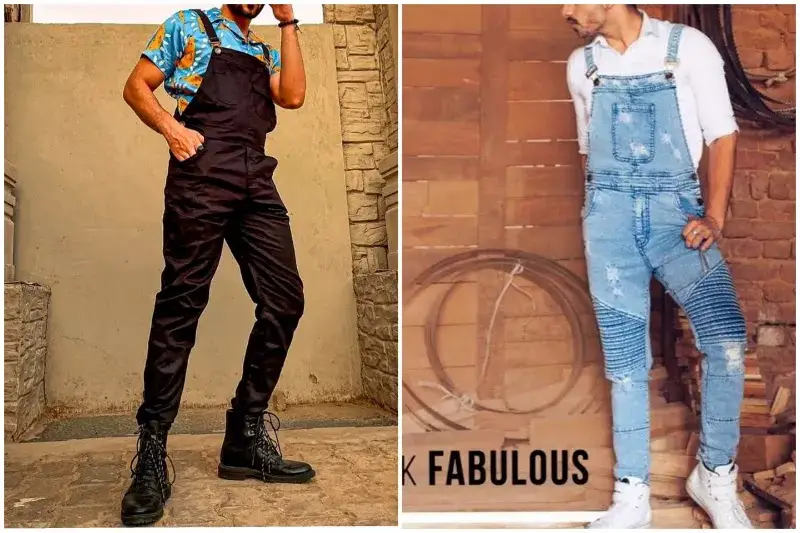 With High-neck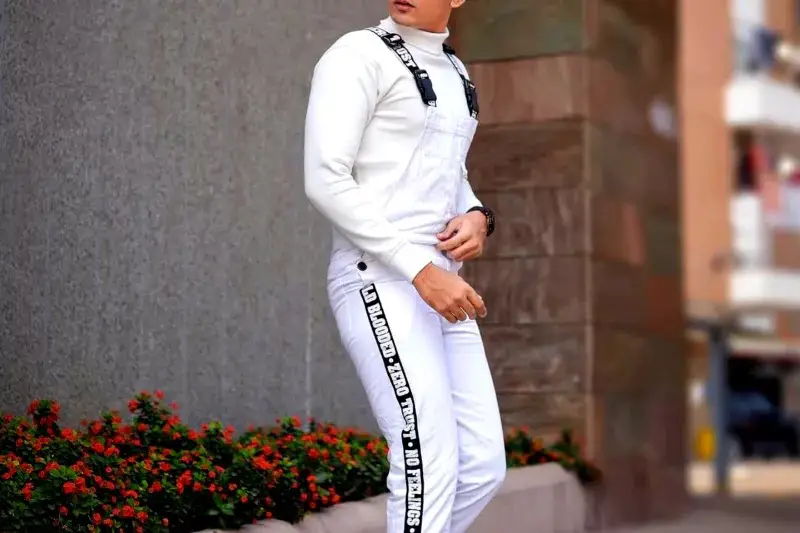 With hoodie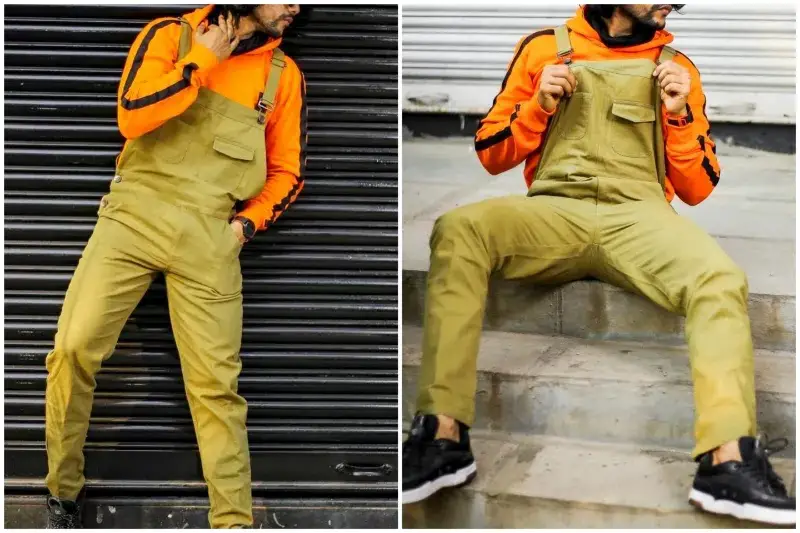 With tank-top.