There are many types of shirts in men's fashion wear. Today I'm going to introduce one of them, The tuxedo shirt.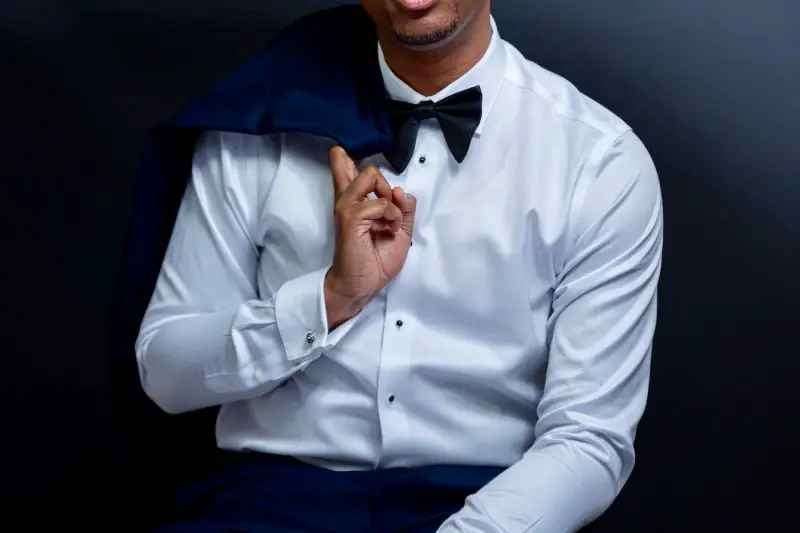 If you are someone who is listening to the first time about a tuxedo shirt or going to wear it the first time, then this article is for you to read it before styling it for making it look flawless on you.
What is a tuxedo shirt? why is it different and Distinguish than a normal shirt? and how and when to wear it? These are some common questions asked about a tuxedo shirt, which I'm going to answer here.
The tuxedo shirt maybe you will listen about it, already. But the thing and detail I'm going to share are important for you to know about a tuxedo shirt.
I'm going to tell everything you need to know about a tuxedo shirt in the simplest form or you can say that the simplest guidance for tuxedo shirt you've ever heard so let's explore it-
What is a tuxedo shirt?
It is basically a type of shirt, different than a normal men's shirt, and extraordinarily designed for wearing as formal wear with tuxedo suits.
Tuxedo shirt has it's own specialty, features, and elegance. It is Specially designed for wearing under a tuxedo suit. Though some people used to wear it with just trousers also.
On the basis of its Bib
A bib is a rectangular shape panel which is located on the front of a tuxedo shirt. It is made by doubling the cloth in a specific design.
When we wear a tuxedo suit on it, some of its part shows up and gives your shirt and suit an elegant look.
There are three types of tuxedo shirt when we defined it on the basis of its bib-
Pleated tuxedo shirts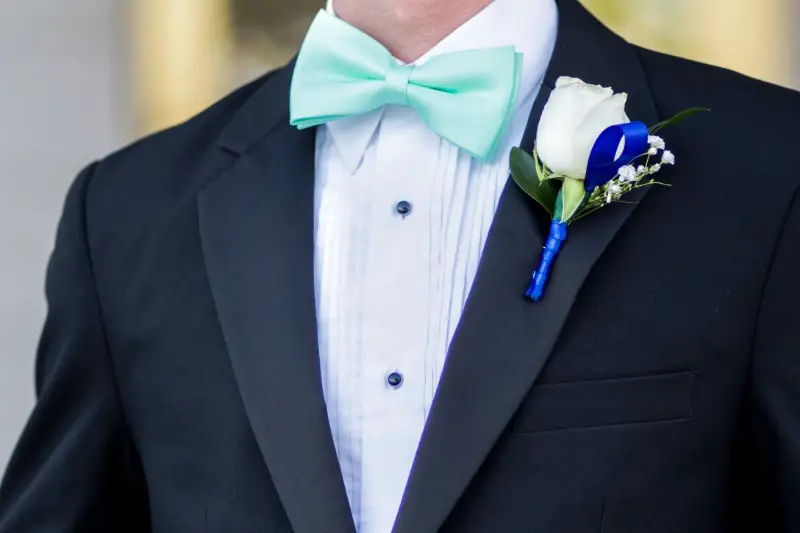 Man wearing Tuxedo suit with pleated tuxedo shirt.
A tuxedo shirt that has a pleated bib. Pleated bib means a vertical stripe made by folding clothes on one and other and by stitching it.
Pleated bib tuxedo shirt took as a traditional style few people use to style it nowadays.
Plain/none tuxedo shirts
A type of tuxedo shirt in which there is no bib found. They have basically no bib. They are plain like normal shirts from the front.
It is the first choice of Today's tuxedo style masters.
Ruffled tuxedo shirts
Ruffled bib tuxedo shirt is not the modern generation's style. It was used to wear in the 19th – 20th centuries. But it is totally out of fashion in today's world.
Ruffled bib tuxedo shirt means an extra piece of clothes stitched on its bib and the design is made by stitching that piece of clothes on its bib like; floral design.
On the basis of its placket
The placket is the centerline of the shirt where buttonholes of a shirt exist.
There are basically two types of tuxedo shirt when we differentiate it on the basis of its placket.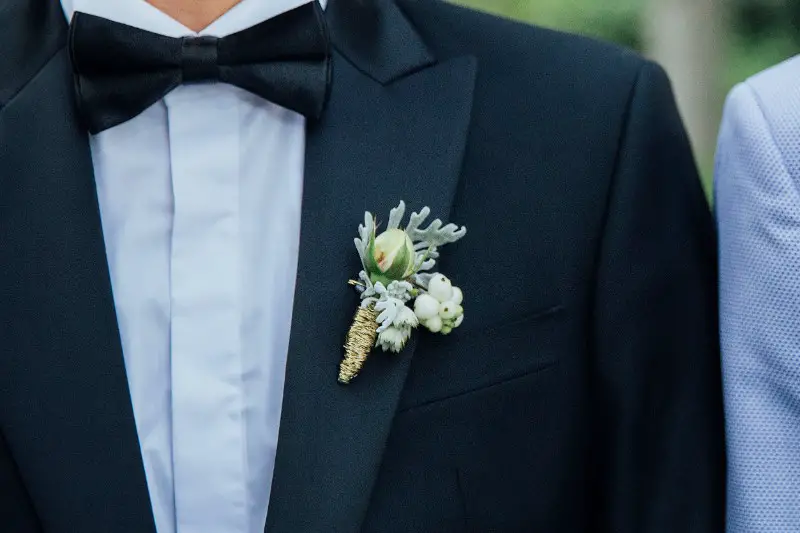 Hidden button placket, tuxedo shirt.
A tuxedo shirt whichever placket's button is hidden by an extra fabric of clothes stitched on its placket.
A tuxedo shirt whichever Placket has no button. What? A shirt with no button on how it's possible and how we will wear it? Running on mind haaan?? Don't worry it will stop later, just stay with this post till the end.
The specialty of a tuxedo shirt
What is those specialty that makes a tuxedo shirt a tuxedo shirt? Let's see –
Its collar
Tuxedo shirts have commonly two types of collar-
Spread collar
It is normal collar as found in normal formal shirt. A tuxedo shirt with spread collar taken as less formal. Many guys out there wearing tjis type of tuxedo shirt just with a trousers and no tuxedo suits. It can go with tie or without tie also.
Wing tip collar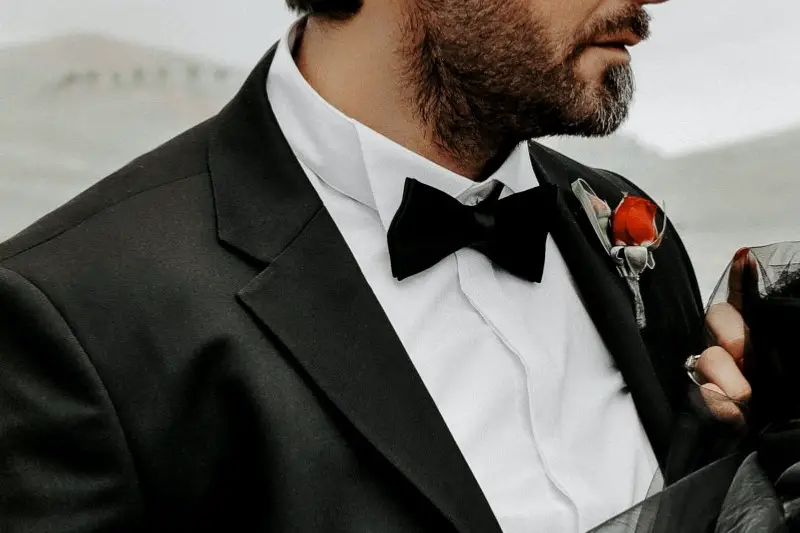 Man wearing tuxedo with Wing tip collar
A special collar of tuxedo shirt. It is a short collar, folded just from fronts and make a wing type structure that's why it is called as wing tip collar.
These two different types of collar make a tuxedo shirt special.
Its placket
Like described above tuxedo shirts are commonly come with two types of plackets. One hidden button and the other is no button.
Let's clear your doubt about no button tuxedo shirts. Here comes another thing that makes tuxedo shirts special.
The studs, it is external buttons specially designed for tuxedo shirts. It has to be applied on no button tuxedo shirts for making it more shimmering with your tuxedo suit.
Its cuff
Tuxedo shirts have distinguished cuff than a normal shirt. They are commonly two types-
French cuff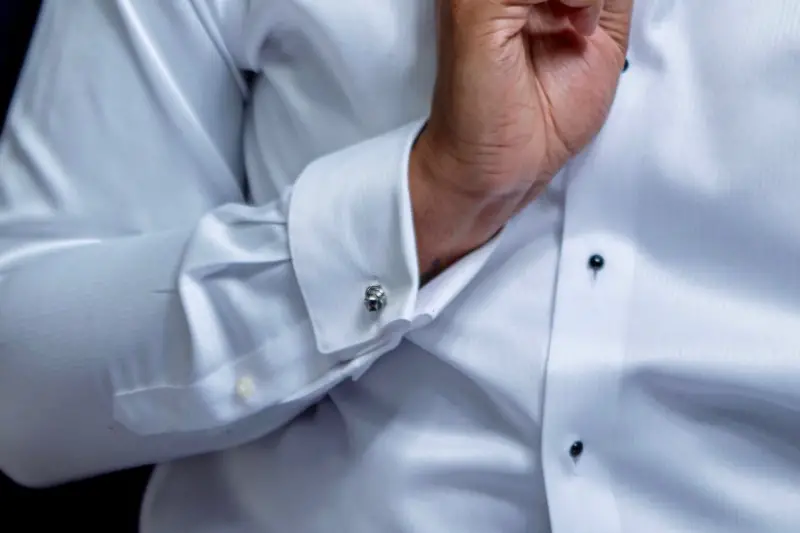 White tuxedo shirt with french cuff.
A tuxedo shirt with a french cuff means a cuff that doesn't have pre-stitched buttons on it.
Here comes a special thing the cufflinks. Cufflinks are an additional button that has to be connected on the french cuff to make it more elegant and formal.
Convertible cuff
The convertible cuff has both abilities, which means it has a button like a normal cuff and it has an extra hole for wearing your cufflinks also.
Other specialties-
Let's see other things that make a tuxedo shirt so special.
Ideal For ties
The tuxedo shirt is born for wearing a tie with it. Especially a bow tie and with wing tip collar tuxedo shirt there is no option rather than wearing a bow tie. The spread collar has some versatility it can go with a standard necktie, bow tie, or any other types of men's tie.
Ideal For tuxedo suit
Nothing much to describe, its name describes its character that it is for wearing with a tuxedo suit that's it.
How&when to style tuxedo shirts-
Ideal for wearing on a formal event, a black-tie event with your tuxedo suits.
You can wear it also as semi-formal wear as a normal shirt and pant outfit.
Never wear a necktie with wing type tuxedo shirt collar(bow tie is essential).
You can wear either a bow tie or standard necktie on a spread collar shirt.
Fit should as same as you wear your normal shirt.
After closing all button two finger can go inside the gap between the collar and neck.
The sleeves should perfectly end on your wrist.
Use cufflinks with French cuffs.
Don't forget to apply studs on no button tuxedo shirt.
No color other than a clean white is best.