So, this blog is all about some
extra items
or you can call it outfit accessories in which usually we don't
invest time
and we wear it without knowing their proper styling way. At teenage or young age we don't know much about
outfit ideas
and fashion. Most of us don't know much about how to wear an outfit
accessories
and that's why we look dumb in that.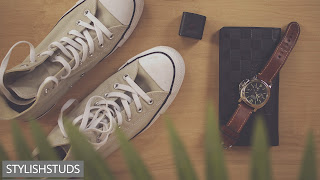 like;if we wear a casual watch or shoes with formal outfit it is going to ruin your whole outfit. But what if,we don't even know which type of accessories we should wear and when…and lot's of questions?? So here's the solution of your all questions.
I'm describing here some essential accessories for men you should have in your
capsule wardrobe
and how to use it with any outfit. I'll describe here some common accessories every men used to wear with his dress. These common accessories have various designs and color so you will get to know the best design and colour of an accessory you should wear as men.
Neck tie

.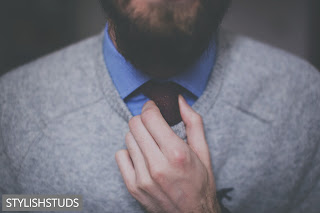 I know this is a formal wear accessories and I also know at teenage we wear formal dress very rarely like- in wedding or school/college. We like casual wear for street styling but you don't know the secret of modern days. Now a days tie is also in trend in casual wear ,yes.
But but you can not wear all type of tie in casuals most of us do this and ruin their outfit.
Also read:
How to tie a tie in 3 interesting ways
Tips for styling a necktie
wear a tie when you are wearing a plane shirt and a simple pant (like chinos,trousers black jeans).
For semi casual outfit Don't wear thick tie with your outfit always try to wear a thin party wear tie.
Match your tie colour with your pants colour otherwise I would suggest black.
So, if you are new and wanted to try a tie I would suggest you to go buy a thin, black colour, party wear tie.
Men's scarf
Yes, a men scarf is now in trend you should also try to wear a scarf with your casual outfit. If helps you to look stylish and comfortable also because it is a unique part of dress that's why it helps to enhance your look as well as in summers it will help to absorb the sweat of your neck. And winter scarf save you from cold and it would help for styling a men's no collar sweaters. So, it is helping you in multiple ways that's why it is in trend, now a days.
Tips for styling mens scarf
In casuals for summer's a scarf look classy with

full sleeves

various types of

t-shirts.

For winter you can try it with sweater, casual jacket etc.
Wear winter scarf in winters it is

thick and cold controlling

so it will help you to save from cold.
wear a summer's scarf in summer it is

thin and sweat controlling

as well as stylish too.
you can try some

pattern scarf

with plane t-shirts and a plane colour scarf on any type of outfit.
If you are going to buy a scarf and new in it I would suggest you to go buy a black or white scarf and wear it on full sleeves t-shirt(specially in summers)
Watches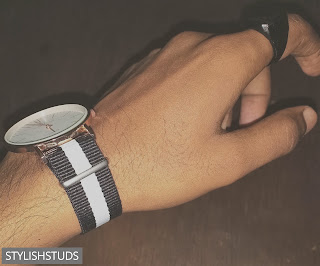 At young age we thought that watch don't matters in our outfit and we wear any type of watch with any outfit because we don't know that it play's a big roll in our outfit. Choosing a right watch with right outfit makes you more classy and stud.
Tiips for styling watches
Wear a classy thin and non-analog watch with your formal outfit.
for your casuals you can go with different type of analog watches, a thick watch is also in trend.
Bracelets
So here I'm talking about an accessories which jas to be wear on hand and this all plays a major roll to increasing your classiness level.
As a teenager I'm also fond of different types of bracelet. But the mistakes I done at teenage and most of us does is, wearing lots of different types of bracelet in one hands. It looks so terrible please do not over do with your bracelet.
Tips for styling mens bracelet
A thin classy and elegant bracelet always look better.
You can also try a thick bracelet. But keep in mind it should be in one colour.
Being a men I would suggest always go for black colour it a colour for stylishstuds.
You can pair up your bracelet with your watch.
Men's Finger rings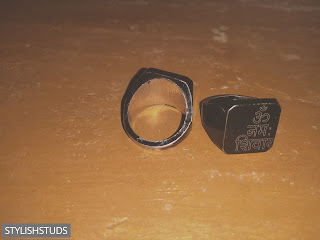 A sign of studs a finger rings. I'm not talking about that engagement rings here. The ring I'm talking aboutil is an accessory by wearing this you will
be a classy, elegant looking man.
A men wearing a rings in a right ways shows that he has class. Not every ring and every finger is sutanle for ring you should know which type rings are made for you and in which finger your ring look classy.
Meny of us fill their whole hands with rings I'do not like that way of wearing a ring because if you have class then it is not about showing off, it should about simple and elegant. But if you like wearing finger rings on every single ring, it's your choice you can go with that.
Tips for styling mens finger rings
A ring with rectangle front always lools stylish on a men's finger especially if you love a simple formal look.
For formal outfit full black coloured ring will always worth it, also best on casual wear.
For casual wear you can try some other colour with black.
A circle face ring is also looks best on casual wear.
Men's Earrings
Earrings in mens are also in trend. Lots of guys started wearing earrings now a days. Different designs and colour and now designed for mens in earrings.
Many guys make a hole in their ears just for wearing an earrings. But if you don't wanted to make a hole on ear and still wanted to wear an earring then there are also a design available for solving this problem. Just read the tip.
Tips for styling men's earrings
If you have hole on your ears then you can try different earrings of mens.
If you also wanted a hole then, you can go on any earrings shop and they will make a hole on youe ear for wear earrings.
But if you do not wanted a whole then buy a megnetic earrings for you. It will hang on your earrings attraing their selves with magnetic power.
A small circle shape black colour earring will suit on every outfit and every men. If you are try to wear a earrings you can go with this type of earrings.